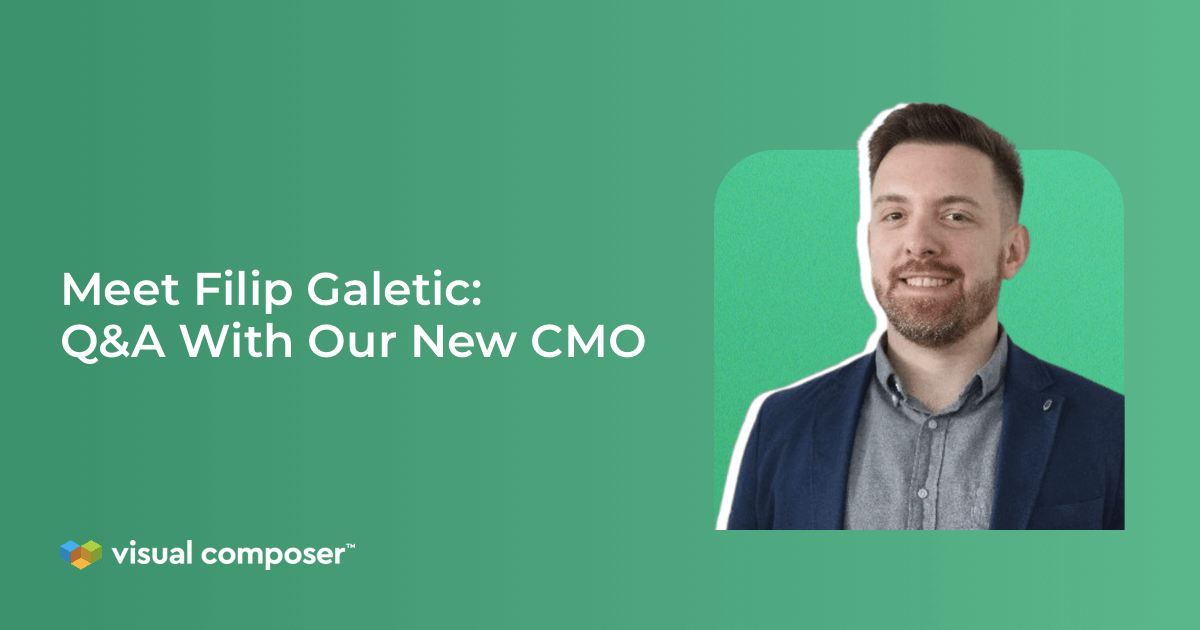 We're excited to share with you our first newcomer spotlight article, where you get to know our exciting, new additions to our team, and learn more about their roles, day-to-day responsibilities, and how each has played a significant role in our growth.
This time in the spotlight: Filip Galetic, who although he has been with us for 7 months, is still a newcomer in relative terms, as he talks to us about his journey from working for almost two decades in B2B growth marketing to more recently joining our team as the Head of Marketing in Visual Composer.
Having lived in 3 countries, Filip started his career working in companies like Johnson and Johnson and UNICEF. With a strong focus on digital marketing for many years, he consulted companies on strategy and worked as a paid media specialist. He's had the opportunity to work with agencies, like Ogilvy, and big brand names like Coca-Cola, Mars, and Pfizer, but his true passion is helping ambitious small and medium-sized companies grow more efficiently.
A Q&A with Filip Galetic
1. What excited you the most about joining the Visual Composer team?
"Apart from the infallible energy of Michael, the founder and CEO, I really got intrigued by the product, having worked with different CMS tools and also within WordPress on different projects. It seemed like the product itself, with its ease of use as well as the branding, was poised to take on some of the incumbents in the space but just lacked a more user-centric, growth-oriented strategy. I also connected with Michael overall over the vision for the marketing strategy, as well as the company values he told me about that are truly lived and not just words. Finally, the challenge of navigating the ship, so to speak, of a team of three marketers was too attractive to pass on and matched exactly where I wanted to be. So here I am!"
2. For those not as familiar, what do the day-to-day responsibilities look like for the Head of Marketing role in a company?
"Of course, depends on the day but my main responsibilities belong to one of the three groups: either I am working on thinking and implementing (and at times rethinking) the overall course we're sailing on, or I am connecting with other parts of the company like the product team, development or support to make sure marketing works in sync, or worrying and making sure if we're efficiently using our budget to reach our (revenue) goals. On a typical day, it might mean the regular standup with the marketing 'gang' to check progress on deliverables; syncing with the Product Manager to talk about the latest product updates, and how marketing can support getting the word out there keeping our customers' interest in the center; organizing introduction calls with content distribution partners and going over co-marketing opportunities externally; finding and briefing the right external delivery partners (on content and funnel optimization); and of course making sure I am supporting the marketing team as a sounding board, as someone who gently pushes them to deliver more while letting them own their own respective areas of the operations (and decision-making!) through chats, feedback, and regular marketing retros."
3. Coming from the B2B market, what has been the biggest challenge of switching over to the B2C market?
"I am still learning this, but actually, the challenge has been interesting and not so much of a challenge really, as in fact, our main ideal customer profile ARE businesses, it just happens to be in many cases one-person businesses. But we're helping our consumers solve their business goals and run a more profitable operation, whether they are a one-man-band or a 10 people agency, and whether through making sure they are aware of the many ways our website builder can make them better at their job, or through supporting resources to teach them how to be a better web creator or agency."
4. What are the most important lessons you've learned over the years about leadership?
"Again, and perhaps it's already an answer to this question, as a leader I am fully aware of and actually love the fact that this position means daily learning. Be it on how to balance the needs of colleagues and departments with the goals of the whole company, or in terms of new ways of solving old problems through new tactics or methods. For example, one of the key ways of helping Visual Composer has been making sure the tech stack is up to par and so we switched the company to Hubspot - this is the first time the company has a dedicated CRM as well as integrated marketing automation and reporting tools which helps a lot with maintaining control over our funnels. The need to stay humble, forget the ego, and lead through example of helping others is what I would say are my biggest lessons."
5. If there was one book you could recommend to friends and colleagues as a must-read, which one would it be and why?
"Recently I read and recommend not one but two books any leader should get their hands on: Turn the Ship Around by L. David Marquet as an actionable blueprint on how to avoid the trap of top-down leadership in your team or company, as well as No Hard Feelings by the inimitable Liz + Mollie, a sort of a manifesto on how to accept emotions (and stop pretending they don't exist which almost never ends well) as part of our daily work life that can apply to anyone regardless of their seniority or career."
Rapid fire round
| | |
| --- | --- |
| Question | Answer |
| Your first-ever job? | Busboy + bartender in a nightclub in Zagreb |
| Your go-to tip for productivity? | Deep Focus playlist on Spotify, blocked off focus time in the calendar, and taking the first step to start. |
| Your top choice: Mac or PC? | As a marketer, I am typically the odd one out with the PC instead of the Mac in the room. This is not only because my PC doubles as a gaming device (yes you can be a gamer and be a leader in a company, although I am definitely a very casual gamer these days). Also, I just grew up with Windows and get most done in this system. |
| Your favorite App on your phone? | Do Not Disturb setting (ok, not an app). It allows me to disconnect each day after 10 pm which allows me to rest more deeply and wake up fresher, in turn being able to deliver more! |
| Your dream vacation location? | The Island of Pasman in Croatia with its combo of natural beauty, plenty of things to do like sup boarding and hiking, and lack of crowds. |
This concludes the first story of our team's newcomers. If you want to talk to Filip or anyone from our team, you can meet us in our community. As for the Q&A end, when asked what he anticipates for the future of Visual Composer, Filip Galetic said:
"I am super excited about further developing and scaling the marketing team, communicating our unique value props to our ideal customers - web creators and web agencies - and removing friction on their way to purchasing our tool as their chosen website builder."