Reusability is what saves plenty of time and helps to keep an established style of your website.
With Visual Composer Element Presets addon, apply custom values to any content element, save and reuse it all across your site.
Element Preset addon is available for the Premium users in the Visual Composer Hub addons section right after the activation process is completed.

Element Presets allow you to customize the existing styling of content elements (change values, settings, etc.) and save them as a unique ones with new parameters.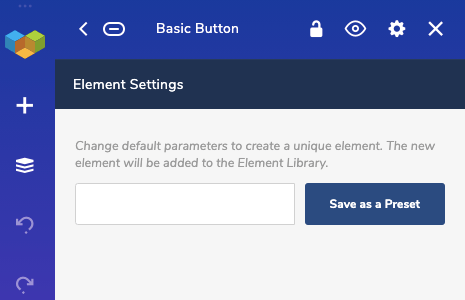 The new element will be saved in the Element tab (Add Content window in the Navigation Bar), which you can access from any page.
How to create an element preset:
Download an Element Presets addon from the Visual Composer Hub;
Add and style content element;
Click on the Edit option in the dropdown menu of the element controls to open an element Edit window;
Find a gear icon at the top of the element Edit window;
Name and save your element;
Open an element library and find the element that you have just created. It will have an Element Present icon.
It is possible to remove the created element preset by clicking on the cross icon which appears when you hover over the element in the element library.
Note: Any changes that you make after the element is added to your page, won't affect the element preset itself.