Adding a menu to your WordPress website is an important part of creating it. We want to make this process for you as easy as possible.
While using the Visual Composer Website Builder, you can choose between multiple menu elements, to elevate the appearance of your site and make it easy for the visitor to navigate through it. Simple, open Visual Composer Hub and locate menu content elements to download.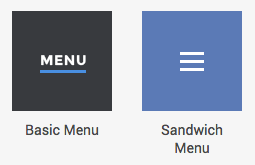 To add a menu to your WordPress site, you will need to follow these simple steps:
Create your menu in WordPress Admin Dashboard - Appearance - Menu (read the tutorial on how to create a menu in WordPress);
In pages, locate the page where you want to add your menu and select 'Edit with Visual Composer';
Open Visual Composer Hub and download the menu element you want to add (after download, menu element will appear under Add Content window);
Add menu element and in menu source select the menu you created in step 1.

You can also access and manage your WordPress menus via On-Page Settings.
Visual Composer Website Builder offers various types of menu, like Sandwich or regular text menu. We are also regularly updating Visual Composer Hub with new content elements. The awesome part of Visual Composer is that you can add a menu anywhere on the site. For example, you want to add a sandwich-style menu on the top right corner of your site - simply download the menu element and place it in the column.