Visual Composer Design Options allows adding the parallax effect to any container type element (row, column, section) to create dynamic effects that act upon the scroll. To access the parallax effect, in the edit form scroll down to the parallax section and select to enable parallax.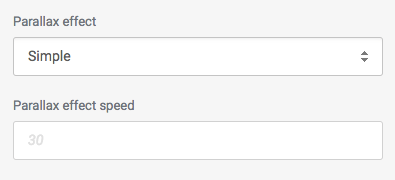 To add a parallax effect:
Open row, column or section edit form;
Scroll down to parallax section;
Enable parallax;
In Parallax effect select style;
Optional: adjust parallax effect speed;
Optional: enable Reverse parallax toggle to change the direction of the background parallax.
For free version users, there is one simple parallax effect available while the Premium version offers multiple parallax effects to choose from.
In addition, it is possible to control parallax availability for different devices.
Note: The parallax effect is available to all types of backgrounds.