Tired of square type layouts? Visual Composer gives you the freedom to transform your regular sections into a beautiful shape based modules with shape divider feature. Shape divider allows you to simply divide your rows and columns with the help of pre-designed responsive shapes. Add curved lines, clouds or diagonal shapes with one click, control height, scale, and color.
Moreover, Visual Composer has an exclusive option to apply images to your shapes and control shapes across devices to take your web design skills to the next level. Still not enough? Combine any shape with a parallax effect to go beyond your imagination.
Add shape dividers
Visual Composer allows you to add up to 2 shape dividers for one row or column – at the top and bottom. To add shape divider, open row or column element edit window and navigate down to the Dividers section. There you can enable top, bottom, or both shape divider positions – you will instantly see default shape dividers added either on the top or bottom area of the row or column.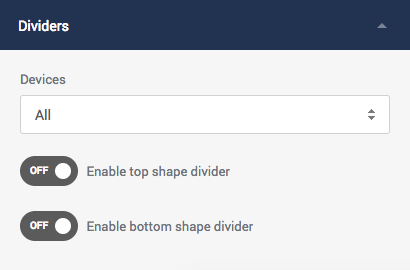 If you want to control shape divider availability or parameters across different device types, use Devices drop-down option to adjust settings.
Once you enable shape divider, you will see all the options available to the shape dividers:
Divider shape: a library of various pre-designed shapes;
Flip: option to mirror your chosen shape horizontally;
Divider size: set the height of your divider;
Divider form scale: scale your chosen divider to adjust design details;
Divider background type: select from color, gradient color, image background, YouTube, Vimeo or self-hosted video (add MP4 format to your Media Library).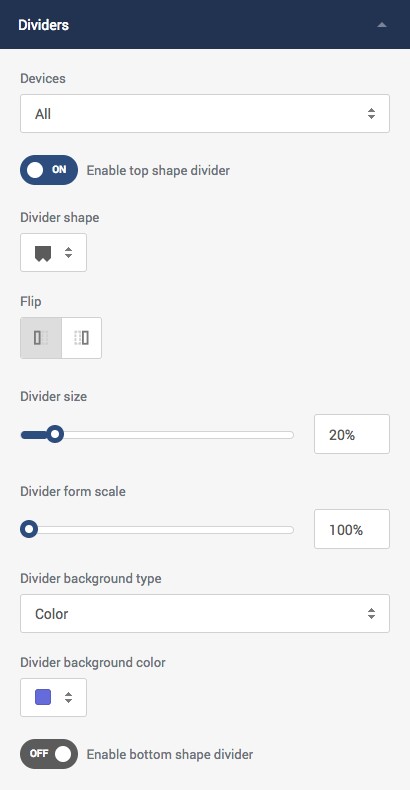 Shape divider with video
Visual Composer Website Builder offers an exclusive option to use video as a background in your row/column shape dividers. To add video background to your shape, simply enable shape divider option and in Divider background type select your video preferences – self-hosted, YouTube or Vimeo. For YouTube and Vimeo, simply copy the URL to the video page and it will automatically apply video to your newly created shapes.