Visual Composer Website Builder allows you to edit elements via the element Edit window. To open the elements Edit window, hover the element controls and select Edit from the drop-down menu.
Note: You can also double-click on the elements (except containers, like, rows) to open the Edit window.
Edit window of the elements consists of several sections to ease the structure of complex elements (based on attribute types).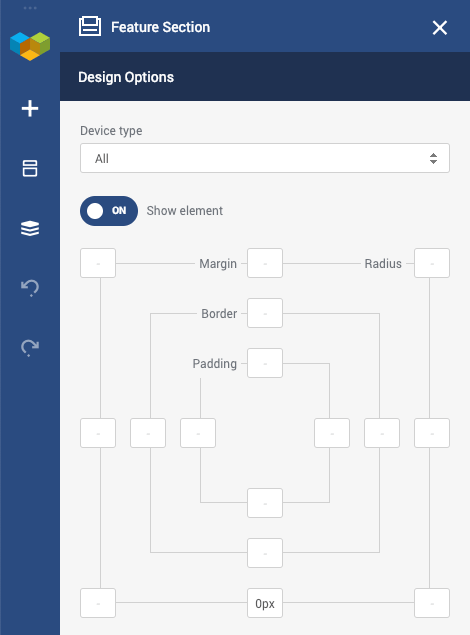 To edit element parameters, simply open element Edit window and change the parameters of your choice. Your changes will instantly take effect in the editor of Visual Composer Website Builder.
Different elements will have different parameters available. Nevertheless, all elements of Visual Composer has Design Options available that helps to adjust basic HTML/CSS attributes. Design Options for row and column are more advanced than regular elements (ex. row and column has parallax controls and shapes added to Design Options).
Custom Element Name
Visual Composer Website Builder allows you to change element's name - replace default name with the descriptive name of your choice. This option is very useful if you are working with a lot of content in Tree View and want to quickly navigate across your layout.
To change element name in element Edit window:
Open element Edit Window;
In the top bar click on the element title;

Type a new element name.

You can also change element name in a Tree View. Simply click on the element name and specify your new custom name.