Your WordPress theme usually has a default header, footer, and sidebar layout defined. Nevertheless, there are cases when you need a blank page to create a layout. For example, you can create a simple landing page for your marketing campaign. Or you want to create your custom headers, footers, and sidebars.
Visual Composer Website Builder offers you to convert any page, post, or custom post type into a blank layout and adjust options via Visual Composer On-Page Settings.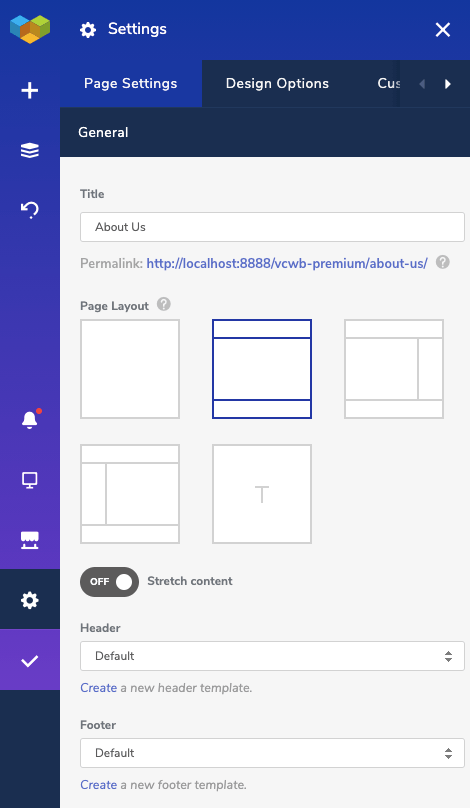 To select/change a page layout you will need to complete these simple steps:
Create a new page or 'Edit' existing page;
Open Visual Composer Settings from the Navigation bar;
Choose the layout of your choice;
Optional: specify header, footer, or sidebar templates;
Optional: control the width of the layout by choosing boxed (default) or stretched - full width.
You can also access and manage your WordPress menus via On-Page Settings.
Note: The changes will instantly take place in your Frontend editor, to apply changes, make sure to click Save/Publish.
Page Title
If you use a theme-defined layout there is a probability that you have a strict place defined for the page or post title. Yet, not every page requires a title at the top of the content (a most popular place to put it), maybe you want to incorporate heading somewhere within the content.
Visual Composer page layout settings allow you to disable Page titles for the themes that are coded according to WordPress Codex (most themes do follow this practice).
To disable page title:
In Visual Composer editor open Settings;
Disable page title by switching toggle control OFF.
Also, if you wish to change the Page title, you can do it in the same place by simply writing your own page title in the input field above.
Note: In Visual Composer predefined page layouts, we do not put a strict place for the page title. We give you the freedom to insert page title anywhere on the page as a simple heading (and even specify custom fonts.)
Slug Options
Every WordPress site has a slug (permalink) control that allows you to modify the destination link to your page. The slug control is important for SEO purposes. With proper use, it can improve your page ranking and add meaning to your links.
In Visual Composer Website Builder, you don't have to leave the editor to adjust the slug. On-page settings allow you to control slug at any time. In addition, if you start building a new page, the Blank Page wizard will also allow you to set the page slug.
To adjust page or post slug:
Open Visual Composer On-Page Settings;
Locate the page slug and hover it;
Change the slug to the new one;
Save the page for changes to take effect.
Important: Remember, that the page slug will be updated only after saving the page.
Why can't I change the permalink in the editor?
It is possible that the option to set a custom permalink is disabled by default. To enable that option, follow these steps:
Go to your WordPress dashboard;
Locate the Settings on the left side menu;
Click on Permalinks;
Enable "Post Name".