Save row as a template
You can customize, save and reuse rows or sections any time on any page by creating Template Presets. It means you can style and adjust the row or section once and save them with all the content and styling.
Row and sections will be saved as templates in your template library. To access your template library, click on the plus icon (Add Content option) located in the Navigation bar.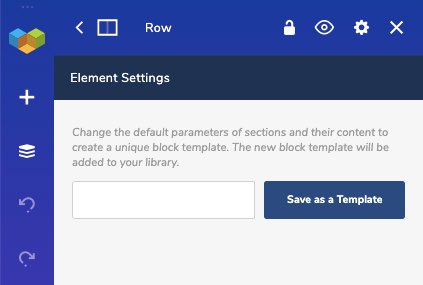 To save your row or section as a template, you also need to use the Element Presets add-on available for Premium users.
How to save a row or section as a template:
Download an Element Presets add-on (if you haven't already done so);
Choose the row or section you want to save;
Once you hover over it, click on the Edit option in the dropdown to open the Edit window;
Click on the gear icon here at the top of the Edit window;
Choose a name and click on the "Save as Template" button;
Open the Add Content window, find your template, and add it to your page.
Note: If you apply any changes to your template after you have added it to a page, the changes won't affect your template. Use Visual Composer Global Templates addon to automatically change your template across your site after you make any adjustments.