WordPress theme sidebars may be limited in their styles and layouts. You can insert widgets and maybe even style few of them, but changing whole sidebar can be painful. To ease your life, Visual Composer offers Template Widget – a simple WordPress custom widget that allows inserting any Visual Composer template into Widgetized area.
You can build your own templates and apply them to your sidebars or any other widget areas across your site.
How to Use the Template Widget?
In order to use the widget, you will need to have Visual Composer Premium version with access to the Visual Composer Hub: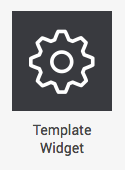 Open Visual Composer Hub and navigate to Add-ons section;
Download Template Widget;
In your WordPress Admin Dashboard, navigate to Appearance – Widgets;
Add Visual Composer Template Widget.