Visual Composer Hub offers a wide range of one-page templates for various purposes. You can download one-page templates tailored for specific sections or landing pages. In addition, you can go with Block Templates which are smaller sections that can be used to form your site block by block. Add them to your site, adjust texts, change the images, and you're ready to Publish.
Depending on your license, you can either access a part or all templates. Yes, even the Visual Composer Hub Free subscription comes packed with templates. The Premium version, on the other hand, increases the number of available templates and receives regular template updates.
Why choose templates?
If you need just one more section or a landing page there is no reason to go after a huge template set and then clean up your WordPress site. In order to get maximum performance, you need to keep your site clean. With templates and blocks, you get straight to the point where you have the one template you require at the moment.
How to access templates?
All available templates are located in the Visual Composer Hub - a cloud service linked to your website builder to download additional content elements, templates, and extensions.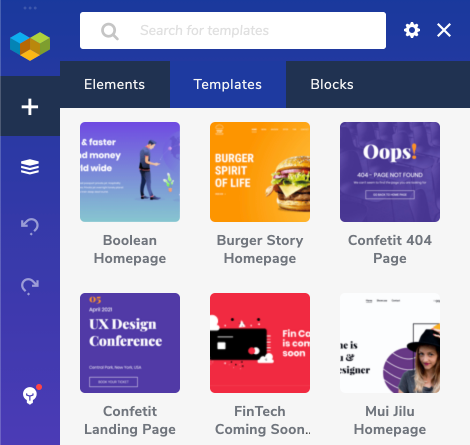 To download the templates of your choice, simply open Visual Composer Hub directly from the Frontend editor and navigate to the Templates or Blocks section. Choose the templates and click the download button. All downloaded templates will appear under the Templates tab located in the Add Content window.