Thank you for purchasing Visual Composer Premium license - in a few minutes you will be able to enjoy premium-class features and build your WordPress website with a simple to use interface and without coding.
To get full access to Visual Composer Hub and download all elements, templates, blocks, and extensions you need to activate your Premium license.
After the plugin installation, you can activate the Premium version from the WordPress dashboard. Note there's no need to download an additional premium plugin. All you have to do is follow the activation wizard and it will do the job for you.
Note: After the activation process is successfully completed, all premium features can be accessed in the Visual Composer Hub.
If you don't have a Premium license yet, try the Free version instead and upgrade to Premium later on or purchase your Premium license now.
Premium License Activation
Open your WordPress admin panel (www.yoursite.com/wp-admin);
Hover over Visual Composer and choose 'Activate Premium' ;
Find your Premium subscription license key in the My Visual Composer under Licenses;
Note: In case you don't have a premium license, click on the 'Go Premium' button below the Premium License feature list to get it.
Click on the key icon to copy your Premium License key;
Go back to your site and paste the license key into the field;
Click on the 'Activate' button.
Your activation is done.
Note: If you haven't already verified your email address, make sure to do it so the license you just activated is added to your My Visual Composer account, where you manage your subscriptions, view purchase history, access support, and more.
Note: Note: You can upgrade your Premium license straight from the My Visual Composer License section by clicking on 'Upgrade'.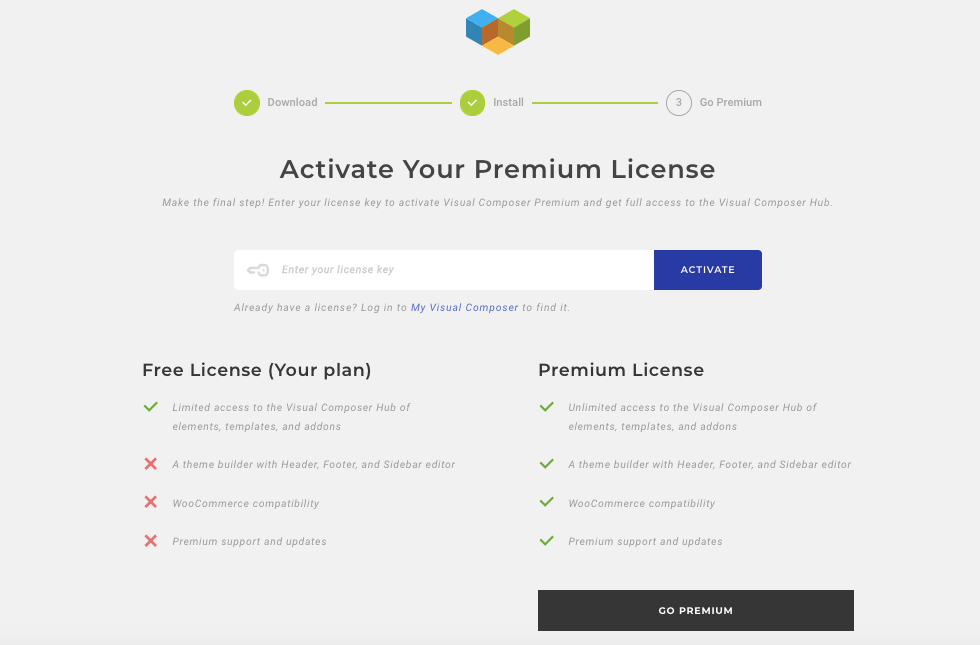 After successful activation, you can create your first page with Visual Composer Website Builder and download Premium content from the Visual Composer Hub.
Premium Activation On Staging
By entering your license key you can also activate the Visual Composer Premium license on your staging environment. Visual Composer automatically recognizes your staging environment and offers to activate your license on it. This will allow you to activate one license on both – live (production) and staging environments.