Role Manager addon for Visual Composer allows you to control which features and options from Visual Composer are available to different WordPress user roles.
You can download the Role Manager addon from the Visual Composer Hub with your Premium subscription.
Note: The post type control for user roles is available to both - free and premium users.
In addition, to Role Manager capabilities, the addon also includes an element lock feature that allows Administrators to "lock" specific content elements on the page.
Download Role Manager
To download Role Manager addon:
Open Visual Composer Hub
Navigate to the Addons section
Locate the Role Manager addon
Click 'Download'
You can now use the Role Manager addon to configure the access for your site WordPress user roles.
The Role Manager configuration will be available in the Visual Composer Dashboard (in your WordPress Admin panel).
Role Manager Configuration
The Role Manager lists all WordPress user roles available on your site. The first user roles listed will be the default WordPress user roles followed by other roles.
Remember, different plugins can create user roles on your site - the Role Manager allows you to set up the access rights for these user roles.
Note: To make your site secure, Visual Composer will restrict custom user role access to Visual Composer features by default. You can enable specific features on your own at any time.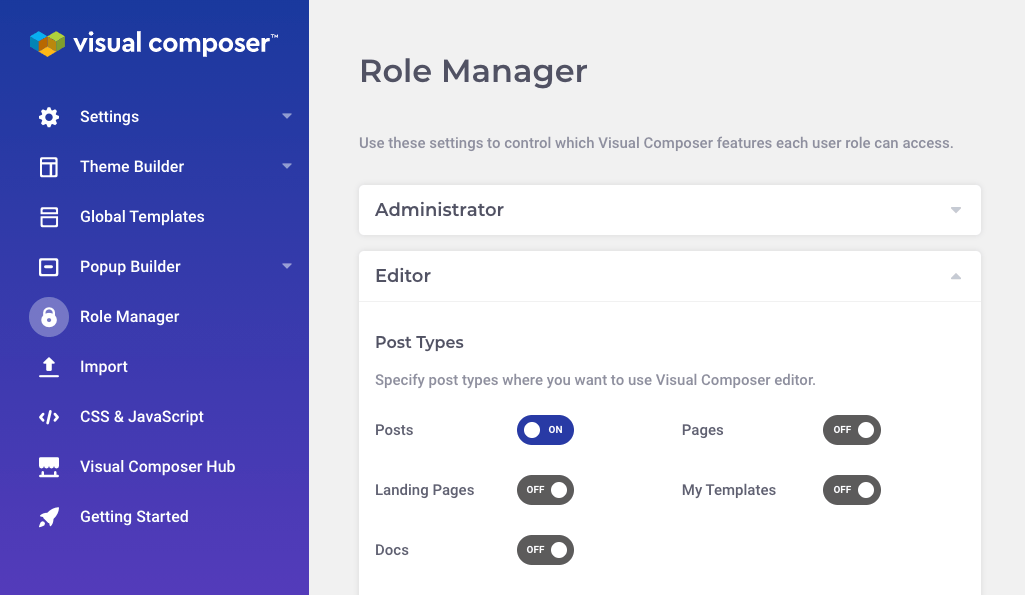 Before you start adjusting user role access, there are 3 things you should know:
The Administrator role will have full access to the Visual Composer features.
The Subscriber role does not have any access to the Visual Composer features.
WordPress, itself, allows or restricts certain access rights for some user roles - make sure to adjust them on the WordPress side. Visual Composer does not control WordPress access rights.
In the Role Manager configuration, you can control users' access to the following Visual Composer features and options:
General post type access (restricting access will disable Visual Composer for specific post types)
Visual Composer dashboard access
Visual Composer Hub access
Visual Composer On-Page Settings access
Content window (Elements and Templates) access
To control access to the specific elements, you will need to use the element lock feature.
Note: Don't forget to save your changes after updating the user role access.
Role Manager Presets
Role manager presets is a pre-configured set of user role access rights that allows you to quickly adjust any user role without adjusting every single setting.
Changing the presets will automatically update all access rights for a specific user role.
Note: You can always overwrite presets by simply adjusting the specific settings of the role manager.
Further read