To overview your system status, go to Settings under the Visual Composer Dashboard. This option allows you to track configuration in order to see if it is in compliance with Visual Composer requirements.
The status page should have all values marked as passed (green) in order to ensure a proper function of the plugin.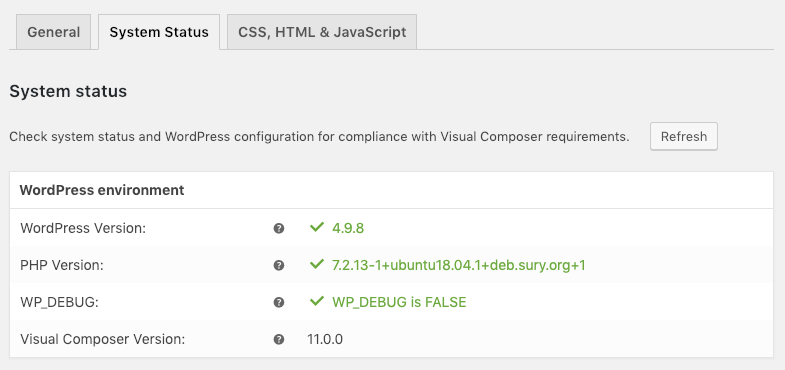 Any error will be displayed in red and a message to correct it will be displayed in the dashboard. Some of the commonly identified issues/errors and their fixes are as follows:
1) WP_DEBUG is True.
In this case, the WP_DEBUG should be set to False in wp-config.php core WordPress file. You can read more about WordPress debug mode here.
2) WordPress, PHP or MySQL shows an error.
Such error mainly occurs if you are using a version lower than the recommended one. Please update the WordPress, PHP or MySQL to a version mentioned in error message.
3) Zip or Curl extensions are not installed.
This error is displayed if the Zip extension or Curl is not installed on the server. You can get in touch with the hosting provider, so that they can install/enable it.
4) Errors related to connections.
In this case, make sure that the site is able to access external urls and port 80 is not blocked. If you are using WordFence, don't forget to white-list our assets as per the article here.
5) Uploads directory is not writable.
Plugin requires the uploads directory of WordPress to be writable, for it to be able to download and update it's assets. You can contact the hosting provider to give it a write permission.
6) Errors related to Memory Limit, Post Max Size, Max Input Nesting Level, Max Input Nesting Level and Upload Max Filesize.
In this case, set the respective values in your php.ini server file as per the one recommended in error message.