Templates are ready to use blocks that consist of content elements and has a predefined structure. To access the Templates option, click on the template icon located in the Navigation bar.
In Visual Composer Website Builder there are two types of templates:
Predefined templates;
User templates.
Predefined templates
The predefined templates are premium templates that were downloaded from Visual Composer Hub. These templates are available from the Templates tab located under the Add Content option in the Visual Composer Navigation Bar. Predefined templates are intended to cover the very basics of a website with different purposes and allow content replacement. In Visual Composer, you can distinguish two types of pre-defined templates - page templates and block templates (or section templates).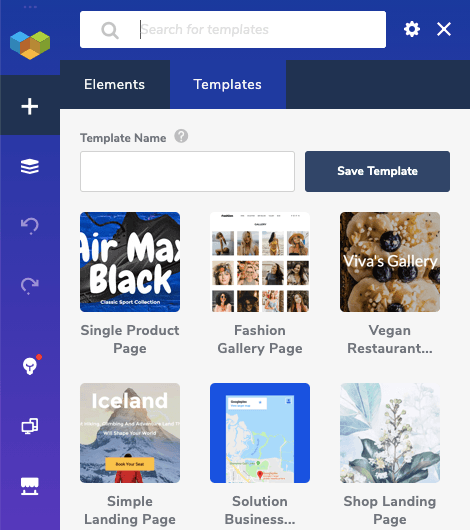 To view a predefined template before adding, hover the template thumbnail to trigger automatic preview.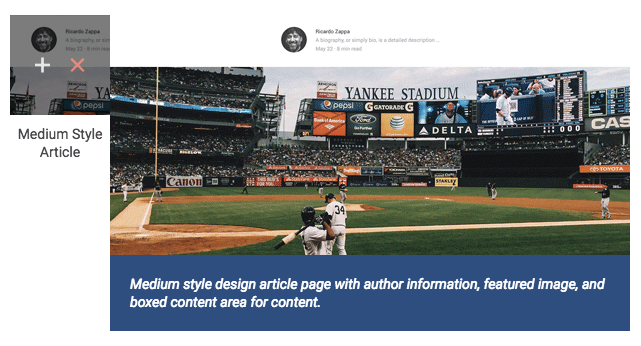 To add a template to your layout, click the add (plus) icon and hover the template tab.
Note: Predefined templates cannot be deleted or modified from Visual Composer Website Builder.
User templates
The user templates option allows you to save your current content of the page as a template. All user templates are located under the Template window together with Predefined templates (with the filter option available).
Templates can be used to quickly save your layout and reuse it in another page, post, or custom post type.
To save your current content as a template:
Open Template window;
Name your template;

Click Save Template;
After a successful save, your new template will appear in the list of templates.

Note: User templates will have a thumbnail generated automatically based on the first letter of your template title.
To add a user template, hover the template tab under the Add Content and select the add (plus) icon. The template will automatically be added to your layout.
To delete templates from the user templates, enter template manage mode, and delete any of the templates.
Note: Free version of Visual Composer Website Builder does not have global templates. Updating the template will not change the content of the pages where that template was used.