It is a common practice for web developers and digital agencies to work in a development environment and migrate your work to production. It is also handy to use boilerplate templates for multiple projects for your customers or organization.
With the Premium version of Visual Composer, you can easily export/import templates to migrate them between your WordPress sites. Visual Composer Hub offers a premium template add-on 'Export/Import' that allows you to easily export your Global Templates and import them into another Visual Composer powered website.
Export any single template or perform a bulk action to export all your templates in a single .zip file.
Get Export/Import Templates Add-on
To start using export/import you will need to download the add-on form the Visual Composer Hub:
Open Visual Composer Hub and navigate to Add-ons section;
Download 'Export/Import' add-on.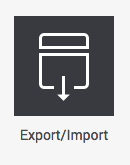 Note: Global Templates add-on must be downloaded as well (or it will be downloaded automatically.)
How to Export Templates?
Once you have add-on downloaded, the Export option will appear under the Global Templates section.

To export template:
Navigate to WordPress Admin Dashboard - Visual Composer - Global Templates;
Hover the template you want to export (or select a checkbox for the Bulk action);
Click export (or perform Bulk action 'Export');
The templates will be downloaded in a .zip file.
How to Import Templates?
As you have your templates downloaded in a .zip file you can migrate them to another site via Import option.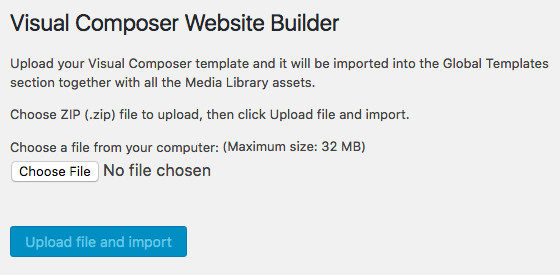 To import templates:
Make sure that Visual Composer is installed and activated on your site;
Make sure that Global Templates and Import add-ons are installed from the Visual Composer Hub;
In your WordPress Admin Dashboard - Visual Composer, navigate to Import section;
Select the .zip file that contains your templates;
Click 'Upload file and import';
Review the list of templates imported;
Confirm your choice;
Wait for the import process to finish;
Launch the editor to finalize the import.
Note: If there are content elements missing on your new site they will be automatically downloaded from the Visual Composer Hub upon editor launch.