Every website is unique, but not all parts of the site are. One of the most powerful techniques of a professional web designer is reusability. Create it once - use it anywhere.
As a simple example, imagine that you have contact information placed all across your website. You decided to change your office location. It would be a nightmare to edit all the pages just to change an address line.
To help you out, Visual Composer Premium offers you a Global Templates addon available in the Visual Composer Hub right after the plugin activation is completed.
Global Templates allow you to create layout templates and place them on your website. Change the template and your changes will be automatically distributed across your site.
From the example above, you will need to simply change the address line in a template and your site will be updated - as easy as that. Edit contacts, features, promo sections, and more from one place - hassle-free.
Get Global Templates
To add Global Templates addon to your site, simply navigate to Visual Composer Hub section Addons. Select the Global Templates addon and click download.
After a successful download, you will receive a confirmation notice.
Create a Global Template
The process of creating a global template is no different from any other layout you build with Visual Composer, like, page, header, or footer:
Navigate to Visual Composer Settings in your WordPress Admin Dashboard;
Select Global Templates;
Click Add New;
Name your template and create a layout with Visual Composer.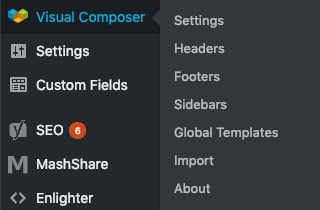 Once your template is ready, save it and you are good to go global.
Add Global Template
Once you have the Global Template addon installed from the Visual Composer Hub it will add a Global Template element to your element list. To add a global template to your page:
Open Add Content window the Element tab;
Search for the Global Template element;
From the drop-down list select the template.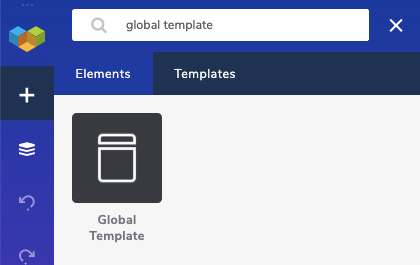 Note: Global Template element will show you all available templates you have ever made, including Header, Footer, and Sidebar which means you can insert them as a global template into your layout.
Important: All templates downloaded from the Visual Composer Hub will be available in the list, but upon edit, it will remove the link between the template and Visual Composer Hub to ensure proper future updates and cases if you want to revert changes. To revert back simply download a new copy of the template from the Visual Composer Hub.
My Templates vs Global Templates
You already have templates created? Don't worry, Visual Composer Premium will automatically convert your existing templates into global ones and add them to the Global Template section.
It does not mean that you will now have only the Global Template option. Add your templates via the Template tab by clicking on the plus icon in the Visual Composer Navigation Bar and they will still act as a regular one.