Professionally Designed WordPress Templates
Get started in minutes with any of the best WordPress website templates and customize them to fit your needs and business. Choose from 200+ customizable templates, adjust your content, save, and publish.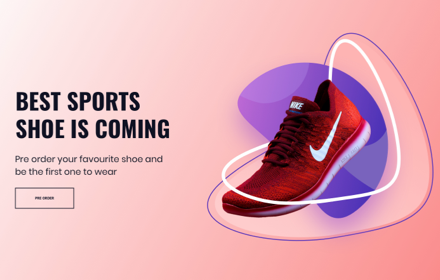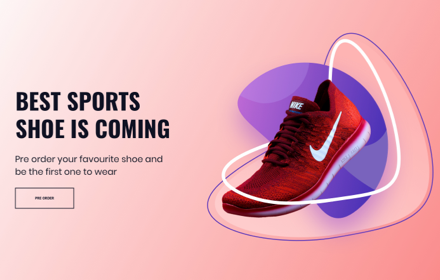 Single Product Page Template
Use this stylish template to promote your product in a fast and easy way. Provide all the information your customers need before making a purchase, such as the benefits and product reviews. Run campaigns and have a strong call to action.
Fits: Product landing pages, Online sales, Product reviews.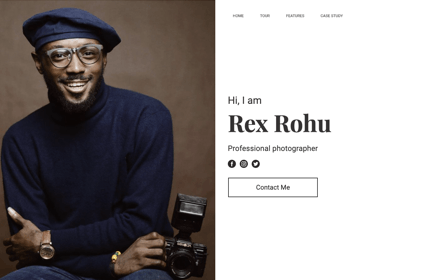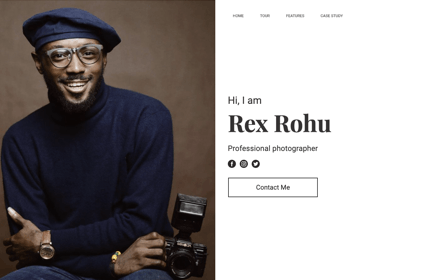 Rohu - Photographer Portfolio Template Set
Showcase your photos, customize the content, and get your portfolio online with a template kit of ready-made pages and blocks: Homepage, about section, gallery, contacts, and headers.
Fits: Photographers, Creative professionals, Designers, Fashion portfolio.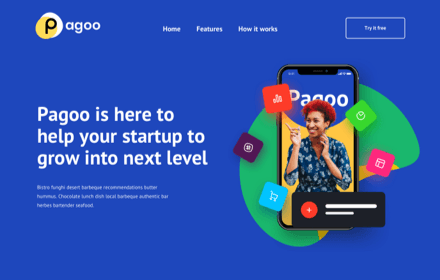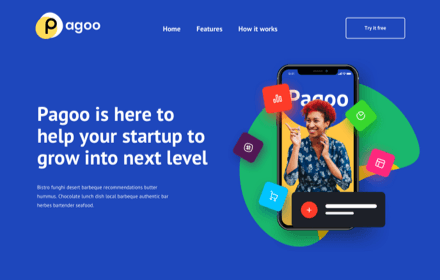 Pagoo - Startup Company Template
Launching a startup? You will need an attractive website for that. Entice your clients with this modern and colorful page template which is part of the Pagoo premium package.
Fits: Startups, Mobile apps, Product showcase, Software companies.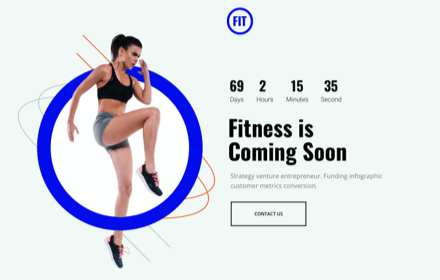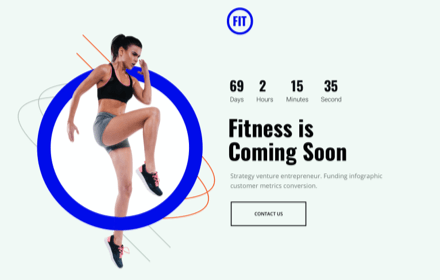 Coming Soon Landing Page Templates
Countdown to the launch of your new website with a coming soon page. Attract and engage your clients' by adding a product teaser, using email subscription form and social media. Choose from dozens of coming soon page templates in the Visual Composer Hub.
Fits: Online stores, Fitness trainers, Creative professionals, or any other industry.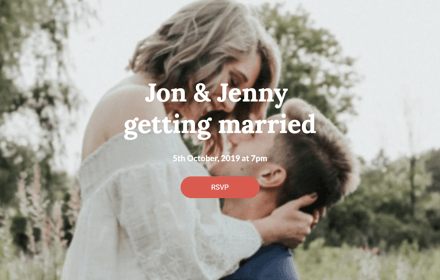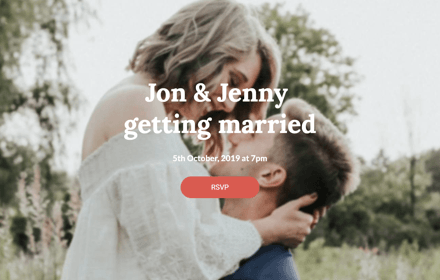 Wedding Invite Template
Share your story with this pretty event invitation template. Address your guests with the event details, registry information, dates, accommodations, and more. Simply customize content and make an image background about you.
Fits: Weddings, Engagements, Announcements, Meetups, Networking parties.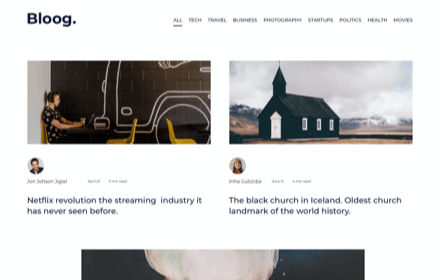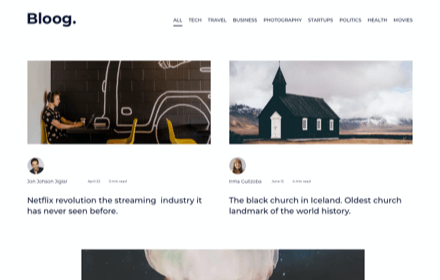 Bloog - Lifestyle Blog Template Set
A homepage template for your online blog or magazine with a comprehensive archive list. The template kit will allow you to create a homepage, single and double post blocks, as well as customize a pre-made menu header.
Fits: Bloggers, Influencers, Social media professionals, Personal blogs, Marketing blogs.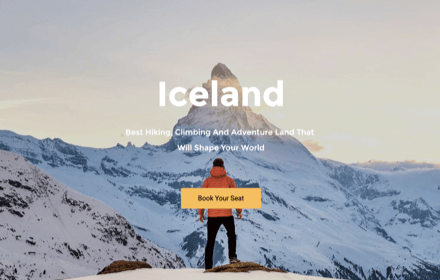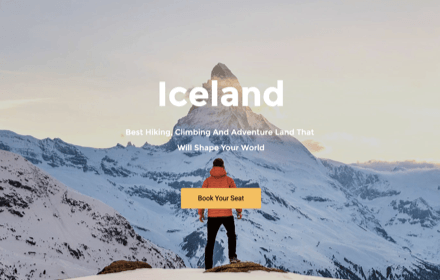 Simple Landing Page
A free landing page for WordPress for multi-purpose use. Download the template from our library and customize it - change the background image, highlight your products, and convince people to act.
Fits: Marketing campaigns, Digital products, Events, Collecting leads, and more.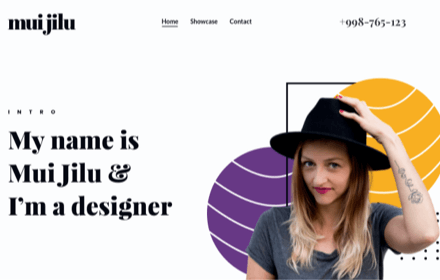 Mui Jilu - Web Designer Portfolio Template Set
A beautiful portfolio homepage template for designers and other creatives. This is one of the Mui Jilu package templates that consist of a homepage, coming soon, 404 error and maintenance pages, as well as pre-made blocks.
Fits: Website designers, Creative professionals, Photographers, Portfolios.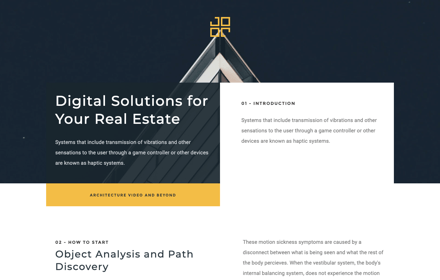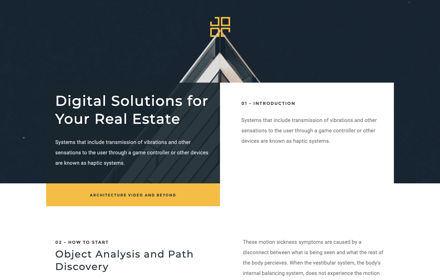 Business Consulting Template
A page layout that describes your business processes, workflow, and services in an easy to read way. Show clients your professionalism with a resume type website, guide them through the processes, and convince them.
Fits: Business, Accounting consultants, Consulting firms, Professionals.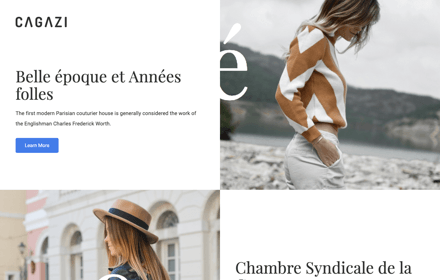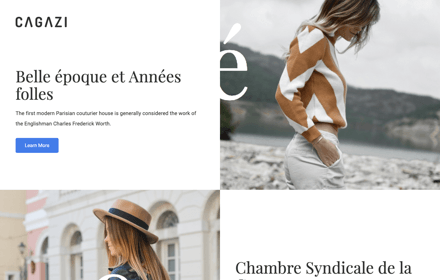 Fashion Magazine Leaflet Template
Showcase your collections or run an online fashion blog using a clean and beautiful page design. Fashion and style leaflet layout will highlight your stories and photography in an easy-to-read way.
Fits: Fashion, Bloggers, Style blogs, Fashion stylists, Designers.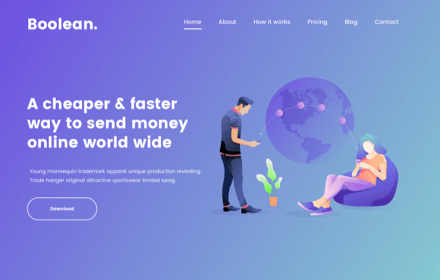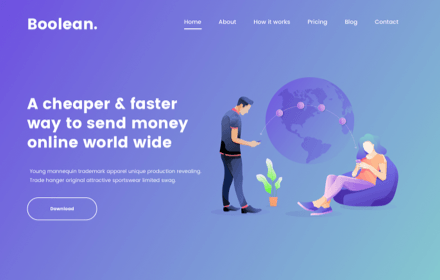 Boolean - Financial Services Template Set
This professional template includes all the features you need to introduce your online presence. This template kit in the financial blues provides all you need to make a complete website. About the company page, contacts, pricing table, FAQ, blog, and more, in total 19 pre-made templates and blocks.
Fits: Financial services, Consulting and Accounting firms, Banks, Financial advisors.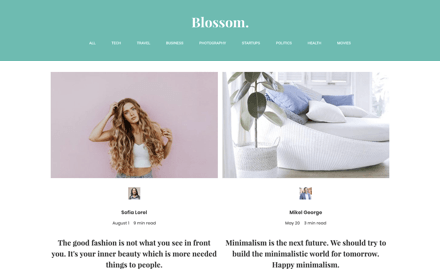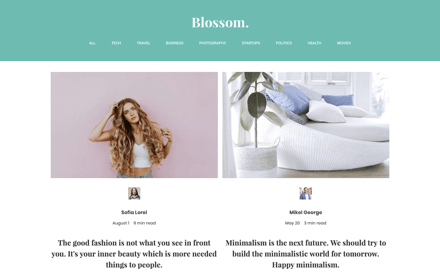 BLOSSOM - Medium Style Blog Template Set
Give your next WordPress blog a breath with the clean and well-structured Medium style blog template. The Blossom blog set contains an article page, a homepage, a header, and a related article block. Everything you need to make your blog easy for the reader to read and easy for you to maintain.
Fits: Travel blog, Personal blog, Design, Marketing, Lifestyle blog. All niche bloggers.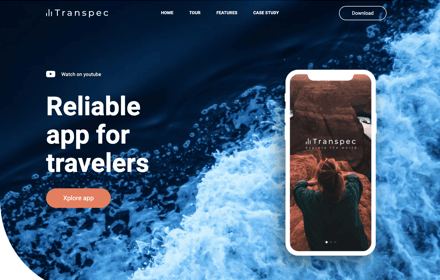 Transpec - Digital Products Template Set
Catch all the right people with an eye-catching designed app template. Promote and sell digital products with this portfolio-type template kit of pre-made inner pages, blocks, headers, and footers.
Fits: IT companies, Startups, Hitech industry, Apps.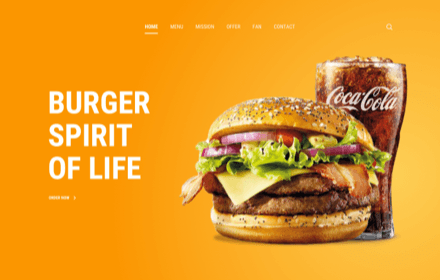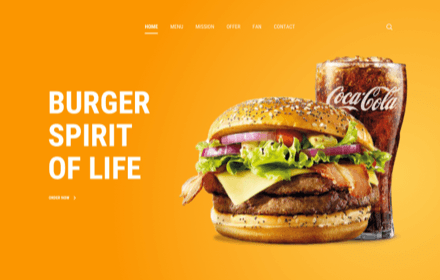 Burger Story - Burger Restaurant Template Set
With bright colors and attention-grabbing typography, this is the perfect website template for anyone wishing to attract customers to their restaurant. Let your customers know your special offers, include testimonials, and tell your restaurant story via a tasty looking website.
Fits: Restaurants, Catering companies, Cafes.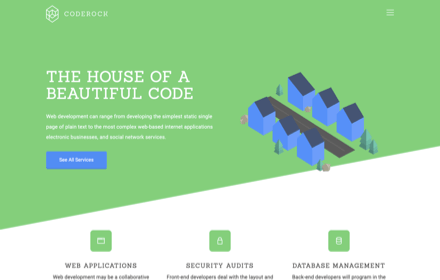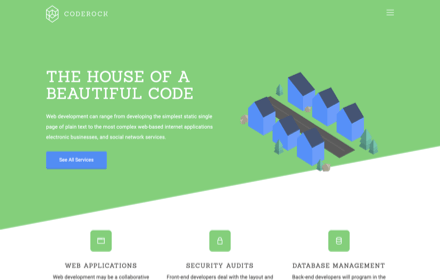 Coderock - Web Development Template
Display your web developer or designer portfolio and services with this cutting-edge template. A custom made 3D illustrations gives reality to your projects. Download this template from the Visual Composer Hub and craft the page to your needs, change texts, add images, and publish.
Fits: Web designers, Web developers, Creative professionals.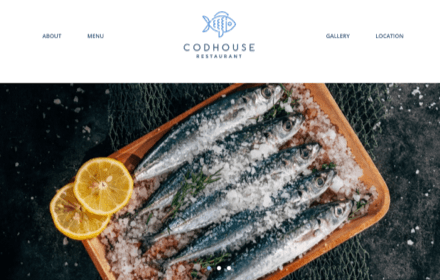 Codhouse - Seafood Restaurant Template
Promote your restaurant and give customers an option to see the menu of your offering. This food-focused template has the aesthetic design and restaurant features you need to find online success. Customize the menu, a slideshow, add your contacts, and write articles to attract more eaters.
Fits: Restaurants, Cafes, Culinary specialists, Food industry.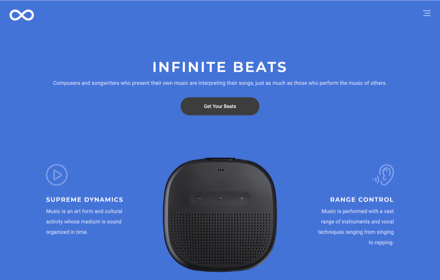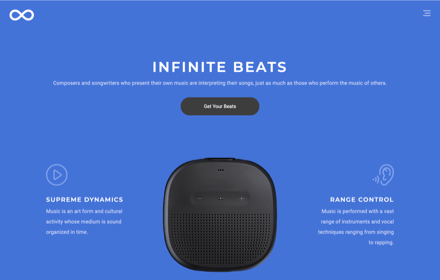 Product Landing Page
Get an infinite scroll template to showcase your products in a supreme way. This page template comes with a sticky product preview image so that all the focus is on the product. Showcase your product's features, provide links to your main website and social media accounts.
Fits: Product landing pages, Online sales, Video, Audio releases.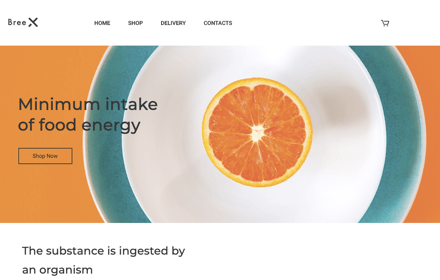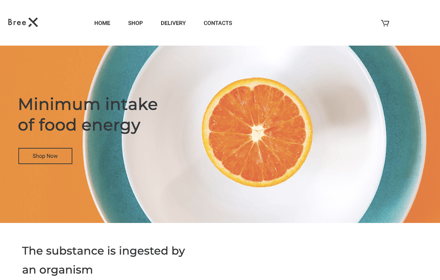 Breex - Online Store Template Set
Start selling your products online with the help of a clean and simple eCommerce page template. Breex template set (ten blocks and templates) combines a playful color palette with a professional design so visitors can discover and easily make a purchase.
Fits: eCommerce, Online shops, Product landing pages.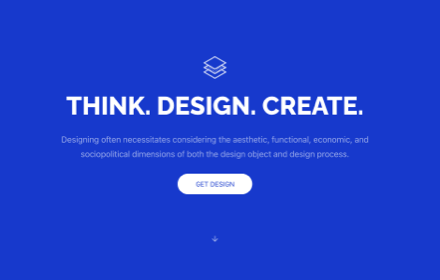 IT Services Portfolio Template
Show your professionalism with this clean and bright page design. The portfolio-type page template is for digital and design services with a strong focus on case studies and articles. Put your design thinking online.
Fits: IT companies, Startups, Hitech companies, UX experts.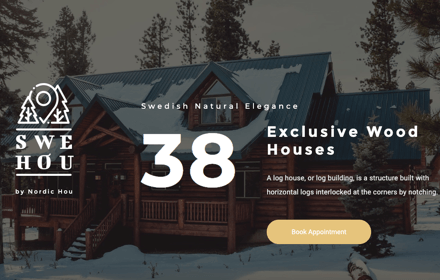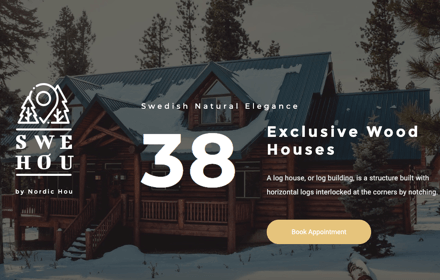 Real Estate Project Landing Page
Get your property on the market with this accented personal, and professional template. Simply upload images of your house or apartment, add a video tour, and describe the most important services.
Fits: Real estate agencies, Agents, Property management.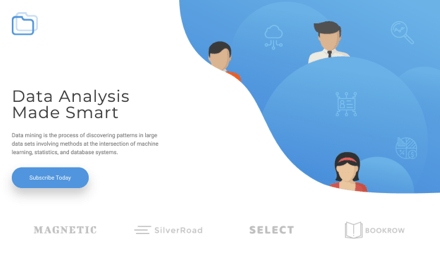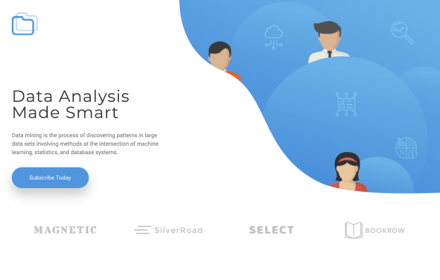 Business Services Template
A sleek website template is perfect for your startup business to make potential leads want to try your service or product. Customize the design to your taste, describe services and qualifications, and add a strong call to action.
Fits: Business, Consultants, Professionals, Startups.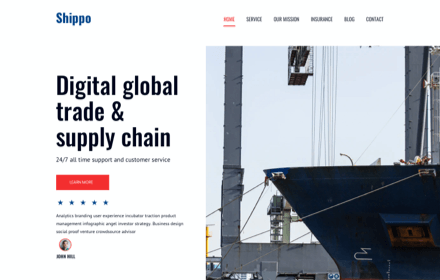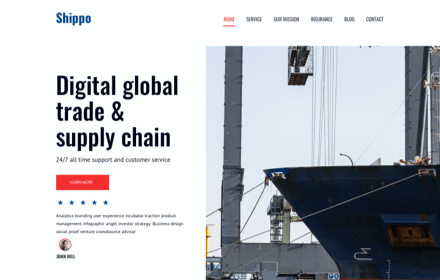 Shippo - Moving Company Template Set
This template set focuses on the vital information about your business, with dozens of pre-made pages and blocks, you will be covered to have a complete website. Showcase your services, add contacts, tell about your team, and get interaction with your site visitors.
Fits: Logistics, Moving companies, Shipping companies.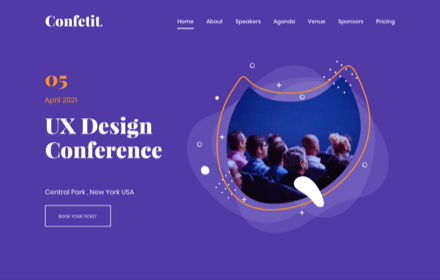 Confetit - Tech & Design Conference Template Set
Prepare for your conference, festival, or event with this modern website template set. Add text and photos to highlight key speakers. Customize the design and layout to match the tone of your event. This is the perfect place for attendees to register and view the schedule of events.
Fits: Events, Festivals, Conferences, Consulting, Professionals.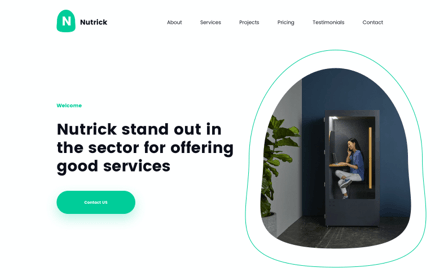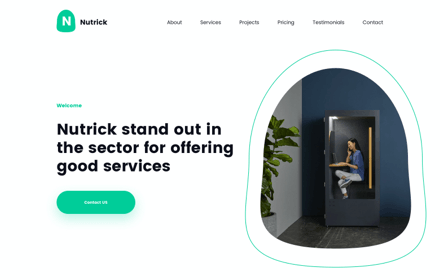 Nutrick - Digital Agency Template Set
A clean and polished template that helps highlight the essence of your business. An eye-catching hero section grabs users' attention right at the top. Go further, get a full Nutric template set, and customize sections to your business tone. Set colors, edit texts, upload images, and send your business online.
Fits: An advertising agency, Marketing agency, Media agencies.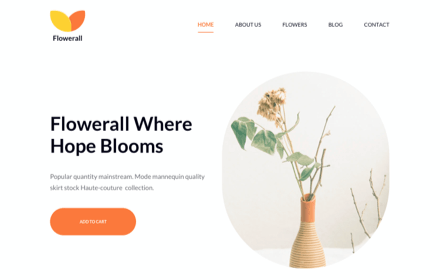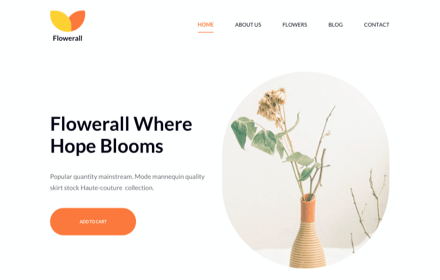 Flowerall - Flower Shop Template Set
Showcase the beautiful variety in your bouquets with a stunning gallery. Tell your flower story using pre-made page templates, blocks for featured products. Easily add your own content and images to showcase your brand.
Fits: Florists, Flower shops, Boutique plant shops.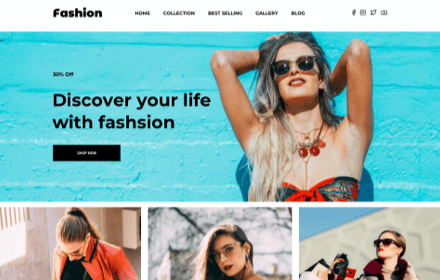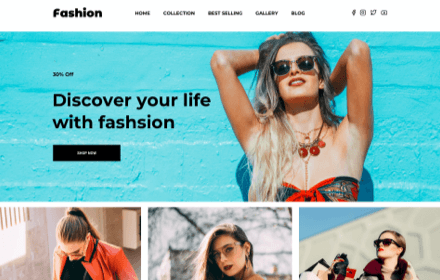 Fashion - Clothing Store Template Set
A homepage template for a fashion eCommerce store that can be adapted for other industries. Whether it's women's or men's clothing, accessories, or interior items, this template comes complete with everything you need for your business to succeed.
Fits: Fashion stores, eCommerce shops, Clothing brands.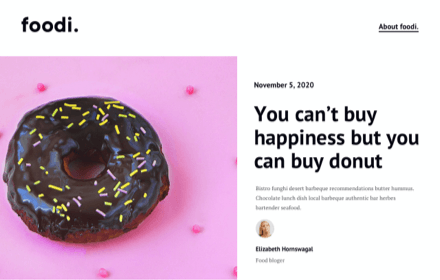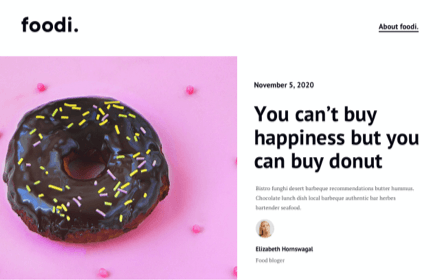 Foodi - Food Blog Template Set
A tasty-looking food template is a perfect match with your upcoming recipe blog. Write food stories, add your own recipes, insert photos, or take them easily from the Unsplash integration. This template kit comes with pre-made pages of a blog article, featured blog section, about you, and a coming soon page so you can kick-start already today.
Fits: Food bloggers, Restaurants, Cafes, Cooks, Lifestyle bloggers.
Explore More Template Features
Get access to the premium-class template features, tools, and options. Visual Composer offers a bunch of time-saving solutions for your web design projects. You don't have to be a pro to develop sites like a pro.
Template library
Choose your template from various multi-purpose templates available. Create landing pages, portfolio, articles, and more completely free.
Create your own templates
Save any layout as a template to reuse it across your website. Save time you spend on content creation with your predefined templates library.
Customize any template
Quickly adjust any template or simply replace information on a ready-to-use design. You don't have to be a designer to create stunning pages that sell.


200+ Templates
Visual Composer Hub grants you access to the cloud marketplace to download page, header, footer, sidebar, and block templates.


Global templates
Create global templates to manage your content from one place. Reduce the time you spend while working with similar content blocks of your site.


Template widget
Add Visual Composer templates into any WordPress Widgetized area with a simple Template Widget available in the Visual Composer Hub. Enhance your headers, footers, and sidebars with beautiful layouts.


Blocks templates
Design your page section by section with the help of blocks templates of various purposes available at Visual Composer Hub.


Site layouts
Choose from various site layouts, like blank page, or simple page to quickly add content and various site blocks.


Export/import templates
Add Visual Composer templates into any WordPress Widgetized area with a simple Template Widget available in the Visual Composer Hub. Enhance your headers, footers, and sidebars with beautiful layouts.


Header templates
Choose from various site header templates from the Visual Composer Hub collections. Instantly add them to your site and make changes or create your own header templates.


Footer templates
Download footer templates right from the Visual Composer Hub. Apply your new footers site-wide or create your own custom footer design.


Sidebar templates
Get eye-catching sidebars right from the Visual Composer Hub. Manipulate with your sidebar content right from the Visual Composer frontend editor.


Template presets
Save any row or section of your site as a separate template. Combine template presets with the Global Templates to quickly update content all across your site.
Template categories
All your templates will be organized in categories so you can access them easily.
All templates. One place.
Visual Composer Hub becomes your one-stop resource to discover the best templates for your site. A free marketplace for brilliant WordPress templates.
Join the thousands of web professionals
who already use Visual Composer