New Visual Composer Vs WPBakery
What is the difference between WPBakery and Visual Composer?
Visual Composer is a next-generation React-based website builder. It is fast, great for SEO and responsive websites.
Are WPBakery And Visual Composer The Same?
No, there is a big difference.
Visual Composer Website Builder and WPBakery Page Builder are designed to allow WordPress users to build websites with a drag-and-drop page builder.
The key difference is that Visual Composer Website Builder is a fully-fledged website builder which means that you can create an entire website. But with WPBakery Page Builder you an edit only the content area of your pages.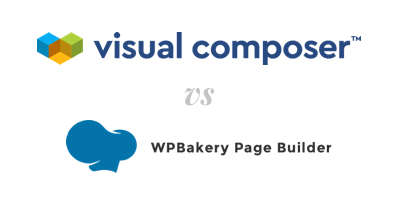 Visual Composer vs WPBakery Page Builder
In the following sections, we will review each page builder plugin in more detail and by the end, you as a web designer will decide which WordPress plugin to choose.
Visual Composer Website Builder Overview
With Visual Composer Website Builder, you can build an entire website in frontend editor. With the included theme builder you can create custom page layouts, design unique headers, footers, sidebars, and popups.
Plus, you have access to the content elements, templates, addons, free stock images, and other powerful features that can be downloaded from the free cloud marketplace - the Visual Composer Hub.
WPBakery Page Builder Overview
The team behind the WPBakery was the original innovator of drag-and-drop page builders for WordPress and set a great foundation for the rest of us.
However, over time WPBakery Page Builder has experienced performance issues, mainly caused by shortcode-based technology that today is replaced by new and more sustainable ones.
WPBakery Page Builder is known for its backend editor (yet it has both frontend and backend editors they are not so sophisticated as in Visual Composer Website Builder).
More and more WPBakery Page Builder users are looking for alternatives that will improve and speed up the process of website development.
"Lately our team switched from the WPBakery Page Builder to the Visual Composer. Everything is so fast to load and easy to edit in the Visual Composer! There is no way to go back to the WPBakery Page Builder after editing with the Visual Composer."

Visual Composer Website Builder Vs WPBakery Page Builder
The naming says it all - page builder and website builder.
This means, that with WPBakery Page Builder you can design only the content area of your page. While with the Visual Composer Website Builder you can go beyond and design a complete website, including headers, footers, and sidebars.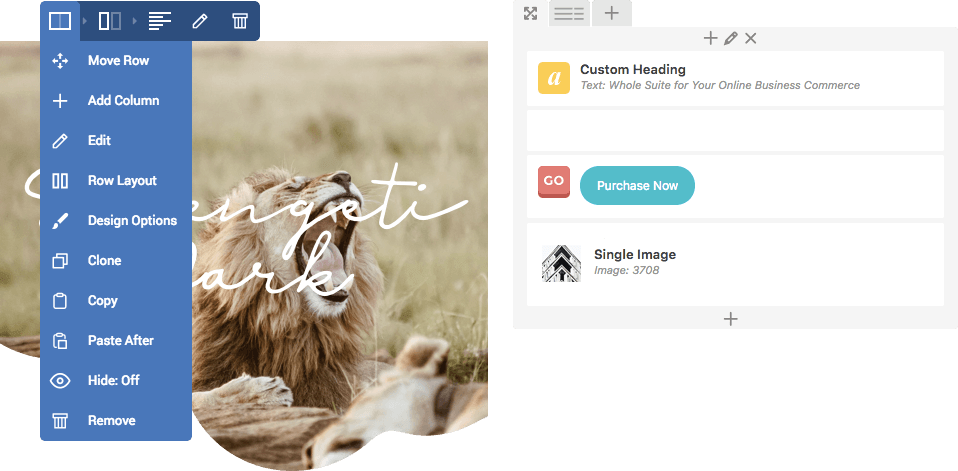 In the Visual Composer, you can create custom page layouts and overwrite the default theme's settings while it is not possible with the WPBakery Page Builder.
It doesn't mean it is not possible at all. You can always use 3rd party plugins to expand the capabilities of WPBakery. Just take into account that too many plugins can affect your website's performance.
Let's look further at what's common and what's different for these two WordPress page builders.
1. Performance
The primary factor of website performance is the technology behind the product itself. It is like an engine for the car. The powerful, modern engine will take you much further than an outdated one.
The same goes for the software. Visual Composer is built using modern technologies (it is a React-based website builder). The new technologies used in Visual Composer Website Builder ensure that you get a better site performance, better SEO, and faster page load.
In turn, WPBakery Page Builder is a shortcode-based plugin. It is not a final judgment but too many shortcodes can cause a mess in your code.
Additionally, Visual Composer comes with the cloud-based Hub - a library of elements and templates. This means that you can download only needed elements and templates without bloating your website with unnecessary assets.
Fewer assets, addons, or 3rd party plugins mean a faster website.
"Visual Composer is one of the most powerful WordPress plugins in the market today. It's really easy to use and has endless options to make your website beautiful. Whether you are a newbie or expert, I highly recommend VC for your web design projects."

2. Assets
Both Visual Composer and WPBakery have a rich set of elements and a template library. Regarding the page templates, they are a great help for beginners or if you need to make a page quickly, for example, a marketing landing page.
3. Content Elements and Templates
At Visual Composer, we make sure there are new page and block templates added to the Hub on a weekly basis.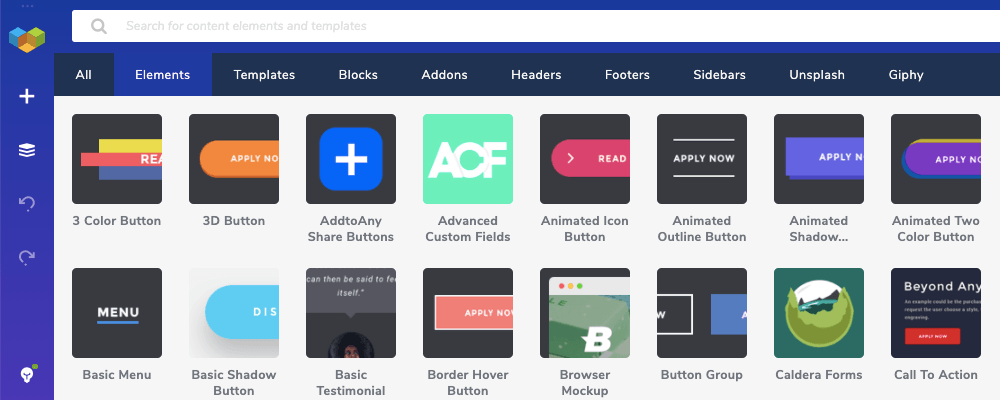 Visual Composer gives you more than 300 content elements that can be used to create your website from scratch or as an additional piece to existing content. There is a great choice from media, container, social, WordPress, and other content elements.
"I love using Visual Composer for my website. I'm fixing the website on my own from the ground up and it has been very helpful in making it easy for me to update my portfolio. The templates have also made creating content fast, easy, and consistent."

Similarly, WPBakery Page Builder comes pre-packed with more than 50 content elements and dozen ready-made templates. From a simple text block and buttons to advanced accordions and post grids.
4. Addons
In addition to the elements and templates, both WordPress plugins offer addons. While the WPBakery Page Builder addons are created by the third-party developers, Visual Composer is adding its own addons directly to the Hub.
The Font Manager, Theme Builder, Role Manager, Global Template, Export/Import, Template Widget, and Gutenberg Template Block are the core extensions inside the Visual Composer editor.
Although WPBakery does not offer its own addons, it has 3rd party addons available for purchase. There are thousands of developers who have created addons for WPBakery Page Builder, and in our opinion, it is their greatest asset.
Insights
One of the core differences between Visual Composer Website Builder and WPBakery is a free qualitative analysis tool available right in the editor.
Visual Composer Insights is a collection of smart scenarios that helps you to design better websites on the go.
With Insights, you can improve your site performance and SEO rankings without using additional tools.
6. Visual Composer Hub
Contrary to the WPBakery addons, the Hub is one of the Visual Composer's biggest assets. Keeping all the elements, templates, and addons in the cloud, we give you an opportunity to design a light, fast, and clean website. You download the assets you need and don't bloat your site with unnecessary code.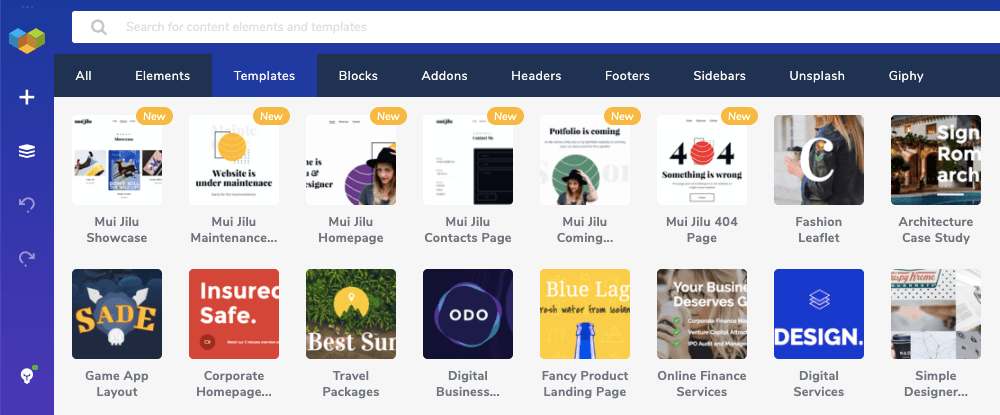 As it is at WPBakery, when you activate the plugin, you get all the assets as the "gift". You need them or not, your editor brings them along. It can be an annoying experience.
Continuing with Visual Composer Hub, it is an easy-to-use directory that gives you downloadable elements, templates, blocks, addons, headers, footers, sidebars, and even free stock images that can be used for personal and commercial projects. Visual Composer Premium users have unlimited access to the Hub and a wonderful opportunity to receive new elements and templates on a weekly basis for free.
7. Compatibility
To be one of the leading WordPress plugins, both WPBakery and Visual Composer have to look at their compatibility with WordPress. While WordPress compatibility is a rule, compatibility with other plugins is optional. However, it is not the case for Visual Composer. Our intention is to become compatible with as many WordPress plugins as we can. We want our community to get the best out of it!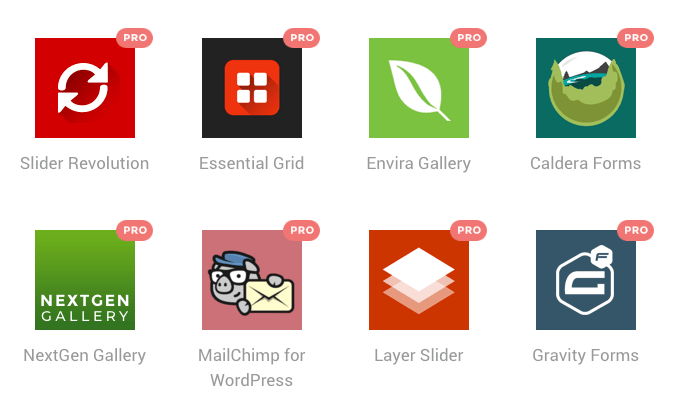 Visual Composer compatibility means a third-party plugin element included in the Visual Composer Hub.
Most of the commonly used plugins like WooCommerce, Contact Form 7, Advanced Custom Fields, Captain Form, Envira Gallery, EvenOn Calendar, Gravity Forms, Gutenberg, Layer Slider, etc., can be managed straight from the Visual Composer editor.
WPBakery Page Builder has the same philosophy behind it. It offers compatibility with such plugins as WooCommerce and Yoast for SEO. You can get all the WooCommerce shortcodes ready as content elements while WPBakery will ensure full compatibility.
Although both plugins follow the same strategy, Visual Composer is a step ahead offering one of the most comprehensive compatibilities in the WordPress world.
8. For Developers
Both WordPress site builders are developer-friendly. At Visual Composer, we offer developers API, free theme integration opportunities, as well as an option to create unique custom projects like add-ons.
"We have built more than 30 sites using your builder, winning more than a few awards for design and user experience. What led us to use your plugin for most of our customer sites is the clean code it generates, the simplicity and clarity in separating the various elements, the ease for developers to create very complex layouts and ease for the customer to be able to perform simple and fast changes."

The WPBakery Page Builder, as mentioned before, is a king of third-party add-ons. Its technical environment lets developers create all kinds of custom projects. Theme authors can integrate the builder into their WordPress themes. Web developers have an opportunity to make lots of different addons.
However, there are some beauties offered by Visual Composer for both web developers and theme authors.
9. Visual Composer API
Visual Composer offers comprehensive documentation of the developer's API. You can extend Visual Composer, create your custom elements and extensions. Additionally, as a web developer, you will appreciate a staging environment offered by Visual Composer. The software will automatically recognize your development environment and allow you to activate an additional license.
10. Theme Integration
Although both WordPress builders offer a theme integration, there is one thing that differs. Integrating WPBakery Page Builder into your WordPress theme will cost you $299. That is the price for a single SaaS application.
In contrast, Visual Composer lets you integrate the builder into your themes for free! The free version comes with a fair amount of features complimenting more than 40 free content elements, predefined templates, and a wide range of design options. This is a great way how you can complement your themes with an easy-to-use site builder.
Feature Comparison
Below, you can find a full feature comparison table to see the difference between Visual Composer Website Builder and WPBakery Page Builder.
| | | |
| --- | --- | --- |
| Features | WPBakery Page Builder | Visual Composer Website Builder |
| Free version | | |
| Drag and Drop editor | | |
| Frontend editor | | |
| Tree view mode | | |
| Insights analytics | | |
| Backend editor | | |
| Mobile editing | | |
| Inline text editor | | |
| Instant save | | |
| Header editor | | |
| Footer editor | | |
| Sidebar editor | | |
| Page layouts | | |
| Global header and footer | | |
| Works with any WordPress theme | | |
| Custom Post Type support | | |
| Maintenance mode | | |
| Archive page editor | | |
| Multisite support | | |
| Multilanguage ready | | |
| RTL compatible | | |
| Template management | | |
| Blocks templates | | |
| Element presets | | |
| Templatera/Global Templates (Reusable templates) | | |
| Template Export/Import | | |
| Design Options | | |
| Copy/Paste | | |
| Element clone | | |
| Element custom name | | |
| Grid Builder | | |
| Hide element | | |
| Keyboard shortcuts | | |
| Recent colors | | |
| Undo/Redo | | |
| Blank Page Wizard | | |
| Custom CSS | | |
| Custom JavaScript | | |
| Element replace | | |
| Role manager | | |
| Element lock | | |
| Icon libraries | | |
| Google fonts | | |
| Instagram-like filters | | |
| Parallax effects | | |
| Gradient background | | |
| Slideshow background | | |
| Carousel background | | |
| Zoom In/Out background | | |
| Video background | | |
| Element animations | | |
| Background image position | | |
| Shape divider | | |
| Box Shadow | | |
| Instant column resize | | |
| Column stacking | | |
| Reverse column stacking | | |
| Row full width/height | | |
| Responsive preview mode | | |
| Automatic responsiveness | | |
| Custom row responsiveness | | |
| Yoast SEO support | | |
| Shortcode support | | |
| WordPress widget support | | |
| Gutenberg element | | |
| Block for Gutenberg | | |
| Custom widget support | | |
| Unsplash Stock Images | | |
| Giphy integration | | |
| API | | |
| Staging activation | | |
| 3rd party Add-ons | | |
| WooCommerce Support | | |
| Cloud library | | |
| Menu elements | | |
| WordPress meta controls | | |
| Online customer support | | |
| Theme integration | | |
| Developers License | | |
Pricing
Visual Composer has a free version that will always stay free. It is one of the most feature-rich free versions in the website builder market. It lets you create a basic website with rows, columns, ready-made templates, and elements.
For more advanced projects, Premium licenses grant you hundreds of designer-made page templates, elements, addons, and stock images. As well as assist you with dedicated customer support.
You can also get a Lifetime license. It is a great opportunity for agencies and freelancers to pay a one-time fee and never worry about renewals again.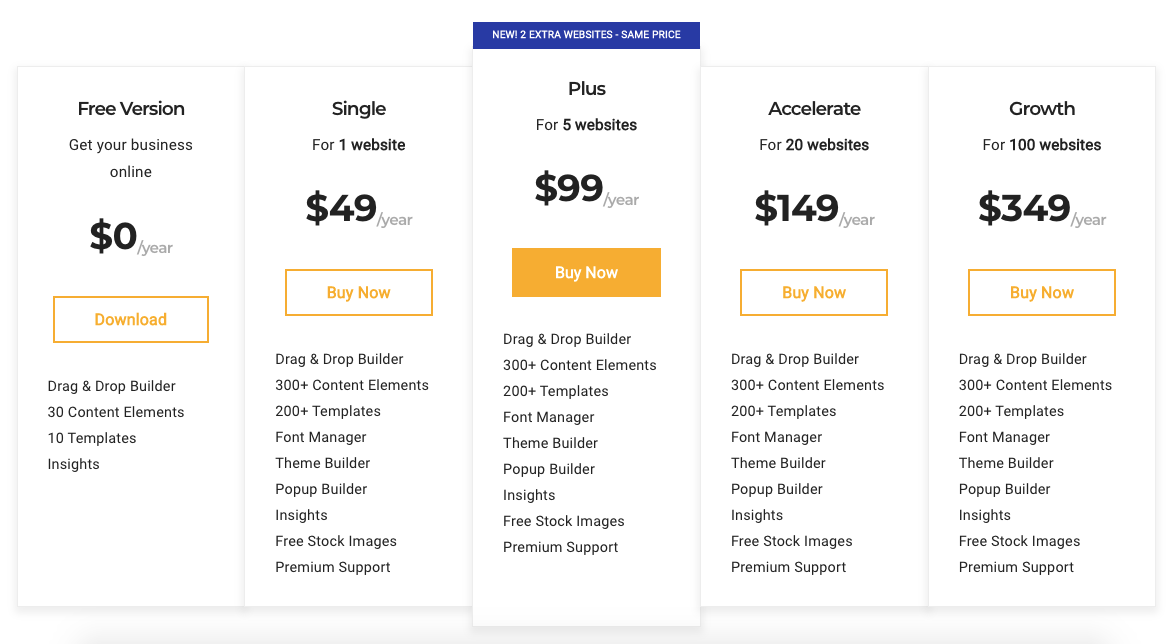 In the meantime, WPBakery Page Builder doesn't offer a free version. It offers two types of licenses, a regular one for use on a single site and an extended license for use as a single SaaS application.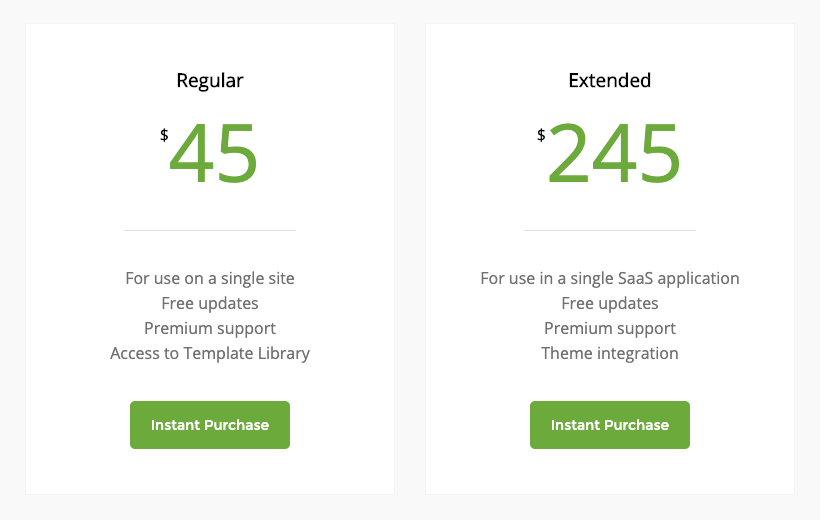 Visual Composer has a 30-days money-back guarantee while WPBakery Page Builder has 15 days money-back guarantee. You can give it a try and always get a refund if the plugins don't meet your expectations. However, you might find it daunting. In order to avoid an extra money flow, before going Premium on Visual Composer, you can always see what assets you will get as a Premium user. That can be done from the Visual Composer Hub.
Support
Both plugins provide human-managed support to their Premium users. It is a part of a package you get after the purchase. However, at Visual Composer, we don't leave our free users behind.
We have taken care of explanatory videos on YouTube, a Facebook community where everyone welcomes and helps new Visual Composer users. The Help Center with a dedicated directory that will help free users from the very beginning of their website building to the most advanced processes. All of these platforms are free helpers for anyone working with Visual Composer Website Builder.
Try Visual Composer Today
Visual Composer will never stop innovating and providing clients with the latest and greatest technology. You can check out our feature updates. We work hard for new integrations, tools, and features, and are doing it faster than our industry members.
At Visual Composer, we stand behind our service and want you to be happy and successful with your website. Try Visual Composer Website Builder for Free or go Premium and enjoy a risk-free experience for 30 days!
Any website, fast and easy!
New Visual Composer comes with 500+ elements, templates & addons along with a fast, powerful & easy-to-use website builder.
All you need to build better websites.
Drag and drop interface
Professional content elements and templates
Addons and integrations
Powerful design options
Optimized for SEO
Responsive design

Join the thousands of web professionals
who already use Visual Composer