Elementor is a modern and user-friendly website builder popular among WordPress users. It provides all the essential features to create and manage a professional website. Still, like all other software, it also has its downsides and limitations that might affect your development efforts.
Getting stuck with just a page builder that doesn't meet all your requirements can be frustrating. Fortunately, there are plenty of alternatives available. For instance, you can check out Visual Composer, our free drag and drop website builder, which you can use to create professional-looking websites in less time and focus on building a business that lasts.
All you need to do is get started for free to design websites your clients will love!
In today's article, we compiled a list of the top Elementor alternatives to help you explore other options and choose the solution that best suits your needs. Let's dive in.
What is Elementor?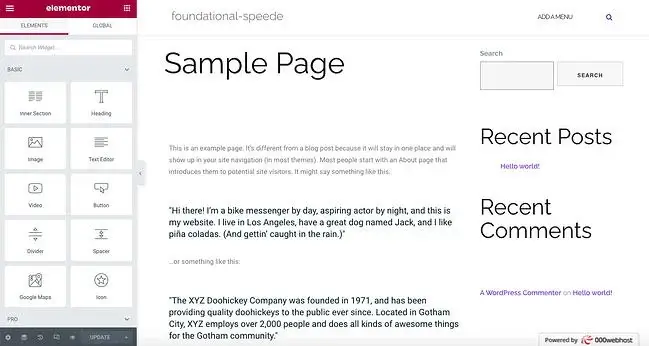 Elementor website builder helps you create and edit WordPress websites, landing pages, themes, layouts, headers, footers, etc. It features a drag-and-drop interface, making it accessible to non-tech-savvy users.
Although popular, the Elementor page builder has limited customization options. Some of its competitors provide more design templates and content elements to work with. Also, users on popular review websites report that Elementor updates sometimes cause website performance issues. These are some reasons why web designers and website owners seek alternatives.
Elementor alternatives: The evaluation parameters
We've evaluated the top five Elementor alternatives based on the following criteria to help you make an informed decision for your next project:
User rating
What makes this website builder unique
Integrations
Customer support
Pros
Cons
Pricing
We also evaluated how well they streamline website development, their features, and whether they improve or hinder your SEO efforts.
Top 5 Elementor alternatives in 2022
Each of the following Elementor alternatives can be viable, depending on your needs. Let's take a closer look and see how they stack up against each other.
1. Visual Composer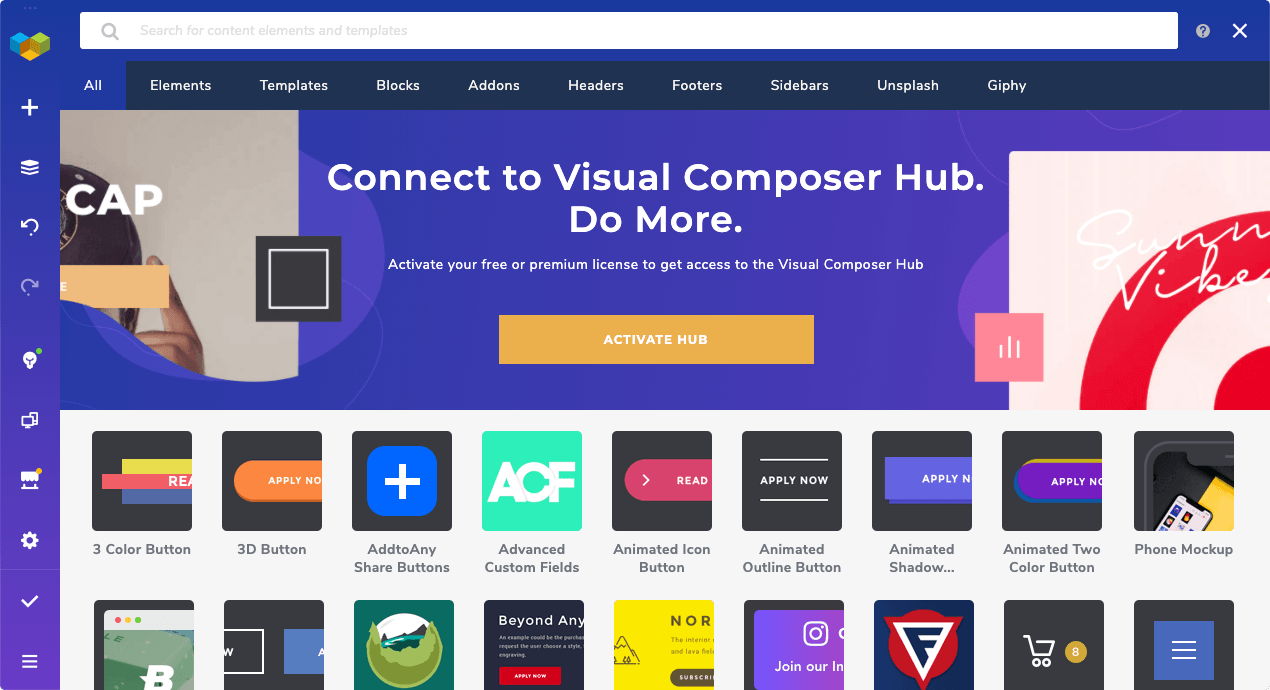 The React-based Visual Composer Website Builder is one of the best Elementor alternatives available. Unlike most WordPress website builders, it provides quick access to custom popups, templates, blocks, third-party add-ons, and extensions.
As such, it's the go-to solution for both experienced web developers and newcomers. It's suitable for non-tech-savvy users because it doesn't require backend coding skills yet allows adding custom HTML, CSS, and JS for specific pages and site-wide.
User rating
Visual Composer has a rating of 4.2/5 on Cuspera based on 2,592 user reviews.
What makes this website builder unique
We didn't just want to create another theme builder, plugin, or WordPress website creator. Instead, we've designed a solution that helps you create an entire website from scratch in an intuitive, streamlined way.
Visual Composer SEO features let you improve your website visibility on SERP, boost your traffic, and increase your conversion rates. It has an intuitive drag-and-drop interface, over 500 content elements with pre-designed templates, downloadable themes, and many advanced features.
Integrations
Visual Composer works great with all the popular third-party plugins, including:
Yoast
Advanced Custom Fields
Unsplash and GIPHY
WooCommerce
wpDataTables
MailChimp
WP Form
It is also completely compatible with any WordPress theme.
Customer support
Customer support is one of our strongest suits, and we offer it to all premium users. You can submit a ticket or visit the Visual Composer help center for step-by-step tutorials.
Pros
Easy to use frontend editor
Affordable
SEO friendly
Tons of add-ons and dynamic content elements
It's compatible with the all of the leading plugins in the official WordPress repository
Cons
The learning curve for new users
Pricing
Visual Composer offers a free plan that includes a free page builder that is free forever. If you need advanced features, you can upgrade your account. In this case, you can choose one of the two pricing plans: Lifetime and Annual.
The Lifetime plan has a one-time purchase, so you don't have to bother with subscriptions. It costs $89, and you can use it for one website. It contains all Visual Composer Premium tools and features.
The Annual plan provides five options:
Single: One website - $49
Plus: Five websites - $99
Accelerate: 20 websites - $149
Growth: 100 websites - $349
Agency: 1000 websites - $849
Premium plans don't include a free trial, but each comes with a 30-day money-back guarantee. You can start using Visual Composer today by getting started for free today.
2. Themify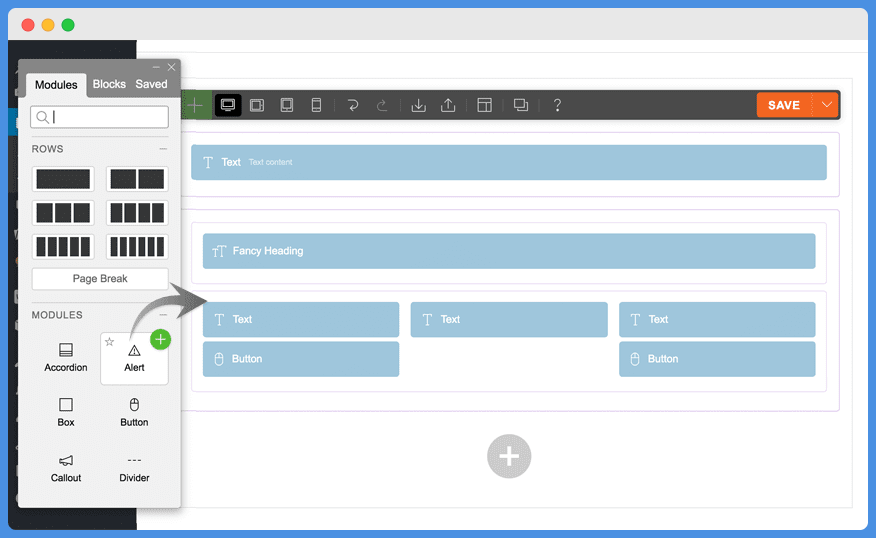 Themify comes as a WordPress page builder plugin or a standalone builder and theme shop. The drag-and-drop interface makes Themify accessible to users with no coding knowledge. When compared to Elementor, it lacks advanced features – especially third-party integrations.
User rating
There are no ratings on popular review websites at the moment.
What makes this website builder unique
Themify relies heavily on smart design and its in-house plugins for creating WordPress themes. Smart design makes Themify accessible to newcomers. When making changes to a single page layout, you can apply those changes to the rest of your site. It speeds up the design process.
Integrations
Themify developed most of the plugins in-house. Here are some noteworthy third-party integrations:
WooCommerce
Post Type Builder, with all its add-ons
Slider Pro
Customer support
Themify offers online support to its users via support tickets and emails. It also provides an online forum for common troubleshooting problems.
Pros
You can use themes on an unlimited number of websites
Responsive website themes
Stable drag-and-drop page design
Cons
Support forums are only available to Themify members
The forums are challenging to navigate
Your theme may come with limited integrations
Though it has some site-wide editing options, they're limited
A noticeable learning curve, especially for beginners
Pricing
Themify has two plan categories: Themes and add-on packages. Here are pricing details for Themes:
Single Themes: includes one theme for $59 with an annual subscription
Master Club: features 42 themes, Photoshop files, 25 builder add-ons, and 5 PTB add-ons for $89 with an annual subscription
Lifetime Club: includes all the above, but it's a one-time purchase of $249
Add-on bundles with Themify are more complex. Higher plans include advanced features:
Basic: $29/month – 4 products, 10 pages
Standard: $89/month – 200 products, 200 pages
Premium: $169/month – 2 products, single page
Themify doesn't come with a free trial, but it offers a 30-day money-back guarantee.
3. Divi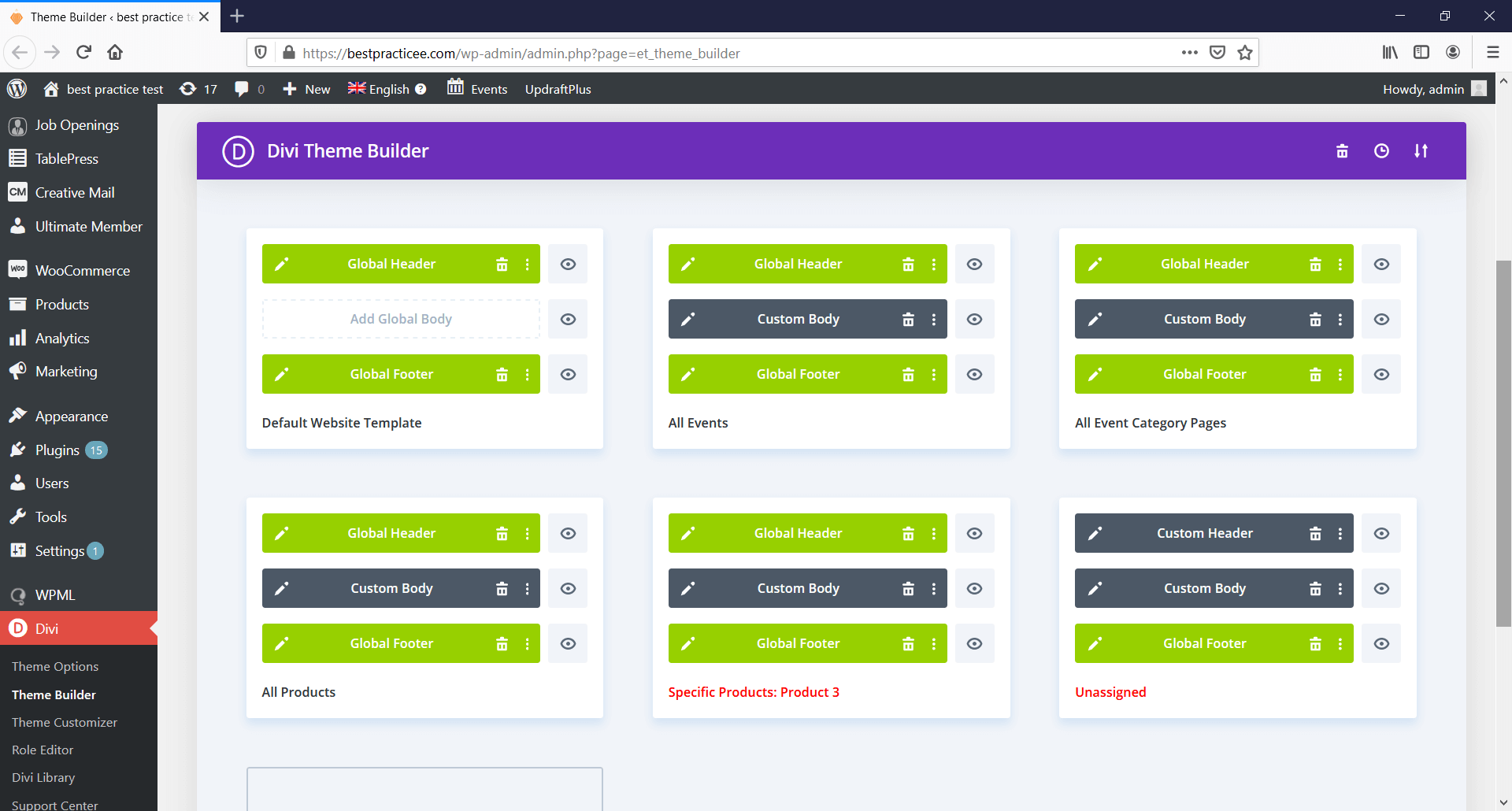 The Divi builder plugin is part of the Elegant Themes WordPress suite. It comes with a WordPress theme and a standalone WordPress builder you can use to design web pages.
User rating
Divi has a rating of 4.8/5 on Capterra based on 715 user reviews.
What makes this website builder unique
As part of the Elegant Themes package, Divi also provides access to Bloom, Monarch, and Extra plugins. These WordPress plugins help with social sharing, form creation, and blogging. Elegant Themes combines these plugins to help with flexible website creation.
Integrations
Like Themify, Divi is also oriented toward in-house plugin development and doesn't feature many third-party integrations. It includes modules that support:
WooCommerce
MailChimp
wpDataTables
Yoast
AIO SEO
Customer support
If you have any issues with Divi, you can start a live chat, browse the documentation, join their Facebook group or the official community, and explore the blog.
Pros
Friendly interface
Available lifetime deal
Useful for A/B testing
Supports lots of different website layouts
Cons
Longer pages tend to load much slower
No native popup builder (requires third party plugins)
Issues with shortcodes if you ever stop using Divi
Pricing
In terms of pricing, Divi has two options:
An annual subscription – $89
One-time purchase with lifetime access – $249
Both plans provide access to Bloom, Extra, and Monarch, apart from Divi itself.
As with our previous two alternatives, there's no free version available. Divi provides a 30-day money-back guarantee.
4. Beaver Builder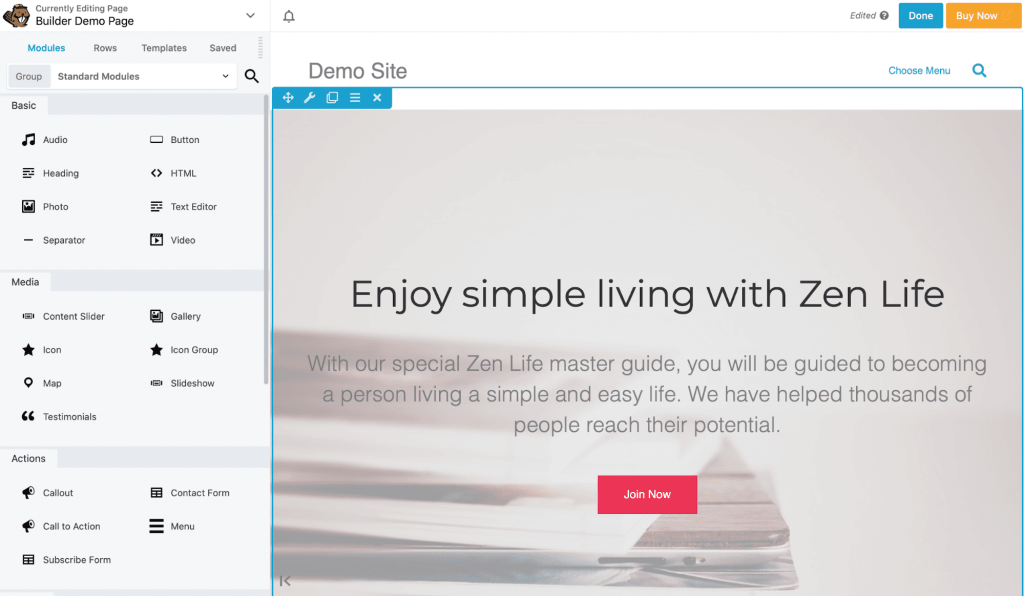 Beaver Builder is a WordPress plugin that allows users to create responsive websites quickly. It offers a drag-and-drop interface, enabling users to customize their website content without coding knowledge. Beaver Builder also includes a library of pre-made templates, which you can use in the original form or customize to suit your needs.
User rating
Beaver Builder has a 4.3/5 score on Cuspera based on 1,335 user reviews.
What makes this website builder unique
Beaver Builder is a straightforward frontend page builder. It relies on stability rather than flashy design elements, to a fault, one could say. On higher pricing plans, users also get white labeling options, which agencies find attractive.
Integrations
Here are the most notable integrations that Beaver Builder provides:
WooCommerce
Advanced Custom Fields
EasyDigitalDownloads
BigCommerce
The Events Calendar
Customer support
You can send an online support ticket via the website or visit the Knowledge Base with an FAQ section.
Pros
Premium plans work with unlimited sites
Dynamic text library
Large template library
Cons
You can't add custom CSS codes to Beaver Builder modules
Lacks advanced features compared to other alternatives
Clunky header and footer compatibility
Pricing
Beaver Builder has three annual pricing plans:
Standard – $99
Pro – $199
Agency – $399
There's also a Beaver Theme add-on for creating layouts that costs $147. Beaver Builder doesn't have a free version, but it does have a 30-day refund policy.
5. WPBakery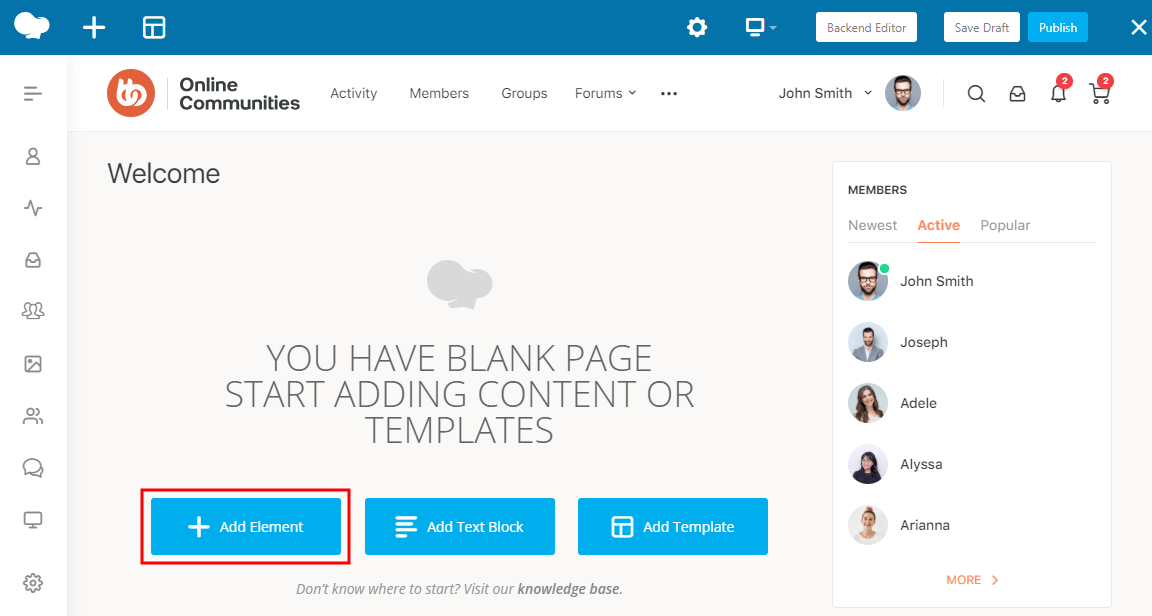 WPBakery is the final WordPress page builder on our list. It is a simple tool that handles basic page design well but doesn't offer many advanced customization options. Still, many web developers rely on WPBakery for less complex projects.
User rating
WPBakery has a 4.1/5 rating on Cuspera based on 954 user reviews.
What makes this website builder unique
Compared to Elementor, WPBakery is more affordable. The one-time-payment plans for websites and SaaS applications make WP Bakery accessible to users with a low budget.
Integrations
WPBakery integrates with:
wpDataTables
Woo Commerce
Yoast
MailChimp
Google Maps
Customer support
WPBakery provides customer support via help center or support tickets, similar to Visual Composer.
Pros
Affordable
Light and responsive
Works with a large number of themes
Cons
Steep learning curve
Users without backend editing experience will have a hard time using it
Shortcodes can cause issues if you stop using WPBakery
Pricing
WPBakery has two simple pricing plans:
Regular: Single-site use – $56
Extended: Single SaaS application use – $299
Both options include one-time purchases.
Elementor alternatives: Features comparison
Since we reviewed the top five Elementor alternatives, let's compare their features. To save you time, we made a comprehensive table below.
| | | | | | |
| --- | --- | --- | --- | --- | --- |
| | Visual Composer | Themify | Divi | Beaver Builder | WPBakery |
| Drag-and-drop editor | Yes | Yes | Yes | Yes | Yes |
| Fully responsive | Yes | Yes | Yes | Yes | Yes |
| SEO-friendly | Yes | Yes | Yes | Yes | Yes |
| Works with any WordPress theme | Yes | Yes | Yes | Yes | Yes |
| Cloud marketplace | Yes | Yes | Yes | No | No |
| Theme builder | Yes | Yes | Yes | Yes | No |
| Popup builder | Yes | Yes | No | Yes | Yes |
| Custom widgets | Yes | Yes | Yes | Yes | Yes |
| Premade templates | Yes | Yes | Yes | Yes | Yes |
| Free templates | Yes | Yes | Yes | Yes | Yes |
| Premium templates | Yes | Yes | Yes | Yes | Yes |
| Free stock images | Yes | Yes | Yes | Yes | Yes |
| Advanced design customization | Yes | Yes | Yes | Yes | No |
| Mobile editing | Yes | No | No | No | No |
| Integrations | Yes | Yes | Yes | Yes | Yes |
| Translation-ready | Yes | Yes | Yes | Yes | Yes |
| Developer-friendly | Yes | Yes | Yes | Yes | Yes |
| Not-tech-savvy users friendly | Yes | Yes | Yes | Yes | Yes |
Elementor alternatives: The final verdict
There are dozens of WordPress page builders out there. Elementor is just one of the many options you can use. Based on our review, we believe that Visual Composer is the best alternative to Elementor.
Why?
Visual Composer is an all-in-one platform for complete website creation, not just page building, and includes advanced features and automatic SEO optimization for increasing site performance. It has a user-friendly interface that helps you create websites much faster and easier, saving your time to work on other projects and increasing your earnings.
Visual Composer provides the best prices for developers with 1000 sites. Other pricing plans accommodate any requirements based on the number of websites you work on. It helps you stay on track with your budget.
Get Visual Composer today or try our excellent website builder for free! Let's take your web design career to the next level together.
Discover Website Builder used by Web Professionals to scale their business to success