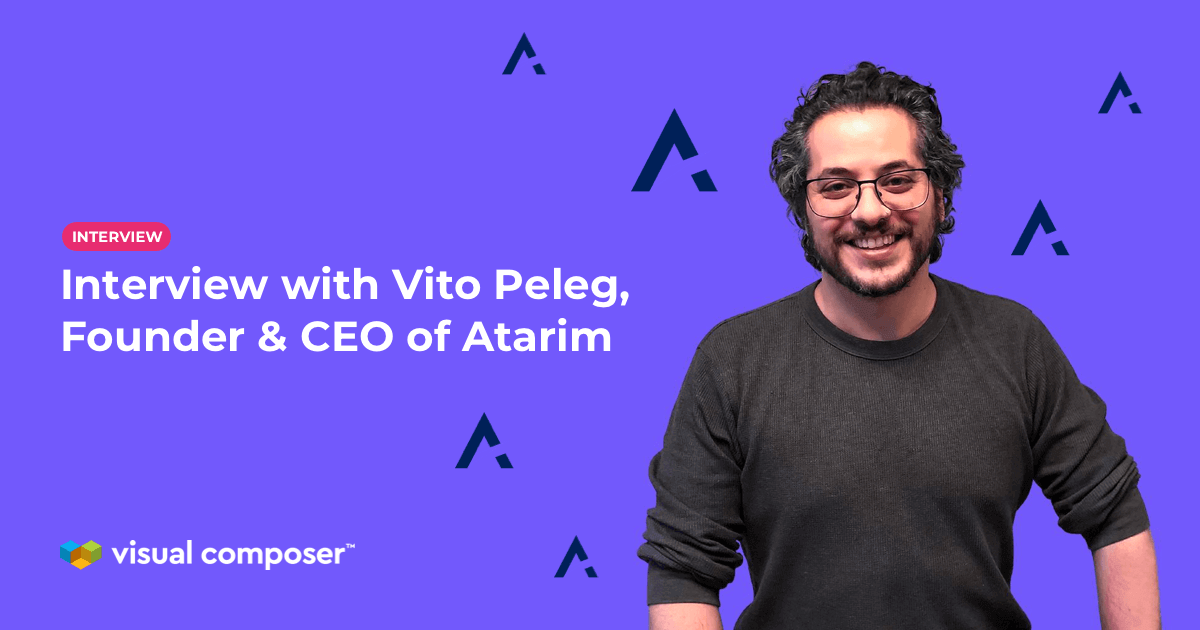 Vito Peleg – the founder & CEO at Atarim – started building WordPress sites for clients from the back of a van while touring the world as a member of a rock band. He later founded a successful WordPress agency in London before launching Atarim, a top visual collaboration tool for WordPress and digital agencies. Today, Atarim serves leading brands such as Disney and Starbucks and is poised for continued growth under Vito's leadership. In this Q&A, we'll explore Vito's background, Atarim's current focus, and the Visual Composer and Atarim partnership.
The Story Behind Atarim
Can you tell us about your background and how it led you to create Atarim?
I built my first website at 14 years old, using GeoCities, for my skateboarding crew with my friends from school. And I'll never forget the exciting feeling of going online - which back then would take over the landline for the entire family so I was only allowed to use it for one hour a day.
So I spent much of my time fiddling with Front Page, just waiting for my 1 hour to upload the code and share the updates with my MIRC friends (kinda like a Stone Age version of Slack). This is also around the same time I picked up a guitar. Quickly becoming obsessed with music, I went on to form a band and become a rock musician!
After a few years of doing this, I realized that running a successful band is much like running a business.
This led me down what seemed like the natural path of entrepreneurship, marketing, and design. Learning everything I could, I quickly became a member of the WordPress community, all while attending music college and on weekends performing in venues across the country.
Eventually, I decided to pursue the path of freelancing in web design and development full-time. Within the first year, I reached my 6-figure goal and we kept on growing.
But as the agency grew, profit margins shrank.
We started taking on bigger projects with a bigger scope of work, which meant that projects dragged on longer than we could have imagined.
As we looked to improve our internal workflow, we kept coming back to three core problems:
Clients take way too long to give us the content. No matter what we do.
Clients don't know how and take too long to approve designs and request revisions. No matter what we do!
Clients keep reaching out for support in all kinds of creative ways, instead of sticking to the systems we put in place.
And the byproduct of these, I wasn't able to truly manage my agency as instead, I was head down, focusing on each individual project. Everything was fragmented.
We had clients contacting us through every imaginable channel – Facebook, LinkedIn, emails, text messages, Skype, Hangouts, phone calls, calls at the office, and my least favorite … WhatsApp voice messages.
This is when Atarim was born.
We needed one tool that would be the main hub for all requests and tasks that were related to the design and development of websites, and ongoing work for websites on care plans with us.
In your opinion, what are the key factors that contribute to a successful collaboration between agencies and clients?
A good engagement with a client can be boiled down to three things:
Good communication. Through good times and bad.
Most agencies are good at communicating when things are all going according to plan but they don't have processes to deal with situations that haven't come up before, or to handle requests that go beyond the original scope of work.
Clear expectations. Alignment on deliverables.
Beyond just having an end product that you and your team define as good by some arbitrary measure – you need to work with your clients to achieve full alignment on what they should expect, what they are going to get, and ultimately what they are paying you for.
A good process that makes their part easy.
Clients hire agencies to take work off of their plate but they like to be involved to varying degrees. Find out how involved your clients want to be in the process, making sure that works for you and how your team is able to work, and deliver an enjoyable customer experience so they keep coming back for more (and refer more work your way).
How does Atarim help agencies and freelancers reduce the time it takes to deliver projects?
Atarim tackles the collaboration stage, which – as you know – should be there from day 1. Without true client collaboration, clients struggle to give you what you need to do your best work. Using Atarim, agencies are able to bring collaboration directly to what their clients are reviewing, so they can leave better feedback with less effort and your team spends less time deciphering what they want.
The end result: you're able to work more efficiently and get to that final approval stage with clients faster!
What are the main features of Atarim and how do they help users collaborate with clients?
Everything in Atarim is centered around 1-click collaboration. Drop in a URL to any website in the world, wait a few moments and click to leave a comment & collaborate.
But that's not all. Beyond this, behind the scenes – Atarim also has a project management layer to triage, manage and address the tickets your customers, users or team create and work through them faster with features like:
Time tracking - making it easier to keep a close eye on project profitability.
Automated screenshots, to see exactly what the person who left a comment saw.
Easily notify clients when tickets are updated: no more emailing or pinging people elsewhere to keep them in the loop. Let Atarim handle that for you!
What Makes Atarim Stand Out
How does Atarim differentiate itself from other project management and collaboration platforms?
The core difference is our visual feedback tooling and 1-click collaboration that works by simply dropping in any website URL. We find it difficult to associate ourselves with project management solutions because we don't consider ourselves competing in the same category as tools like Jira, Trello, Basecamp, etc – in fact, we integrate with them.
We're not a project management system - we're a visual collaboration platform that incorporates project and task management functionality, and integrates with leading solutions. Atarim is designed specifically to help teams unlock a superior collaboration workflow.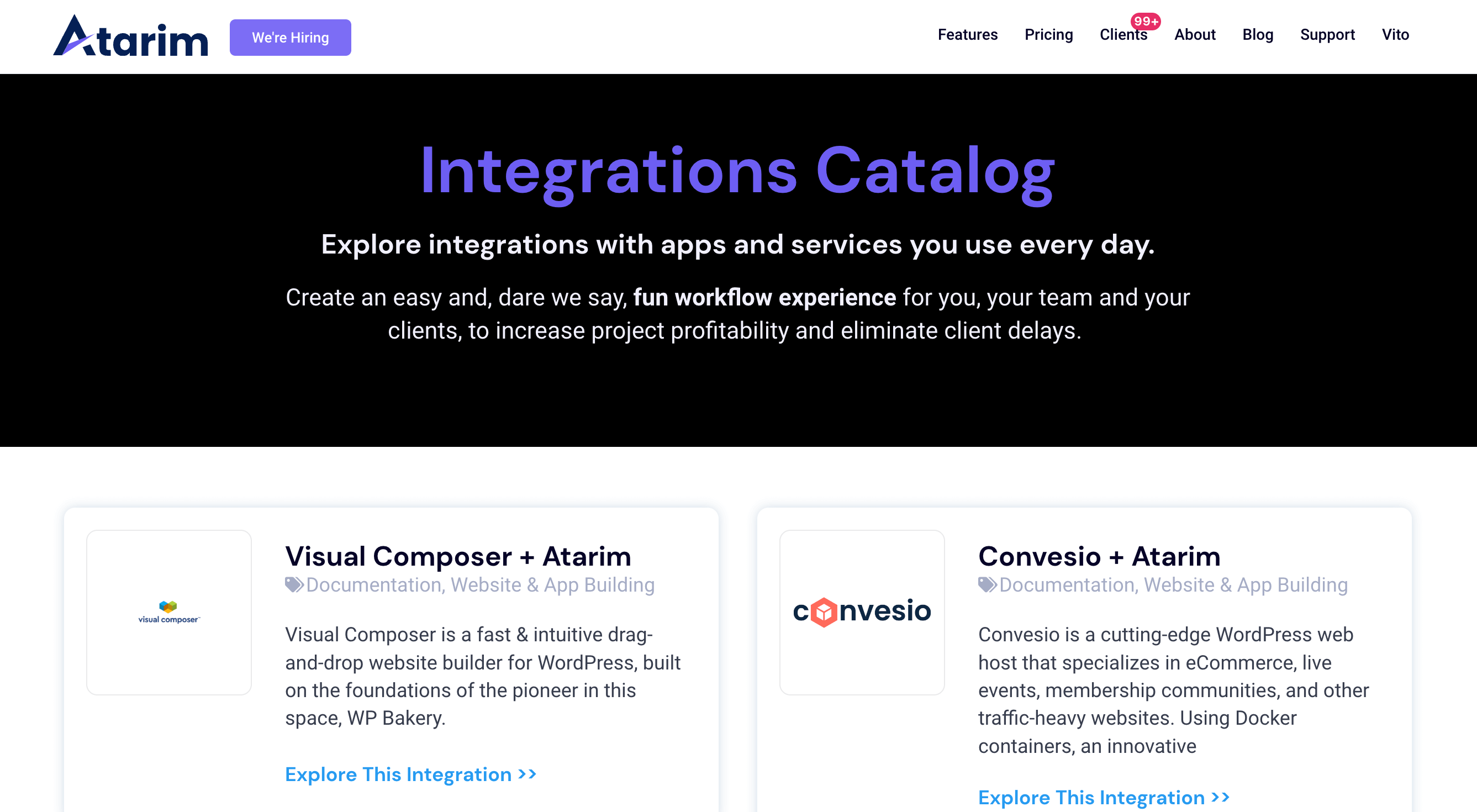 Can you share a specific example of how Atarim has helped a client to deliver a project more efficiently and effectively, that you are proud of?
The most memorable stories we hear from our users at conferences time and time again are that they used Atarim to revive what they considered "dead projects" or "lost causes". Projects that involved clients they tried to get approval from so many times but couldn't get things to move forward, until they tried Atarim and thought that these projects would be the best ones to start with – thinking, what's the worst that could happen?
The project had already gone cold. The client had stopped engaging with them. And so these agencies had already written off the projects in their mind and no longer expected to receive the final payments they initially expected on completion of the project.
Atarim enters the picture. They get these projects set up there, send clients an invite to collaborate, and they finally start to get feedback from their clients! They can move things forward and get to that sweet final payment.
And, perhaps more importantly, their client gets the end result they were hoping for, because they've made it easy for them to get involved.
Making their agency the hero!
We also have tons more case studies and reviews, which I'd recommend checking out.
How has user feedback and input influenced the development of Atarim's features and functionality over time?
The majority of the features we've built since our initial launch have been based on user feedback. We had the pleasure of being well-received in the community at the time, but as Visual Composer will be all too familiar with, we're an honest bunch when we like or dislike something! 😅
This was good in the sense that it meant we had to hold ourselves to a higher standard and really deliver beyond the problems that we solved by building Atarim for our own agency. And now we have a public feedback and roadmap site as well.
What do you think has been the biggest contributor to the success of Atarim in such a short period of time?
If there's one thing I would point to, it would have to be the WordPress community. Both users and makers alike. It's where we started and remains a crucial part of our journey.
About Atarim's First Integration with a Website Builder
How do you see the integration between Atarim and Visual Composer solving the problems that agencies face in collaboration with clients and teams?
The Visual Composer integration for Atarim is designed to address the build stage. The phase where people are busy designing, building, and perfecting their sites.
The core of this work tends to happen in the WordPress admin area and, of course, page builders like Visual Composer. Prior to this integration, this meant that users would have to jump back and forth between tabs to leave feedback, locate tickets and resolve them as they go. Now, you can say goodbye to switching tabs constantly – just dive into your visual editor, head to the new collaboration tab and let the magic happen.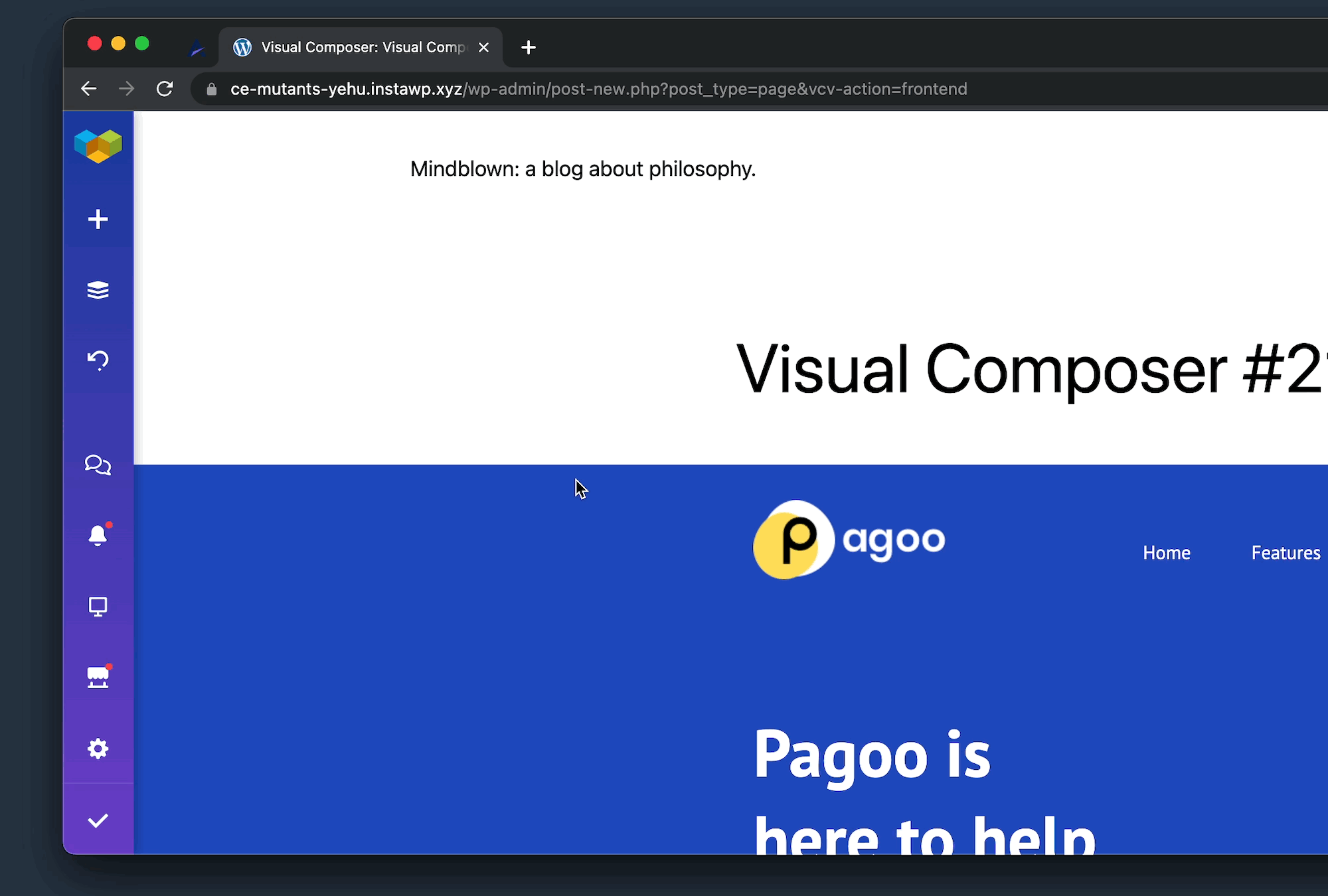 What tips do you have for Visual Composer users who are looking to maximize the benefits of using Atarim in their workflow?
Take advantage of the native integration. Nothing to install or configure! Just create a free account with us and take it for a spin on your sites that use Visual Composer.
If you have any questions, make sure to reach out to one of our support teams - we will continue to work together to make this integration as useful as possible for our users.
How do you envision the future of website building and collaboration with tools like Atarim and Visual Composer?
Our vision is to turn Atarim into the visual collaboration layer for the web. From designs to websites to developing products, we want to make it easy for teams to collaborate visually.
And native integrations like the ones with Visual Composer are a big part of making this possible, so that people who build with their favorite page builders can stay in the flow of getting work done where they actually already work instead of switching back & forth between tabs to see the feedback for the pages they're working on.
What Can We Expect From Vito & Atarim In The Future
What is your vision for the future of Atarim, and where do you see the company headed in the next five to ten years?
Our vision is to make the web collaborative & become the centralized, visual collaboration layer of the internet.
That is, bringing everything into Atarim.
Consider: Figma, Google Docs, websites (the one we already do better than anyone else with 1-click collaboration) and graphic designs (we already do this too).
Conversely, we are also bringing Atarim into the existing workflow that developers have. Visual Composer integration is a great example of this in practice. We have brought collaboration to where people already work, if they build with Visual Composer - and there's more of that to come!
How do you balance your responsibilities as a new parent with your work at Atarim, and what strategies have you found to be most effective in managing your time?
It's certainly an ongoing challenge, but I'm very lucky to have the family support system we have in place -babysitters when we need them, and the team at Atarim to support me so that I can also enjoy the responsibilities of being a father.
It's not always perfect, especially in recent times with the amount of things going on at Atarim right now, so usually the thing that gets cut to accommodate for the rest is sleep, which I'm sure many of us can relate to. 😅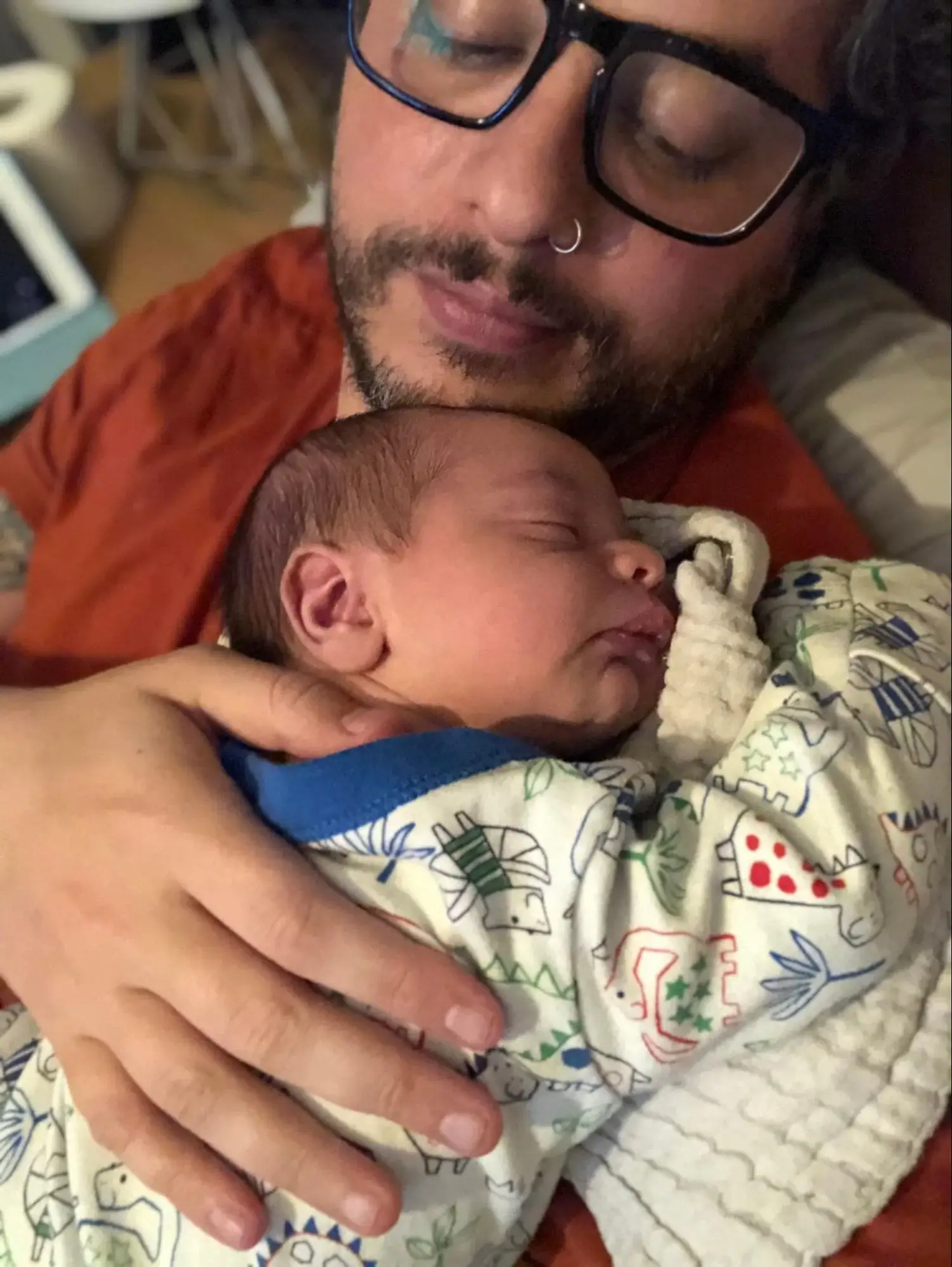 Can you share some advice for someone looking to start their own business?
Solve a real problem. Focus on solving a problem that you're passionate about and people need a solution for.
Start small and move fast. Begin with a minimum viable product (MVP) and iterate quickly based on user feedback. We did this by launching as a simpler WordPress plugin first, before transitioning to a SaaS model.
Have a strong founding team. A diverse and complementary team of founders is the backbone of a successful startup. Founders should have a mix of technical, business, and domain expertise.
Build a strong network. Engage with other entrepreneurs, investors, and mentors in your industry. This network can provide valuable insights, connections, and support along your journey.
Learn to sell. As a founder, you'll need to sell your product, your vision, and yourself. Develop strong communication and persuasion skills to effectively convey your ideas to customers, investors, and employees.
And don't forget that every startup's journey is different. At the end of the day, we're all trying to figure it out – it's important to build, learn and live from your own experiences.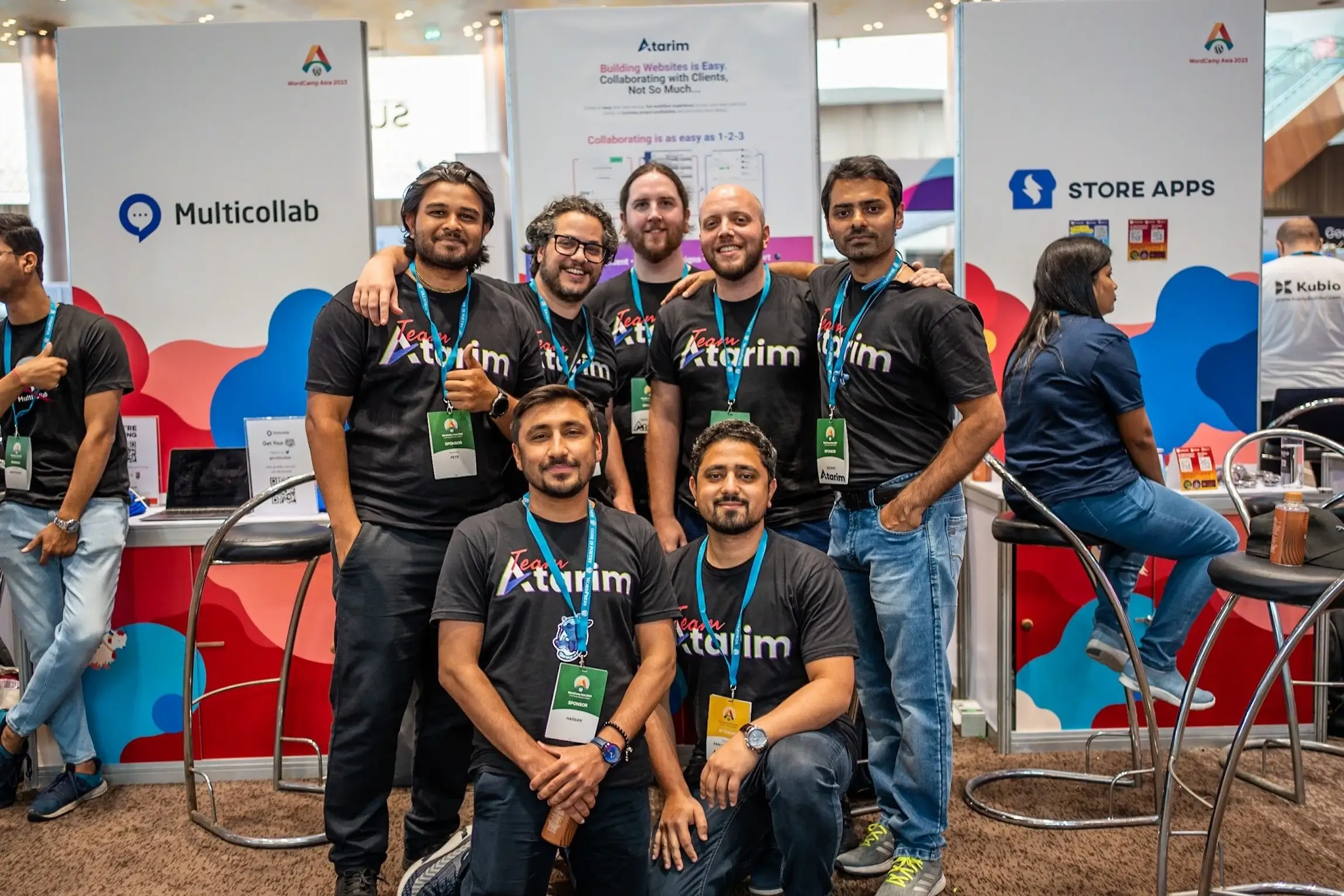 Lastly, we recently saw your performance at CloudFest, can we expect to see you live at WordCamp Europe?
I will be attending WordCamp Europe along with a number of others on the team - we look forward to seeing the Visual Composer team there, as well as lots of our users in-person. I'm not sure if there will be a performance but if there will be, I would suggest we form a band there as well!
Well, there you have it! Atarim's vision for the future is to become the leading visual collaboration platform, and they plan on achieving this by integrating with existing workflows, such as Visual Composer. This power duo will make it easier for agencies and web developers to design, build, and perfect their web development projects by providing a seamless collaboration experience.
As for balancing work and family life, apparently, the solution seem to be simple: just don't sleep! And for those considering starting their own business, remember to focus on solving a genuine problem, start small, build a solid founding team, network, and learn to sell. And last but not least, keep an eye out for Vito and the Atarim team at WordCamp Europe. Who knows, we might even start a band!
Thanks for tuning in, don't forget to try the Atarim integration in Visual Composer with your teammates or clients, and follow Atarim to stay informed on their exciting developments.