Collaboration is key to a successful web development project, but it can also be one of the biggest downfalls, as it accounts for 52% of the main challenges that web development companies face.
That's why we're excited to introduce the Atarim integration in our latest release, version 45.1.3 - the ultimate solution for web developers and agencies to make website development and client collaboration a more enjoyable experience.
No more dealing with multiple programs for project management, endless feedback loops, and back-and-forth emails. Create complete sites and collaborate with clients and teams in the same space. Read on to discover how it can transform the way you work.
Why Atarim is a Must-Have Tool
The Atarim integration with Visual Composer brings a range of useful features and benefits to web developers and agencies.
Firstly, you can receive feedback and respond to client requests in real-time, by seeing exactly what the client is referring to, without leaving the editor. This feature is especially helpful to eliminate any misunderstandings, since clients may not be familiar with the technical terms.
In addition, the Atarim integration simplifies project management by providing a centralized platform where you can access all your project files, deadlines, and client communications in one place.
The Atarim Dashboard allows you to easily track the progress of your projects and stay on top of your deadlines with the various built-in features including auto-updating Kanban boards, time tracking, and more. This is particularly useful, when it comes to team collaboration, as it helps increase accountability and gain valuable insights into project workloads, to better justify the costs to clients.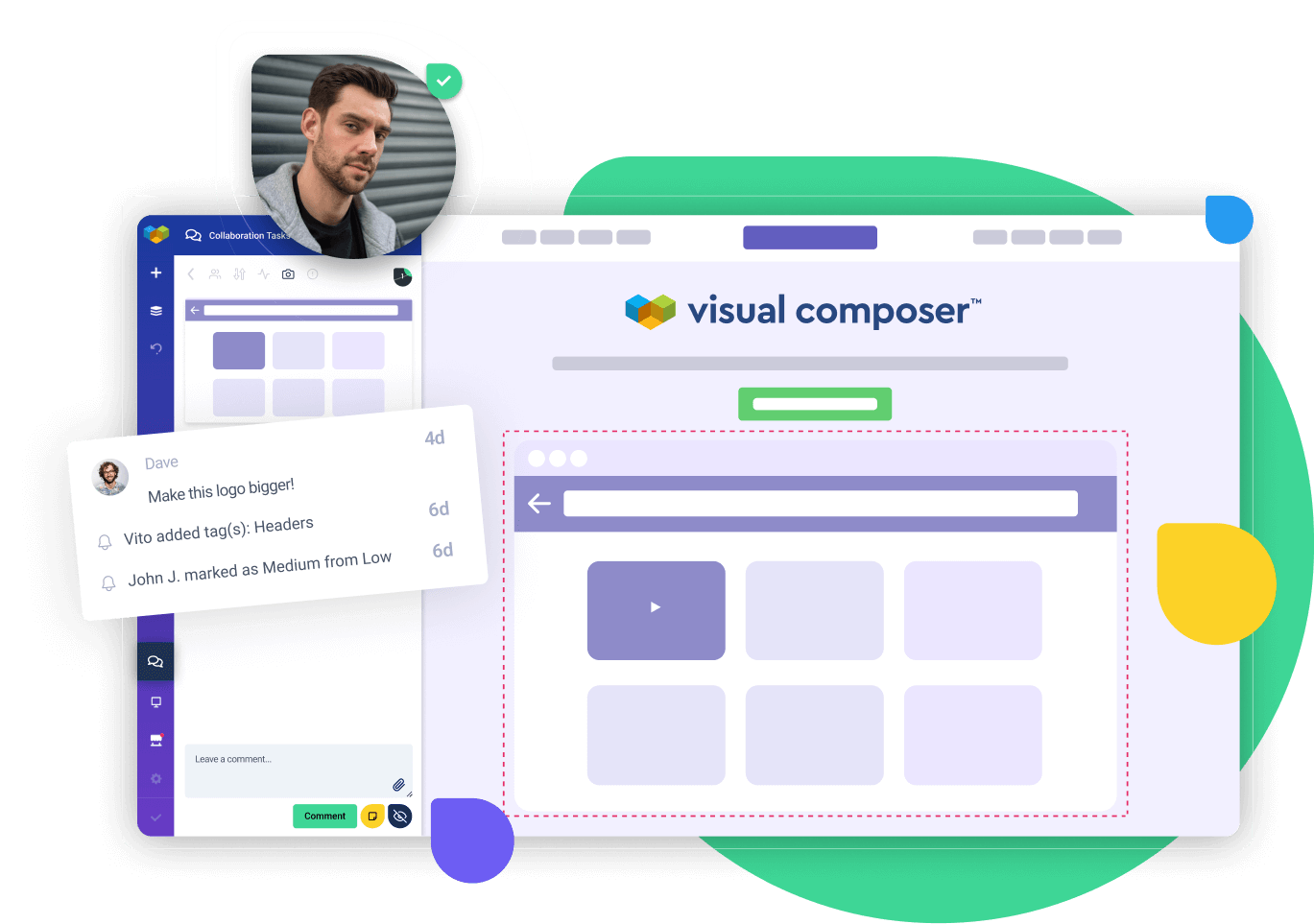 Read on to learn how to start using all of the Atarim features in Visual Composer.
Launching Atarim in Visual Composer
To start collaborating with your team and clients from inside on any page or post, make sure you have updated or installed the latest version of Visual Composer. Then, simply follow these steps:
Navigate to 'Insights & Notifications' in the navigation bar
Open the tab 'Collaborate' and click on 'Start Collaborating For Free'
Install and activate the Atarim plugin
Create a free account by filling in your details, assigning a WordPress account, and adding contributors
You will be automatically redirected to the editor, where you can start using Atarim.
Both free and premium Visual Composer users have access to the Atarim integration, which allows them to easily collaborate with clients and team members.
Developers can share the link with clients and invite contributors to add comments, assign tasks, and set priority and status levels. Clients can even attach files, take screenshots directly within the preview page and attach comments on specific device types, all of which you can manage from within the editor.
In addition, you are also able to see details about the issuer's browser, and screen resolution, as well as share a link to the specific task and add private messages that only team members can see, which are all extremely handy features. Overall, with the Atarim integration, you can ensure that everyone involved in the project has access to the same information, making it easier to manage projects and deliver results on time.
If you are a solo developer, the free version of Atarim offers a handful of useful features for you to work individually with clients. But if you're looking to work with a team, the premium version is the way to go.
Start Collaborating Efficiently
We couldn't be more excited that Atarim's very first integration with a WordPress website builder is with Visual Composer. It is a game-changer for web developers and agencies, as it solves the common challenges of unclear communication and project management, by providing a streamlined and visual way for clients and teams to collaborate.
By following the simple steps to start using Atarim, you can transform the way you work and unlock your team's full potential. If you're interested in learning more about our partnership, be sure to check out Atarim's announcement.
Try the powerful free version of Atarim in both Visual Composer Free and Premium, and see the difference it can make in your web development projects.