It is happening – with every update Visual Composer gets more convenient, more adaptable unrevealing great features and sympathy with other great WordPress tools.
We are so glad to be compatible with Caldera Forms Plugin. It is one more rocking WordPress plugin that is such an amazing assistant when in need of online forms!
Caldera Forms WordPress Plugin
Caldera Forms is a drag and drop responsive form builder plugin for WordPress that lets you create effective mobile-friendly forms using default templates or start from the scratch with the blank. It is super easy to drag the needed fields into your form, add texts, buttons and customize your form to the perfection.
To extend the possibilities and create unique online forms to adjust your needs, Caldera forms also offer multiple add-ons. Add-ons like "Caldera Forms MailChimp", "PayPal Express Checkout", "Caldera Forms Slack Integration", and many more to let you connect to the apps you need for successful website performance.
Caldera Forms has been around for 3 years and managed to achieve some really impressive numbers, like 1.4 million downloads and more than 100,000 active installs. The team behind the plugin is really ambitious which means we can expect a real growth of the Caldera Forms market share within next few years.
"Making Caldera Forms as accessible as possible on all ends is very important to us. This means making the free version as powerful as possible, the pro offerings as affordable as possible, our product accessible to people of all abilities, and approachable for those who aren't coding whizzes. Website builders make WordPress more accessible, and so it makes sense to let people insert a Caldera Form into their pages via visual editor."

Christie Chirinos, General Manager, Partner: Caldera Labs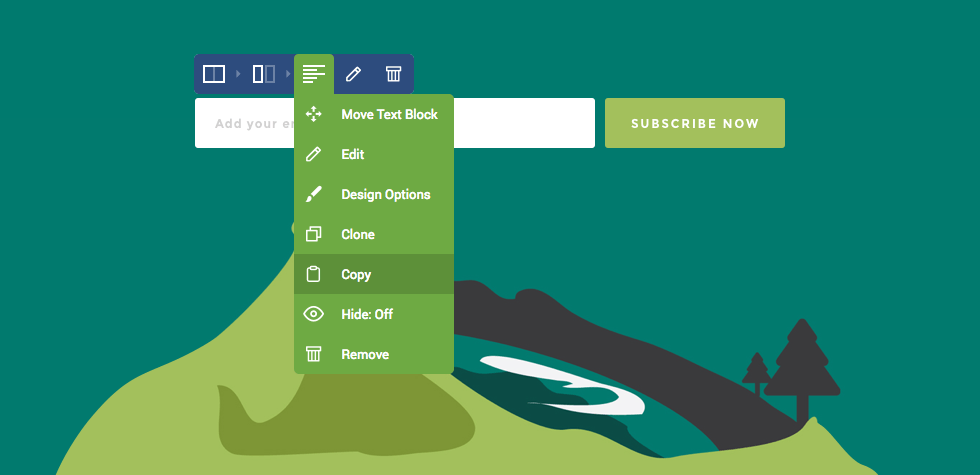 Why Online Forms?
It is simple, online forms make everything easier. They allow users to leave a message, capture lead data, get premium content, or to facilitate event registration. In many cases, the user gains the sweet bit after filling up the form – a free ebook, participation in the competition (a prize), and so on.
Whereas for you as a business person these forms help to get the information you need to build a database that you can use for the distribution of your marketing activities. When well designed, forms can make it easy for users to make a purchase, sign up for newsletters or book a hotel room – all these actions benefit your business.
Let's review some of the most commonly used online forms that can be built with the Caldera Forms and then inserted straight into your website from Visual Composer editor.
Contact Form
Having a proper online contact form provides more benefits than just placing your email address in the footer. Fast communication is a key of the further cooperation and that's why contact forms are a great way to let your clients get in touch with you without leaving your website.
In addition, you can control the information collected by adding only the fields you want site visitors to fill out on the form, and know what the email is about. Having an online contact form is also a secure way to keep away spammers as the form won't display your email address.
Newsletter Signup Form
A newsletter is a channel for marketing communication and one of the best ways to generate leads towards loyalty. When a user submits a newsletter signup form, they're expressing a desire to consume your content on a regular basis. This loyalty that leads further to mutual connection is fascinating sales point to your business as it can lead the user to decide to make a purchase.
Use it for good with a simple language to create transparency, only requiring a couple of fields for the user to submit. The email address is all you need really, and a transparent submit button saying 'Sign Up for Newsletters'.
Simple Booking Form
A basic booking form is ideal for consultancy services, coaching agencies or hotels. You can make booking easy for your users with a straightforward online form simply adding phone, date and number fields.
This kind of form can be adapted for services such as beauty salons to book an appointment, B&B or room rentals, or used as an application for a visit to a lawyer. Any kind of business really can find a use to shape any form giving a chance to book a specific meeting at the specific time.
Online Order and Payment Form
A must for eCommerce website selling online! Whether you are selling a product or service, users should be given the option to purchase a product straight from your website offering various payment options.
Caldera Forms has many payment processors to accept credit card and other types of payments. In order to serve all of your customers, it is best to combine a credit card processor with PayPal.
There are so many different forms you can create online – account signup form, front-end user registration, website visitor feedback form, service rating form, contest registration or a donation form, the list goes on and on.
The diversity of forms is not measurable, there are so many unique cases when you need to build an online form. So start using Caldera Forms, one of the most top rated WordPress form builder and implement the forms anywhere on your site from the Visual Composer editor.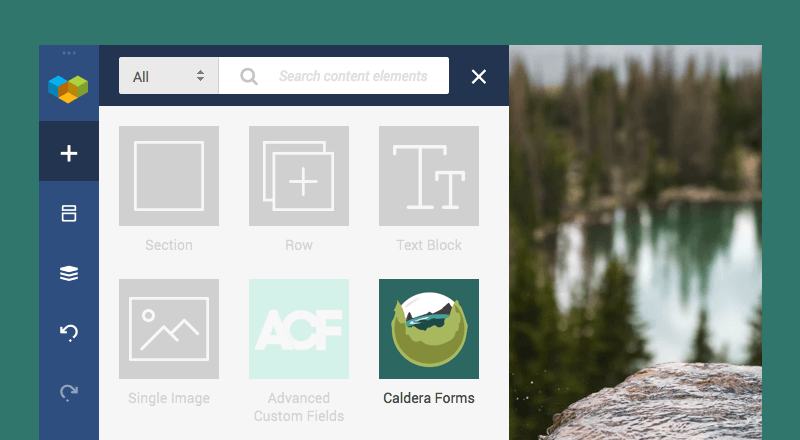 How to Start with Caldera Forms?
First, download and activate the Caldera Forms plugin and Visual Composer on your WordPress site. Create a form you want to implement on your website via Caldera Forms interface. Then do the following:
Download the Caldera Forms element from the Visual Composer Hub (available for Premium users);
Navigate to Visual Composer editor and choose the form from the 'Caldera Forms source' drop-down menu.
That's it, you're done!
As always, we will keep up the pulse on developing new features and become compatible with top used plugins to make sure your website creation process is easy and effective!