Have you heard the saying - if you have one copy then you don't have any copies at all? Usually, we only think of backups when something happens and we lose important information.
But we should actually pay attention to already backing up the website at the planning stage. Backup is the only way to avoid problems that are sometimes created by circumstances beyond your control. If your database is backed up, you can simply restore everything. And your website will work again.
Experts suggest keeping at least three backups or copies in different places. If one backup version is somehow damaged, you will have other options.
Regarding storage places, it is not just computer hardware that you can use for this purpose. You should also consider the option to keep the data in a cloud and/or removable disk. Sometimes it might not seem to be easy, because of the fact that the file might be huge and may require a lot of space. In this case, you should carefully take a look at all information that is backed up. There is probably something that creates a huge amount of data, which you actually don't need such as statistical data or anti-spam solutions.
In this article we have explained:
What is the difference between WordPress database and WordPress site backups?
How can they both be backed up?
How can you restore the information from the backup?
Backup automation or using the most popular backup plugins.
How often should you update the backup of the WordPress site?
WordPress Database And Backup
There are two backup options. You can backup a WordPress database or WordPress site. The database does not include images and theme files. The WordPress database is just pages, posts, and comments. Backup of this part can be easily done by phpMyAdmin - a special program to manipulate the database:
Step 1
Enter the 'phpMyAdmin' administration panel.
Step 2
Choose the WordPress database on the left side of the panel: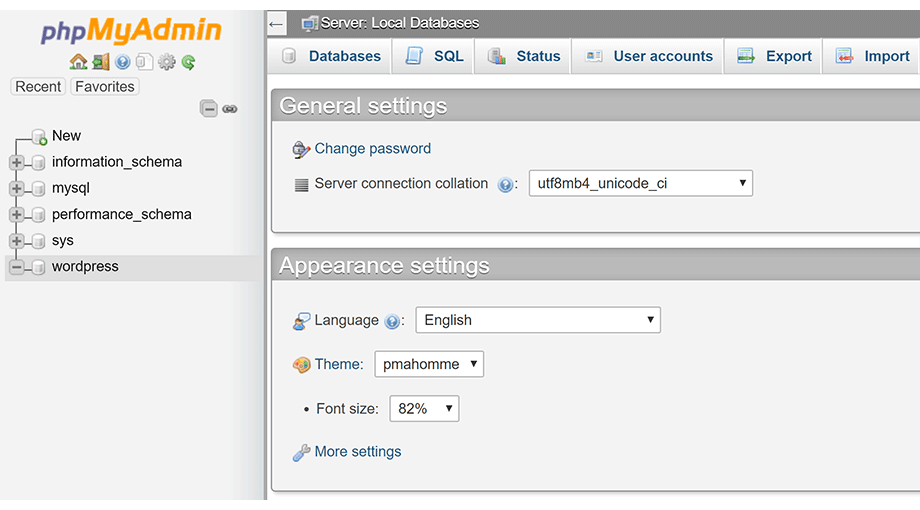 Step 3
You will see all the content of your database in the central window.
Step 4
Choose the option 'Export' from the menu tab over the central window. Ensure that you choose the 'Quick' export method and leave the 'SQL' format:

Step 5
You will get the .zip file that should be stored on your computer or any other place that you have chosen for the backup of the database.
Restoring The Database
When something has gone wrong with your current database and you have to get back the one you backed up, follow these steps:
Step 1
Log in to 'phpMyAdmin' and choose the tab 'Databases'. Open it, and select the one you need to import to. Just open it by clicking on the name: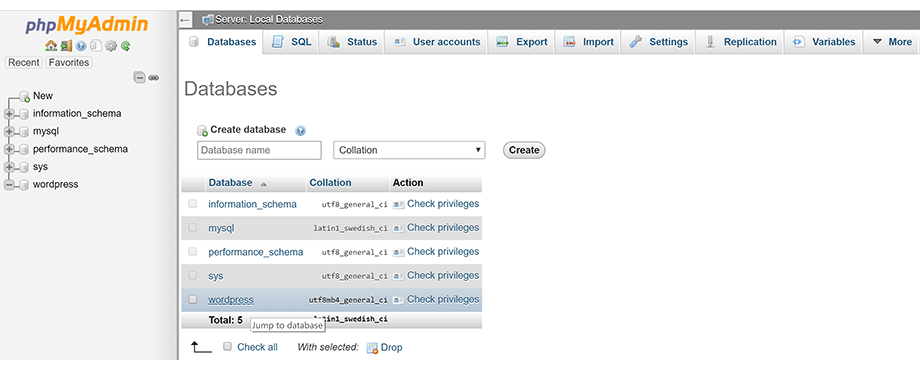 Step 2
When you open the folder, you will see all the content that is inside. If the folder is empty, there won't be any data.
Step 3
Choose the tab 'Import' from the upper menu:

Step 4
A new window will open where you have to choose which file to upload by pushing the button 'Choose File'. Choose the backed up database file you have made earlier and stored. One more important thing in this window - make sure that the 'Format' field remains with the 'SQL' option. Click 'Go'.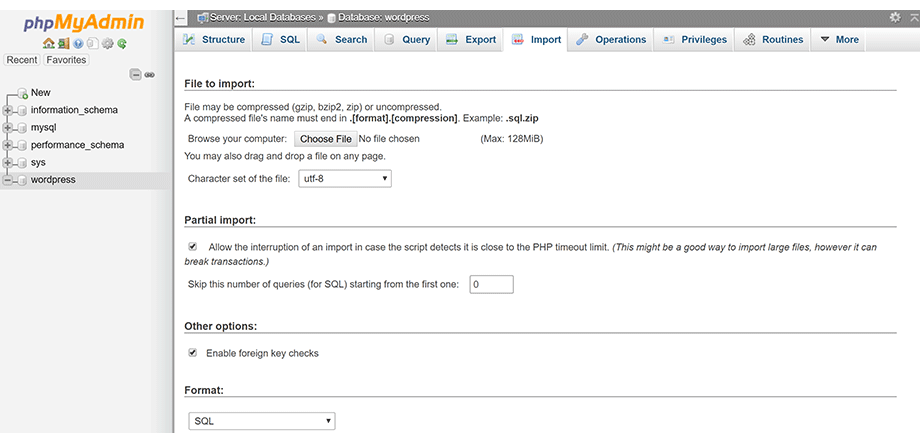 The restoration process has begun and it can take a while. There are two options possible at the end - the screen that shows the success message or the one that shows that something went wrong. If something went wrong, you should read the message and try to take the necessary actions as suggested.
Otherwise, you can ask somebody with knowledge of programming for help or just post your problem in the WordPress support forum.
WordPress Site Backup
All other information that was not mentioned above, but is part of your website, can be classified as a WordPress site. In this category, there are core installations, plugins, themes, different code files, and static web pages.
All this data is essential to run the website so it should also be backed up. The first thing to do is to ask your hosting provider how often backups are made. Usually, server keepers make backups for the whole server. It means that your website is also backed up.
The only problem is that it takes some time to get a copy of the site. Thus, there can be a situation in which your website is down and you cannot restore it quickly. This can cost you a lot of money if, for example, it is not possible for your customers to make any purchases on your site for a while.
There are three options for the WordPress site backup that you can do by yourself:
Ask the hosting provider about backup programs that you can use inside the server to make the backup manually. They usually have some. Cloudways for example allows you to set up automatic backups as often as you like, or manually back up your server with just one click.
Synchronize your site and server using programs that allow doing this. For example, there is an open-source program Filezilla that is a free FTP solution and allows you to transfer files between a local computer and the server;
Copy all your website files on the computer in one folder or in the cloud or on removable hardware. If the files are big altogether, you can compress them into a zip file and keep it that way to save space.
The same rule applies here - keep the backup in at least three different places to be absolutely sure that your whole WordPress site is safe.
Automatic Backups With Plugins
If you don't want to be in control of everything manually, then you can create automatic backups by using the appropriate backup plugin. There are several options.
All you have to do is install the plugin as you usually do, i.e. access the 'WordPress' administration dashboard, choose 'Plugins' on the left side menu, and look for one of those mentioned below. When you have installed the plugin successfully, just configure the settings and your 'WordPress' site or database is backed up.
Most Popular WordPress Backup Plugins
Here is the list of the most popular 'WordPress' backup plugins:
BlogVault is the most reliable WordPress backup, staging & migration solution trusted by over 300,000+ websites. It can backup or migrate a 300 GB site without overloading your server ever.
It has the fastest website recovery tool (< 5 mins). BlogVault also offers Off-site Storage by enabling the upload of backups to Amazon S3, or Dropbox, or even downloading it to your local computer.
This plugin creates a .zip file with all the information that keeps your website running. Free and premium versions are available with different levels of support accordingly. All storage options are available, although some of them such as 'Google Drive' are only available in the premium version.
With this plugin, it is possible to export everything: database, media files, plugins, and themes. A mobile version is also available, which is not common among this kind of plugins. Easy backup and storage of data directly to 'Dropbox', 'FTP', 'Google Drive', 'One Drive', and some other services.
Also provides easy backup and data stored directly into the most popular clouds. Although the range differs depending on whether you use the free or paid version of this plugin. With Updraft, it is possible to send all data by email, as well as to set up an automatic backup schedule.
BackupBuddy backs up all files, media, themes, and plugins in one downloadable zip file. Provides scheduled backups as well as an easy system for restoring all information in case something happens.
Most Popular WordPress Database Backup Plugins
It is possible to backup only databases in WordPress. There are also several plugins for this:
WP Migrate DB - should be used together with the database management tool 'phpMyAdmin'. That is why this plugin is more appropriate for use by developers. It can migrate smaller data by identifying strings and replacing them;
WP Database Backup - manual and automated versions available for database backups. It is possible to set up a schedule and keep data in different places: clouds, as well as e-mail. The plugin also allows you to exclude some tables from the overall backup.
When and how often to do the backup?
Back up should be done before updating WordPress or plugins. That is a must if you want to keep everything in the right order.
Otherwise, the frequency of updates depends on how often you change something on the site. If your last change has not been backed up, you will lose it. If you are ready for this, you cannot back up the site after every change. Just set the time frame that is acceptable for you. And now it is time for you to share your experience.
How do you do backups? How often? Or are you someone with strong nerves who feel lucky? 🙂
Want To Get More Articles Like This?
Be the first to know more news, updates & web design tips from Visual Composer.