What is common between the stock market and a website? Both of them can crash at any time for a variety of unforeseen reasons. While a stock market crash can wipe out all your investments, a website crash can wipe out all your valuable business data.
On the plus side, recovering from a crashed website has gotten easier - provided you have taken a website backup. In simple terms, a website backup is an exact copy of your website data stored at an external location. In the event of a crash, this version can be easily restored to you to get your website functioning normally.
"Is it too complex to take backups of my website data?" Luckily, it's not, thanks to the availability of numerous automated backup tools designed specifically for WordPress websites. One such backup tool is BlogVault that can be installed on WordPress websites just like any of its other plugins.
Should you try out this backup tool? Here's our honest review of how this tool performs.
About the BlogVault Backup Tool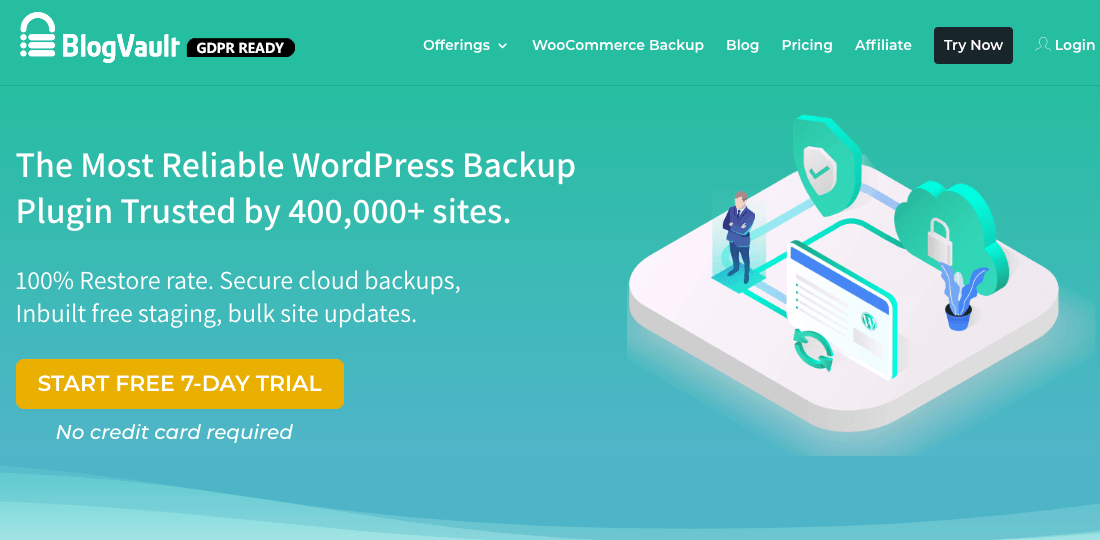 BlogVault is a premium backup and restores tool developed particularly for WordPress websites. With over 1 million website backups and restores, BlogVault claims a near 100% record in website recoveries. In addition to backups and restores, they offer functionalities like website management, website staging, and migration.
We are constantly on the lookout for the simplest and fastest ways to create a website. BlogVault scores highly on this factor. It's easy to install and set up, even for a novice user.
Stepwise Guide to Installing and Configuring BlogVault
Here's what you need to do to get started:
Sign-up with BlogVault with your official email address. You can utilize the 7-day free trial to evaluate the tool.
Next, use the link in the official registration email sent to log into your BlogVault dashboard.
Next, add the URL address of your website.

Install the BlogVault backup tool on your website using either manual install or automatic install.

It is better to go for the Automatic Install, which is faster to complete and does not need any technical expertise.
The plugin is installed in a matter of minutes and immediately takes a complete backup of my configured website.
That's it, now you're all set!
We also tested each of the features offered by BlogVault. This includes:
Incremental backups
Automatic restore
Website staging and merging
Offsite storage
Website security
Website management – white label and client reporting
Support for WooCommerce real-time backups
Tool Pricing and Customer Support
Here's my assessment of each of these features:
Incremental Backups
BlogVault takes a complete backup of your entire website data immediately on installation. In the subsequent backups, the incremental backup feature takes a backup of only those website files that have been modified, not the entire data. This makes the backup process faster and reduces the load on the backup server. This tool is ideal for executing backups of large websites with over 350GB of data.
Besides this feature, BlogVault also allows:
Automatic backups that can be scheduled according to your requirement (daily, weekly, or monthly).
On-demand backups allow you to execute a backup at any time that you wish.
Real-time backups that are necessary for WooCommerce websites. This is explained in detail later.
Automatic Restore
An excellent WordPress backup tool must have a fast and easy restore functionality that can quickly restore your crashed website. In this regard, BlogVault has an automatic restore feature that can be executed without any technical expertise or knowledge. All you need to do is to select the right version of the available backups and specify the URL of the destination website.
Apart from being fast, BlogVault has previously restored large websites with over 300GB of data, making it suitable for all kinds of sites.
Website Staging and Merging
We've all been there. You're testing WordPress updates or updating installed plugins/themes on a live website, and the next thing you know - your site has crashed. This is why it's always recommended to first test these changes on a staging website and then merge these changes on the live website.
The good news is that this plugin includes free website staging and merging functionality. You can try out all your test changes on this website without any impact on your live website.
Offsite Storage
Apart from making secure backups of your website data, it's also critical where your valuable backup data is stored. Creating a backup won't make much sense if your backup data is lost or hacked.
In the case of BlogVault, all the backup data is stored in remote offsite storage locations such as Google Drive, Amazon S3, Dropbox, or on BlogVault's dedicated servers. What's more? You can check the status of these backup files from the dashboard.
Website Security
In addition to the website backup and restore functionality, BlogVault is bundled with the MalCare WordPress security tool. This security tool ensures the overall website security through early detection and removal of harmful malware infections.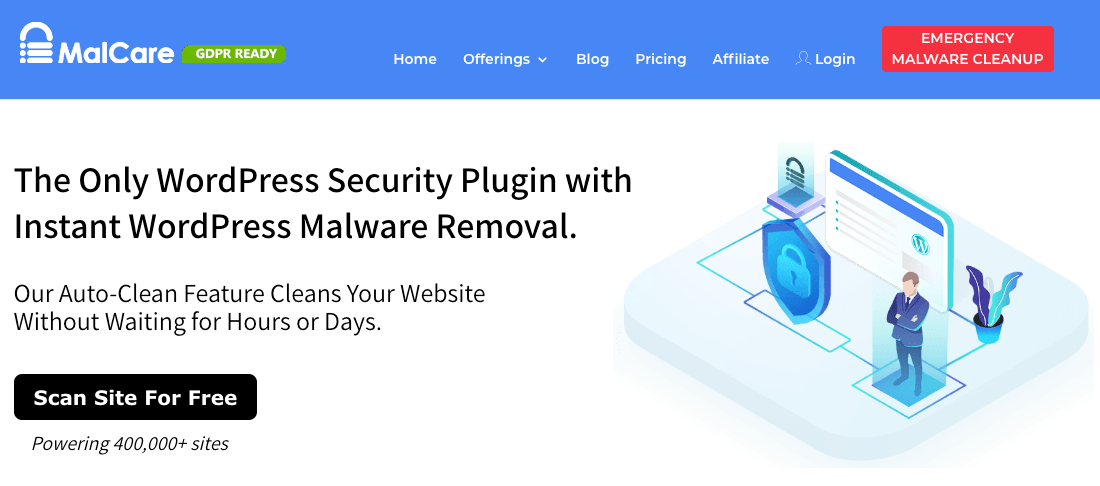 Apart from malware detection, the MalCare tool has a host of security-related features including a web application firewall, 1-touch malware removal, and website hardening measures.
Website Management – White Label and Client Reporting
One of the coolest offerings is the centralized and Independent Dashboard. It's a great way for admin users can perform multiple website management functions from a single location. This includes updating installed plugins/themes across multiple websites, managing users and user roles, and even staging a website.
The white-label feature of BlogVault is of particular benefit if you're running an agency. You can rebrand these plugin tools as your own, thus increasing your brand value.
Additionally, BlogVault's client reporting feature allows you to customize and share professional-client reports with your customers.
Support for WooCommerce Real-time Backups
And finally, BlogVault features real-time backups that are required for WooCommerce-enabled websites for E-commerce retailers. When do you need a real-time backup? A real-time backup is a backup executed automatically each time your website data goes through any change. WooCommerce sites experience more real-time transactions than normal sites, like customer purchases and product shipments. While there are many elements for WooCommerce to consider, real-time backups are of particular utility. BlogVault's backups also come with a 365-day backup archive which is very useful in case of any errors.
Pricing and Customer Support
And finally, we come to the pricing plans for this tool along with the quality of its customer support. In addition to the limited free trial, you can pick a plan based on the number of websites to be backed up (ranging from 1 to over 20 websites). For a single site, the "basic plan" is priced at $7.4 a month, which seems to be a decent price for small website owners or freelancers.
What about customer support? BlogVault promises 24x7 customer support either through email or through online chat. You can expect a response within hours of your query and the process is seamlessly smooth.
In Conclusion
In summary, BlogVault gives good value for your buck, with a range of backup-related features like incremental backups, offsite storage, use of dedicated servers for backups and restore, and above all, the ease of use for any user.
We would personally recommend you to try the free trial package of BlogVault and check for yourself if the tool is worth making a long-term investment. Let me know what has been your experience with this tool? Leave behind your comments in the section provided below. All the best!