Many of our users have asked us to suggest the hosting services that are closely associated with Visual Composer Website Builder and WordPress in general. WordPress and its surrounded plugins are a niche community and not every hosting company focuses on that.
Taking into account that WordPress means unique nuances, it is important to make sure you put your beloved website in hands of a secure and fast web hosting that speaks in the same language. In WordPress language!
This article is not a coincidence, Kinsta is one of the rare hosting services that speak in WordPress. So we wanted to test it out on our own, building one of our test projects using Visual Composer Website Builder and fast-forward hosting provider Kinsta.
About Kinsta
Kinsta is one of the well-known WordPress-managed hosting companies that stands out of its performance and speed. And the fact that it is exclusively powered by the Google Cloud platform is well promising.
Kinsta positions itself as a premium WordPress hosting for every kind of business size - small or big, you will be taken care of. Continuing, Kinsta states the following features as its core basis:
Fully managed hosting service;
Secure like Fort Knox (that's an army post in the United States);
Free migrations;
Ultimate speed;
Daily backups;
Free SSL certificates;
Staging environment;
Google Cloud Platform.
Let's see how well these and other Kinsta features perform accompany with Visual Composer Website Builder. To do so, our developers took several performance tests to see how quickly the website made in Visual Compose loads with Kinsta.
But just before we start, let me summarize the outcome in two words - Kinsta impresses! 💪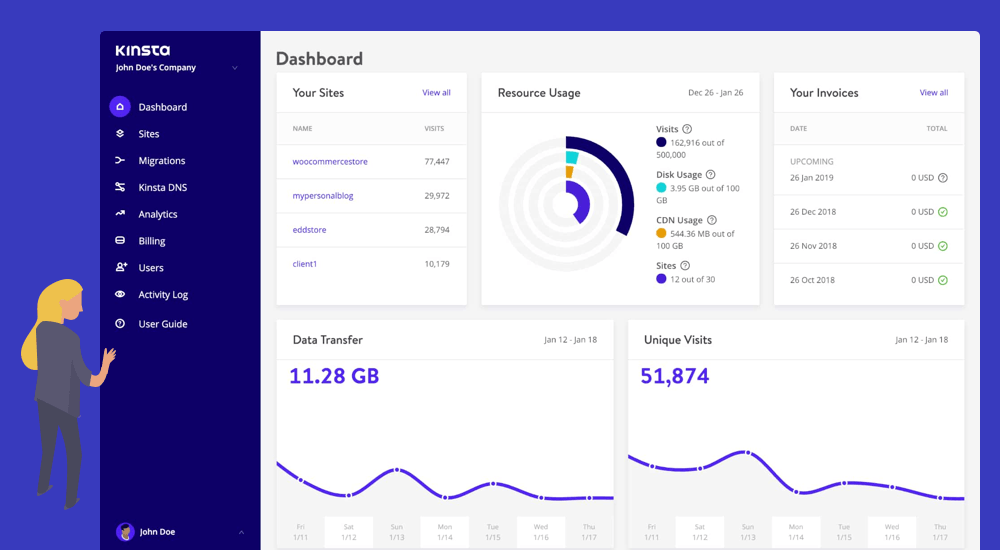 Kinsta Performance, Speed, and Capacity
Kinsta performance tests were carried by our back-end developers who tested its speed, capacity, compatibility, and other elements that are important to determine the union of a website and hosting. The tests were performed using the following components:
WordPress 5.0.3 (open source software);
PHP 7.3 (scripting language);
Visual Composer Website Builder 12.0 (drag and drop website builder for WordPress);
Kinsta (managed WordPress hosting);
Other WordPress plugins (WooCommerce, Gutenberg).
Here you can find out what exactly was tested and what the test results were, looking at Visual Composer and Kinsta hosting compatibility.
System Status: Passed
After setting up and running a site built in Visual Composer Website Builder, we checked the System Status in order to see if Kinsta is in compliance with our requirements. Visual Composer Global Settings are for tracking configurations and we were delighted to see that Kinsta shows great results passing all needed requirements.
New Plugin Updates: Passed
Our website hosted by Kinsta was originally developed using Visual Composer Website Builder version 11.0. At the time of its creation, Visual Composer released a new update - perfect moment to test how Kinsta copes with a transition in between plugin updates.
In addition to Block Templates, which was launched with update 12.0, the focus was also on speeding up the editor's load time. In tandem with Visual Composer and Kinsta hosting, it was achieved that page saving in the editor beats up the norms.
Third-Party Plugins
Visual Composer Website Builder is compatible with plentiful of well-known WordPress plugins. The compatibility program is on demand, new third-party compatibility elements join to the library constantly.
WooCommerce is one of the most popular third-party plugins used to accompany with our website builder. So it was important for us to check how the WooCommerce elements work when hosted by Kinsta.
To test Kinsta's performance, we created several product pages, cart content, related products, and other e-commerce site pages. Test results showed that everything worked well, pages loaded fast enough.
Additionally, we tested other third-party plugins whose compatibility elements are included in our asset library. Caldera Forms, Envira Gallery, Gutenberg, and others - all of them lit up the green light, marking compatibility with the pair of Kinsta and Visual Composer Website Builder.
Assets Download Time: Less Than 5 Seconds
Our website builder contains a lot of ready-made elements and templates that can be downloaded from the online marketplace (Visual Composer Hub). The same as our users, we at Visual Composer use these assets to create our site pages.
So, we wanted to see how long it takes for Kinsta to download elements and templates from the Visual Composer Hub. The results show that the average download speed was under five seconds. It was less for downloading elements, which makes sense because of templates containing more data. However, it is above the average speed, so this is a great result.
Number of Saved Templates
The pair - Visual Composer and Kinsta hosting managed to save more than 15 templates in one page. In practice, there would be fewer assets needed when building a website, but since we are testing Kinsta's capabilities, we made greater demands. And again, it surprised us with its capacity.
Kinsta & Visual Composer Features
Visual Composer Website Builder greatest asset is its powerful features. When it comes to choosing the right hosting service, we make sure it will complement our best assets with the speed and extra security.
Although all 100+ features were tested, our developers paid special attention to the most powerful ones:
Header, Footer, Sidebar editor;
Global Templates;
Export/Import Templates;
Global Custom CSS and JavaScript.
It was pleasant to see that the functionality works well in details. All major features performed in its best self. Additional components like the Posts Grid performed smoothly, featured images in posts grids updated automatically. All aspects were taken care of which was a nice experience.
Conclusion
Kinsta itself is a great hosting service. Their outstanding features and support (real WordPress experts) make sure you have a great experience with Kinsta.
Kinsta as managed WordPress hosting gets thumbs up! It takes care of compatibility, security and overall community standards.
Kinsta in duo with Visual Composer gets double thumbs up! It is a great match in everything we managed to test. We definitely recommend Kinsta as fast, secure and friendly hosting for your WordPress site that's made using Visual Composer Website Builder! 👍👍