Working with text is one of the key parts when it comes to managing the content of your website. That's why we released Visual Composer update with a brand new inline editor for fast and easy text editing. The new inline editor allows you to access more options and edit the text of your website just like in Google Docs.
As you edit content of your page, you constantly open element window to access TinyMCE or input fields to adjust the text. The new inline editor in Visual Composer allows you to simply click on the text to access most important options of the text editing. Select paragraphs or words you want and apply styles. For example, if you want to outline the most important keywords with bold styling, simply select the words you want and apply the bold style.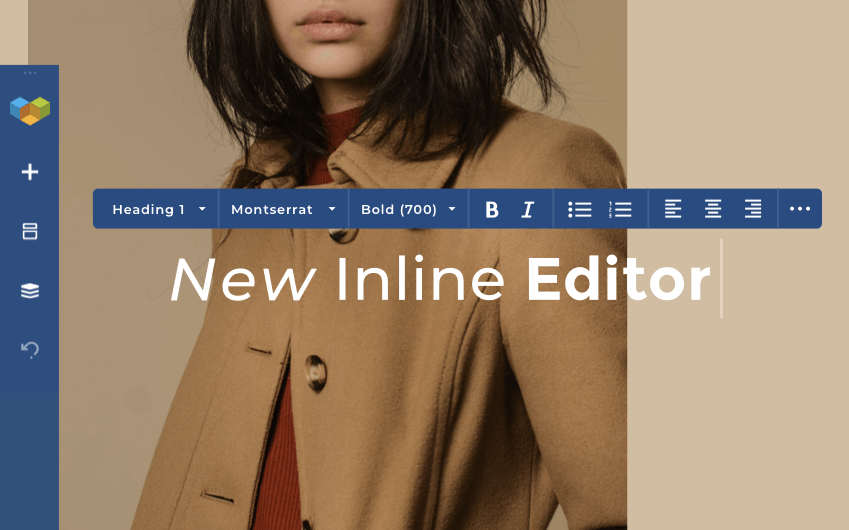 The inline editor allows you to set text styling, adjust alignment, and add bullet points. More than that, you can control font family (including Google Fonts) and font weight. Plus, we have extended our TinyMCE version with Google Fonts, font weight, line height, and letter-spacing features.
Advanced TinyMCE
The updated TinyMCE allows you to change font family and set font weight. Select the title, paragraph, words or letters and apply Google Fonts of your choice. Plus, Visual Composer will offer control over line height and letter spacing - options that are not part of the default TinyMCE package.
Now, you can create engaging titles for your content and mix font families to create accents. For example, you want to divide your title with a hand-written 'and' sign. Select the character and choose Google Fonts that best suite your website.

With more options available for TinyMCE, you can significantly improve your text formatting. Apply styling for titles and subheadings you always wanted. Visual Composer allows you to overwrite default settings defined by your theme.
Get the New Inline Editor
The new inline editor is available for everyone with Visual Composer Free or Premium version. All new and existing elements of the Visual Composer Hub are also fully compatible with the new inline editor. If you want to learn more about the inline editor and Google Fonts, make sure to visit our Help Center for detailed tutorials.
Make sure to update your Visual Composer versions right away to access all new features. And, if you are not familiar with our website builder, this could be a perfect time to get started.