MADDL is a multi-project web agency that focuses on eCommerce, websites, and web advertising. They came to Visual Composer searching for an easy-to-use tool for their clients, and they found that and more. Check out how Maddl used Visual Composer Premium to create a hotel website for their client.
About MADDL
Maddl deals with web marketing services, specializing in web design and user experience. Their core business is mainly represented by the creation and management of websites and the creation and maintenance of e-commerce. Maddl programs in PHP and develops on the best open source platforms, for example, WordPress with WooCommerce.
In order to provide a user-friendly website editing options, earlier this year, Maddl bought a Visual Composer Developer license and started to create websites for their clients using our Premium website builder. Easy to understand front-end editor is a great way of how Maddl agency compliments their custom projects. Their customers can easily manage the content of the website even after the agency has delivered it to the client.
Let's see how Maddl agency is implementing the use of Visual Composer Website Builder by putting emphasis on one of their web project, a hotel website lesilve.it.
We used to build custom-looking pages almost from scratch, creating custom code. The website lesilve.it, for example, was entirely made from scratch but thanks to Visual Composer Premium, we didn't have to worry about the pages, posts, custom code corrections and other things, instead, it was done quickly via using Visual Composer. That's why it is a good idea to have some support tools available that can reduce stress and absorb some of the workloads, rather than forcing you to understand everything.
In light of all this, we have to talk about the website of the Hotel Resort Le Silve di Armenzano, in Assisi, a tourist destination of international renown. The hotel staff is more than satisfied with the management of the lesilve.it website, through the use of the Visual Composer Premium builder.
Use of Visual Composer Hub
Let's start with the Visual Composer Hub, a series of multiple components that help you create pages, posts, content such as maps, boxes, price grids, testimonials, elements, images, etc., in a simple and dynamic way.

In the sample above is the homepage, where we have created several sections that refer to the internal pages that most interest the customer and users. Thanks to the 'button' element we were able to create a dynamic button with an easy to customize animated mouse-in effect. Also thumbs up for a permalink, the builder automatically creates the script for what you need; if for example, the click of the button must correspond to a call, you will only have to enter the phone number and the script is automatically generated for you.
The same goes for Google maps, videos, social network posts, etc.
Further on, the focus goes on the footer and pre-footer that is generated largely by the backend but the simplicity and harmony that the builder generates are not obvious, it is wonderful. Here is a site element that the website builder has allowed us to create for the booking engine. When a user clicks on the 'Book now' button, an on-click online booking form appears which after entering the required fields, will send you to the hotel reservation manager.

Important is to mention the ease with which hotel staff in charge of managing and inserting content on the website, creates new promotions and offers. Thanks to the elements of the website builder, the hotel website is consistent and responsive in a simple and immediate way.
Below you can see how the hotel page content is being updated via front-end editor. You simply click on wherever you want to edit a new information, and simply customize texts, images, or other content fields.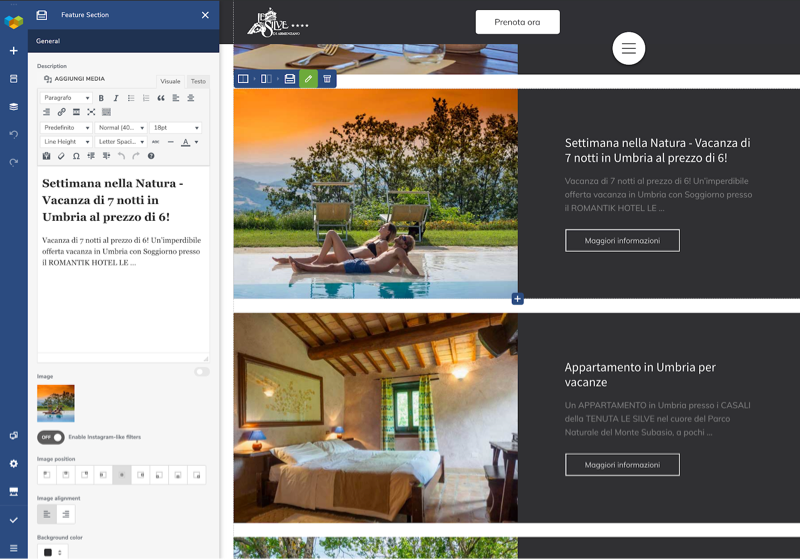 Verdict
In conclusion, here is a feedback from the hotel owners: "With the new website and thanks to the simplicity and completeness of Visual Composer, we were able to optimize the conversion rate, organic traffic and direct bookings of lesilve.it."
As an experienced web agency, we suggest you to try Visual Composer Premium for both, the price ($49 per single site is very little), and for the many features constantly updated. Furthermore, Visual Composer support is exceptional, in a few hours you will receive an answer to your issue. What can we say, seeing is believing - try Visual Composer Premium now.
For all websites, dynamic and eCommerce, created on the WordPress platform, we needed to use a fast loading builder, that is easy to use not only for developers but above all for the final customer, the user who has no coding knowledge. Before Visual Composer, we tried two other site builders for WordPress but were disappointed by the various bugs encountered and the slow assistance. Today, thanks to the easy-to-use website builder and a brief training we provide to our customers, we have satisfied and enthusiastic clients who independently are managing our created website's content.
I hope you enjoyed reading the case study of how Maddl agency uses Visual Composer in order to make their clients' life easier. Maddl is one of our many beloved clients who is combining their own knowledge and expertise together with our powerful plugin. Le Silve hotel site is one of many beautiful websites created by Maddl. The agency has also produced websites for other areas, such as educational institutions, catering services, various government organizations and many others (tavoloapolidia.org, cadmos.it, motomacellaio.it, and more).