You may be following his daily musings through his #MorningCoffee newsletter or listened to his keynote at a WordCamp event. Or you know him simply as the Chief of Cloudways. Regardless, it's not that easy to find an evangelist of open source and Wordpress as vocal as Robert Jacobi.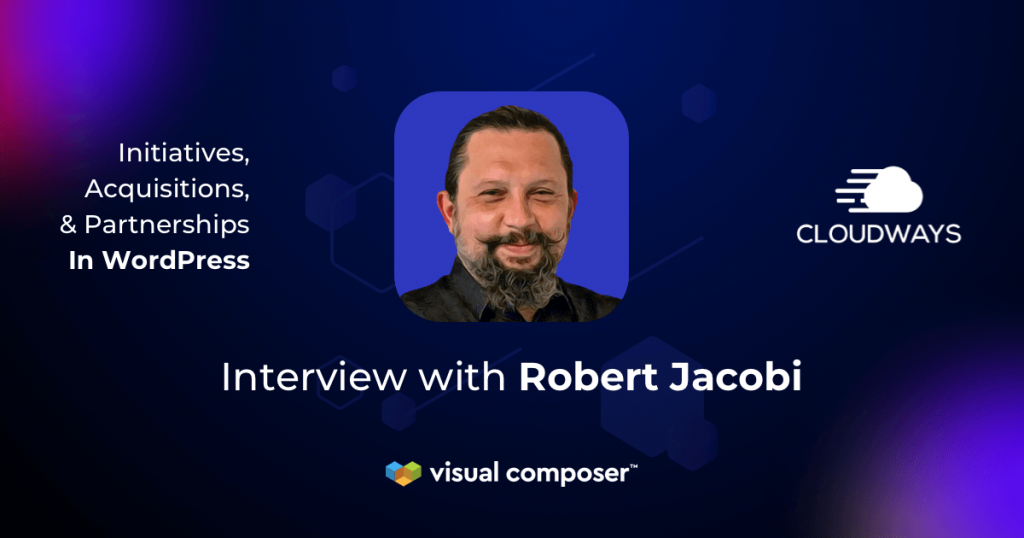 Robert Jacobi has over 20 years of experience in sales and management. From early-career days founding Arc Technology Group, the lead Joomla consultancy. To becoming the President of Open Source Matters, an organization that supports the Joomla project. To his current position as Director of WordPress for Cloudways — Robert is by far one of the biggest contributors of the open-source as we know it today.
Today Robert shares his expert opinion on the WordPress community, Cloudways partnership with Visual Composer, and other interesting topics.
The Interview
Nikola: Your experience in the open-source community is almost 100 years in dog years. Tell us, how did you make the decision to go from Joomla to WordPress?
Robert: Well, that makes me feel older than I should but I guess that's a fair assessment. When I first looked at what kind of open source CMS to utilize back in 2005, I was very focused on highly technical and object-oriented projects. With a team, we had built our own J2EE MVC framework and a CMS that sat on top of it. Very geeky stuff. Joomla had/has core technology that really spoke to us and we were able to leverage it for years. Of course, technologies continue to mature, user expectations change, and business moves in different directions. Moving to WordPress five years ago was all about WordPress being able to satisfy personal and professional needs, and the technology was accelerating. Gutenberg is a great example.
Nikola: Being one of the largest communities in the world, what factor, you'd say, makes the WordPress community so strong, united, and welcoming, from web creators with 10+ years of experience to complete newcomers?
Robert: I think you've answered the question in the question. Because the community is already so large, there are different points of access for folks with various skill levels and interests. From virtual conferences to webinars, to so much social media, there really is a place for everyone, and because it is an open-source community there is a very giving nature to newcomers.
Nikola: What do you think is the reason why Cloudways has become so popular over the years? What's the key to your success?
Robert: I feel that over the last decade Cloudways has looked to solve the really annoying technical problems for smart people who want to be doing other things. Managing, deploying, and maintaining a cloud infrastructure is absolutely doable for any individual, but is it a good use of your time? Do you really want to spend days, weeks, months, figuring out the intricacies of a certain cloud provider?
The key to our success is that we are a technology company focused on getting rid of the technology speed bumps. Of course with support and value.
Nikola: There have been increasingly more acquisitions within the open-source space over the years, with around 10 in the last two years alone. What are your thoughts on this current trend?
Robert: Just 10? I'm pretty sure that number is off by a factor of 10. There has really been significant movement in acquisitions! There is a ton of great software being managed and run by very small (or solo) folks. These projects though can have significant traction so of course being able to leverage great technology with a built-in user base is absolutely exciting for businesses looking to buy.
Nikola: With the frequent vulnerability threats, web security has been a heavy topic in the past few months especially. How can we as a community make sure our websites and data are secured?
Robert: The basics have never changed. Back up your sites and data. Test your backups in a separate environment – we make this easy at Cloudways. Keep your applications and stack up to date. We need to hold each other accountable as site owners, as hosts, and as application developers. There are great third-party tools to add to the layers of protection as well.
Nikola: With WEB3 rolling in, the everchanging Core Web Vitals and accessibility becoming a bigger thing by the day. What is the future of hosting for 2022?
Robert: The items you mentioned are all in the application stack and generally further away from hosting as most people think about it. But, I feel as hosts [hosting companies] all up their baseline products and services we will see either through internal development or acquisitions steps into those spaces.
Nikola: You have been a huge mental health advocate for remote workers, as well as participated in, and supported many charitable projects over the years. What are your thoughts on the open-source community and the World Wide Web itself, becoming more socially responsible, sustainable, and overall just a healthier environment for all who are a part of it?
Robert: Big Orange Heart and similar projects are more relevant than ever. Although Covid accelerated remote work, it has been seeing a rise over the past few years. Regarding social responsibility and the rest, it's surprisingly always been there. I mean look at what the internet aspired to at "creation." Distributed computing, with redundancy and accessibility. It's a hugely democratic and empowering ideal. Open source projects in general are direct "children" of this ideal. The code is open and communities, especially at the beginning, support themselves very directly and have missions and goals that are not always just code.
Do I want WordPress to be a "political community?" No. But I think a community-driven mission can have health reverberations for the environment, for health, for mature discourse, for marginalized communities. It's nice to see those things grow in relevance.
Nikola: Cloudways is participating in the WPGivesAHand charity movement this year, what are your thoughts on such initiatives within the WordPress community?
Robert: Ha! I think I just covered it above. I mean each one of us, person, agency, host, is part of the WordPress community and trying to take part in such initiatives. It's great! We often see companies with specific charities (we participate in the Million Tree Challenge) but something like WPGivesAHand can have multiplier effects.
Nikola: Finally the topic we all have been waiting for - Cloudways has partnered with many amazing companies over the years. Why should potential users choose the Cloudways + Visual Composer bundle, and what's the value to the users?
Robert: It's more than the here and now, it's the critical wave of the future. No-code / low-code is what people want, and Visual Composer with an insanely smart and intuitive way to create websites and applications, as well as the ongoing maintenance and support of them is a no-brainer.
With the Cloudways + Visual Composer bundle, we are taking the best of powerful and easy-to-use hosting and adding the powerful and easy-to-build capability in a 1-click solution. It's perfect.
Rapid Fire Round
| | |
| --- | --- |
| Nikola | Robert |
| Cats or dogs? | DOGS |
| Espresso or Cappuccino? | ESPRESSO … pure espresso, nothing else, and a lot of it! |
| Space X or Starlink? | SPACE X because I really want to see space travel become affordable |
| Stay home or travel? | TRAVEL, of course, I work from home. |
| Christmas Dinner or the Annual Marinara Weekend? | MARINARA WEEKEND but only because CHRISTMAS EVE dinner is the big one for me, not CHRISTMAS |
Ending Thoughts
Nikola: Thank you so much for taking the time to educate us on such fun and interesting topics. What would you wish for all the readers, web creators, designers, and developers in 2022?
Robert: Stay healthy! Mentally, emotionally, physically. It's been a challenging few years in ways none of us expected but being healthy in all those ways will make it possible to be curious 🙂