Visual Composer 37.0 is here with the user role manager - a feature that gives control and security to advanced users, developers, and agencies.
Role Manager allows you to configure the Visual Composer feature access for different WordPress user roles. Grant permissions to your tech-savvy teammates or restrict access for your clients to secure the site overall look from unneeded modifications.
Visual Composer Role Manager can save your hours of maintenance:
Control who can access advanced features
Give your clients a secure way to modify content
Simplify the interface for non-technical users
Secure your site overall look
Modify default access rights to your preferences
Control user role access to specific post types
Configure access rights for WordPress default and custom user roles
Keep your site clean by restricting media and addon download
Visual Composer is getting more and more developer-friendly
Before creating Visual Composer, I was working as a web developer. Back then, maintenance service was a good way to create a recurring income.
Yet, we all know that changing URL here, updating a paragraph there, and adding a picture here can get you off the grid pretty quickly. As a developer, I wanted to focus on my primary job and address technical issues as a part of the maintenance process.
What I was missing back then is something I am proud to present today.
Role Manager gives a quick way to configure access rights so your clients can edit only certain parts of the page. At the same time, you are safe - no harm will be done to the overall look and feel of the site.
Spending 10 minutes configuring #WordPress user roles can save you hours of maintenance work.
In addition, restricting access can help your clients in a different way.
Many non-technical users complain when having too many options. By restricting access, you can actually lower the barrier for them to manage their own content and they will appreciate it.
You can even restrict access to specific post types or downloading content from the Visual Composer Hub. We know that people like to download free stuff, and with 200 elements, Visual Composer Hub is a honeypot for them.
Do you develop a website for a large organization? Great, Visual Composer allows you to configure custom user roles per your business needs.
As you see, the Role Manager may sound like a simple feature, yet it gives you so many ways to improve your and your client's work.
How to get started with the Role Manager
The Role Manager is a premium addon you can download from the Visual Composer Hub.
Once downloaded, you can access the Role Manager from your Visual Composer Dashboard (WordPress Admin).
The Role Manager will list all the available user roles with preconfigured access rights. To modify the permissions, expand the user roles and adjust your settings.
Don't forget to save changes.
For a detailed tutorial and video on how to use the Role Manager, visit our Help Center.
While working with the Role Manager, there are few things you should know.
First, all Visual Composer features are disabled for custom user roles by default for security purposes. You can enable them at any time per your preferences.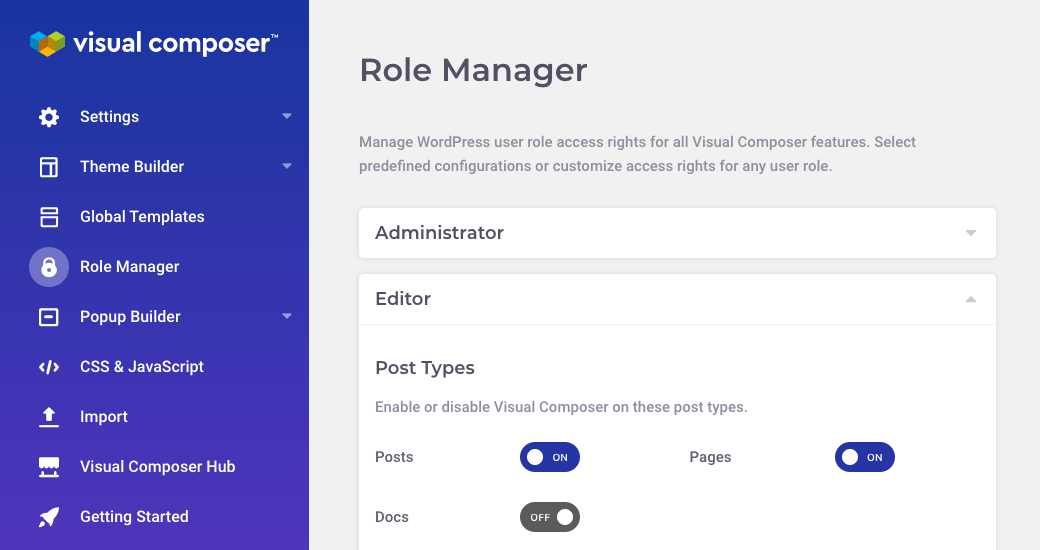 Second, we love WordPress and rely on default configurations. This means that you should ensure that your WordPress user role configuration does not conflict with your Visual Composer Role Manager settings.
And last but not least, remember that you can restrict access to certain elements of your site by using the Element Lock feature which is a part of the Visual Composer Role Manager.
What's else? Role Manager Presets
Laziness is the mother of invention. We have just introduced the Role Manager but that's not all.
Role Manager presets are a quick way to adjust user roles. You can choose one of the pre-configured sets for any of your user roles and skip adjusting every single option.
At the same time, you can always go into custom mode and adjust presets to your liking.
Ok, now that we have looked into the Role Manager addon, I want to hear your thoughts. Jump into the comments below and help us define what other agency-grade features you need in Visual Composer.
Haven't tried the Role Manager yet? Get your Visual Composer Premium license and enjoy all the pro benefits.