We are happy to introduce you to a real fun update that is such a time-saver for our Free and Premium users. This update comes with a great improvement for styling your website, giving you an option to turn your web design skills into the next level.
Here at Visual Composer, we go with a flow, and this is another privilege for non-professionals look like professionals, engineers like designers, and designers like superheroes!
Shape Dividers
Always wanted your work feel like a play? Shape divider option lets you do that!
Add custom shapes and effects to your website, design dynamic transitions between rows and columns, and turn your website into a real masterpiece without being a pro web designer.
For an inspiration, shapes can be placed underneath your products thus effectively showcasing them on the display. Custom shapes can be a great way to fill out the gaps and be used as visual guidance pointing out to further actions like scrolling down the page. Try it together with the Parallax feature to create a unique experience for the visitor of your website.
Little changes like this go along in having the website look much better than the standard "square" design.
Add Shape Dividers
From the Frontend editor, you can add up to two shape dividers for one row or column – at the top and bottom. You can choose between 45 different shapes, each of which can be flipped, resized and scaled to make unique designs.
Even more, you can add dividers background type choosing the right color for your website or gradient two, display an image or even a video - an exclusive option for Visual Composer users!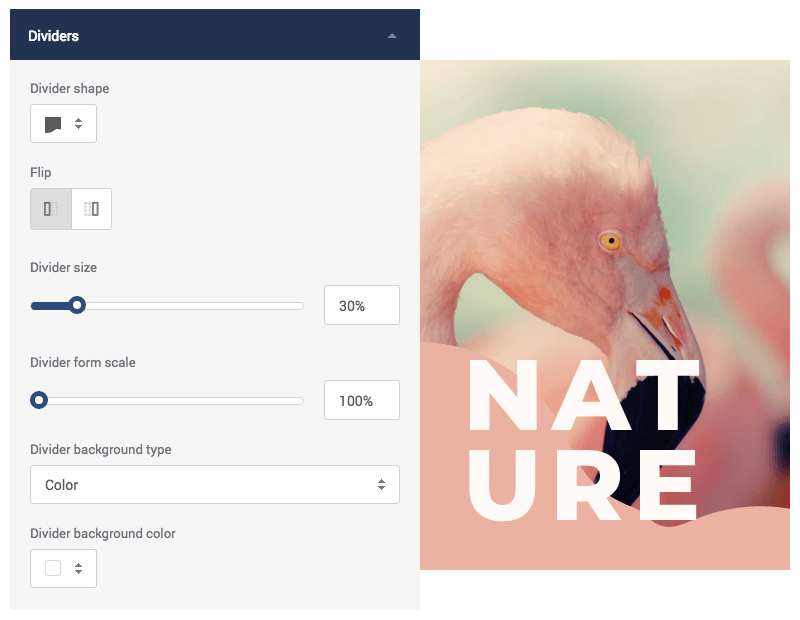 To add shape divider, you have to navigate down to Dividers section from a row or column element, check our Help Center for more detailed step by step guide.
Ready to Use Templates
Even if you have the opportunity to challenge any template of your choice, however, we have prepared shape divider templates for you to get started on hot feet.
All these, full page templates, block and section temaplates and many more are located in Visual Composer Hub - an awesome template and element library, unlimited and free to our Premium users.
Goodbye CSS
This one must be highlighted - no more hacking CSS code to achieve beautifully shaped backgrounds. After all, it's only a couple of clicks to a great web design. Could this be a design company's dream? 🙂
Although the shape divider feature is our queen of today, we want to highlight one more brilliant addition!
Recycle Bin to Delete Elements
If until now there were two ways of how to delete website elements - from the elements controls or a tree view, then now there is a third option well known named "recycle bin".
Recycle bin allows you to delete any element from your layout with a simple drag and drop. All the Windows or macOS users will be familiar with this movement, as it's exactly the same as deleting icons from your desktop.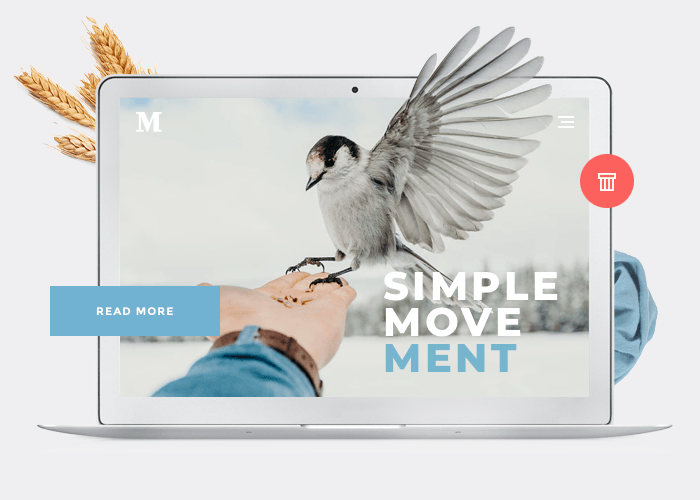 This option is also helpful to those who are on the move and can access only mobile at the time. With a simple swipe, you can edit your site and delete unneeded elements from your mobile device and keep on the road. We make it all easy for you!
Let's Keep on Moving!
Now that we have given you wings to fly into the future of modern web design, we will continue on brainstorming and creating new tools to be able to fly even higher!
And as always, we would love to hear from you – comment, question and leave your feedback below.