WP Event Manager is a user-friendly, scalable and full-featured event management plugin for adding event listing functionality to the WordPress site. Compatibility between Visual Composer and WP Event Manager allows you to create a website for different events without leaving the frontend editor.
Visual Composer and WP Event Manager tandem works with any WordPress theme and is really easy to set up and customize.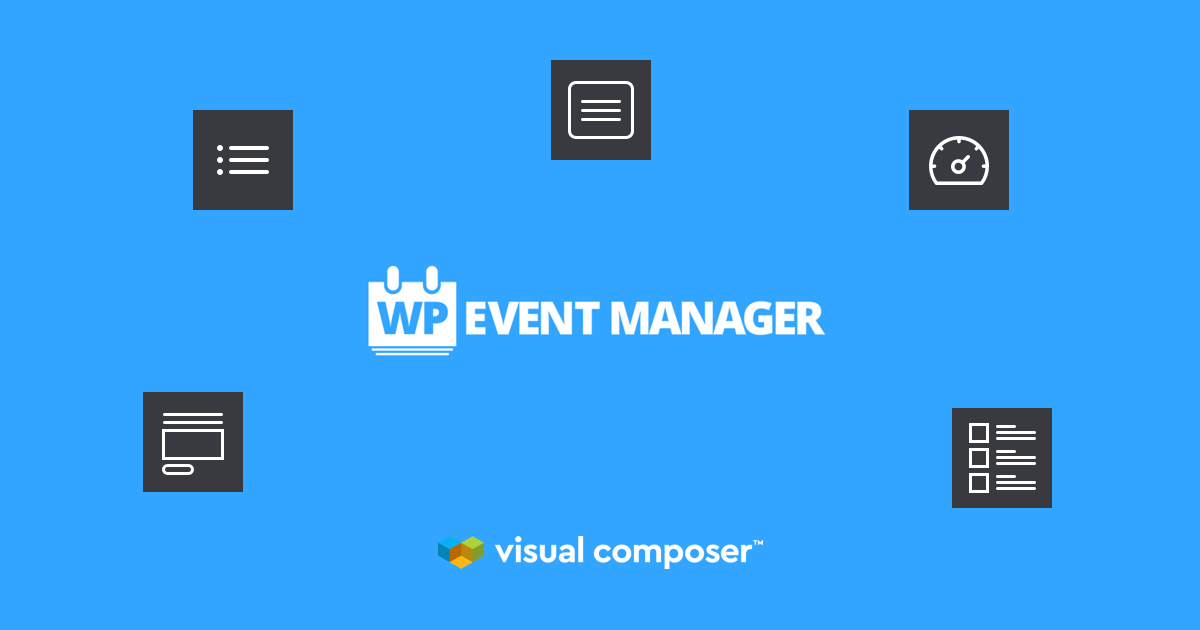 Before you see how these plugins work together via step-by-step tutorial, here are the topics we will cover:
What is the event website?
What is an event management tool?
Benefits of WP Event Manager plugin;
Tutorial on how to create an event website using WP Event Manager and Visual Composer.
Let's first talk about what an event website is and how useful it is in today's world.
What Is an Event Website?
The event website is a platform that provides its users with a simple and efficient way to see what events are taking place around them and when. All easily accessible in one place. The events can range from anything like concerts and private, corporate and charity drives.
A good event managing website is composed of several small components that together make up a usable product. One of the key components of every good event managers are:
Calendar to provide a date and time;
Map for showing location;
Ticket purchasing facility, including a purchase or registration form;
A good interface displaying all the events.
WP Event Manager and Visual Composer integration can deliver good results in this regard. You don't have to look for a special WordPress theme to make your own event website. All you need is a Visual Composer editor and the WP Event Manager plugin activated.
What is an Event Management Tool?
Event managers give functionality to your website. Whether it is an event calendar, an opportunity to buy tickets to events, or an online application form.
To make your WordPress event management website successful it is crucial to match your requirements with the right tools that are available on the market. In other words, you need an event management tool that is easy to work with and will help you make a professional event website.
WP Event Manager is one such WordPress event registration plugin that will be a great assistant in creating and managing your event site. Let's find out more about it.
Key Features of WP Event Manager Plugin
What makes WP Event Manager special is that it's easy to use, it is fast in its technology and gives WordPress users a familiar interface. Here are the main features of the plugin:
Fully responsive providing responsive event listings;
SEO friendly;
Translation ready interface for multilingual sites;
Offers different event types and categories;
Easy to create custom event fields;
Options for users to submit and manage WordPress event listings from the front-end;
Front-end and backend event submission forms;
Searchable and filterable front-end event listings;
Offers to add, manage and filter event listing by keywords, date, event type and location;
It adds Ajax-powered WordPress event listings to your pages via shortcodes (Ajax means smooth browsing);
It has more than 20 addons (Calendar, Google Map, Registrations, WooCommerce Paid Listings, etc.);
Outstanding customer support.
These and other features make WP Event Manager one of the top-picked event managers of all time. Now when it is also compatible with Visual Composer, you can without difficulty make any type of event pages or sections and easily display them directly from the front-end.
Create Events Using WP Event Manager
The first thing you need to do is download and activate the WP Event Manager plugin on your WordPress dashboard. This is quite simple:
Go to yoursite.com/wp-admin
Click on Plugins > Add New
Search for "WP Event Manager"
Install and Activate
When done, you will see a new section on the left menu, "Event Listings." This section is for creating new events. When you enter a new event, you will be able to give it a title, description, add photos, specify the venue, time, date and more.
Each event is assigned its own ID number. This will be useful for inserting the event into the website using the Visual Composer editor.
Now you are ready to go to the Visual Composer editor to easily place events on your website.
Display Events Using Visual Composer
Through the use of Visual Composer, you can simply add components into the page by following the path: WordPress admin > Visual Composer > Getting Started.
From there, click on the "Create New Page'" button and you will then be able to see a '+' button on your left.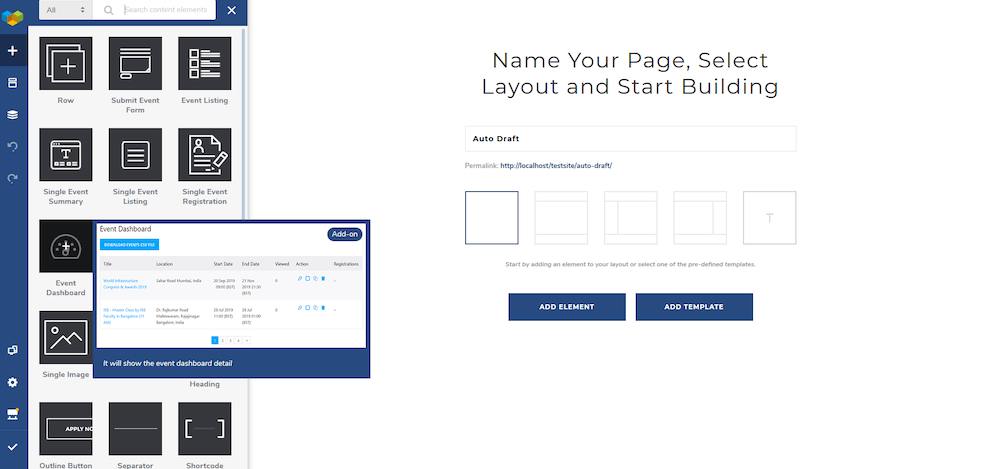 Clicking that (+) will open up a window that will show you available widgets that can be added to your page. The list that will pop up can be different depending on what kind of other elements you may have.
In total, there are seven different features available to represent your events:
Submit Event Form
Event Listing
Single Event Summary
Single Event Listing
Single Event Registration
Event Dashboard
Past Event Listing
Once you click on any icon, a series of options will become visible to you. Those options are completely dependent on the type of widget you have selected.
Fill in the fields by your own choice and then you are ready to publish your page.
From here on, you will be able to add Shortcodes to components of your page to make customization and usability easier.
It is super easy to use shortcodes in your pages and once you get familiar with them, the amount of personalization you can add is pretty much endless.
WP Event Manager Shortcodes
Events manager shortcodes are a very elegant way of performing large and seemingly difficult tasks with minimal effort and almost no time is taken. Shortcodes can be used in conjunction with WP Event Manager and Visual composer to bring forth a very creative product that is fully usable for everyone.
Let's discuss a few of the shortcode examples and what they do so that it is easier for you to get familiar with them.
Event Listing Shortcode
One of them is the 'Event Listing' shortcode. This snippet lets you view an entire list of events that have been added to the website. The actual code for this excellent widget is '[events]'.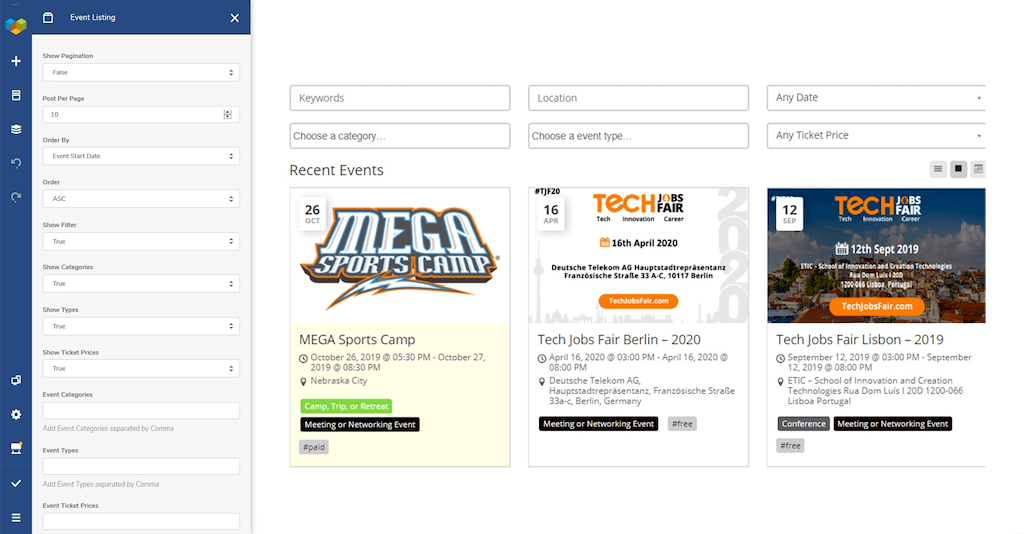 Submit Event
Another shortcode in line is the 'Submit Event'. The good thing about shortcodes is that they are almost always very self-explanatory. This one is no exception and gives you a very clear idea of what this will do. A form will appear that will allow you to publish events by entering their details into the system. The code used here will be '[submit_event_form]'.

Event
The last of the sample shortcodes is 'Event'. As you may have guessed, this allows you to view a specific single event from the entire list available to you. You may be guessing, how do I grab a specific event? The answer is that in the shortcode, you can enter an ID for an event and that is it. The code along with the ID part looks like this: '[event id = "xxxx"]'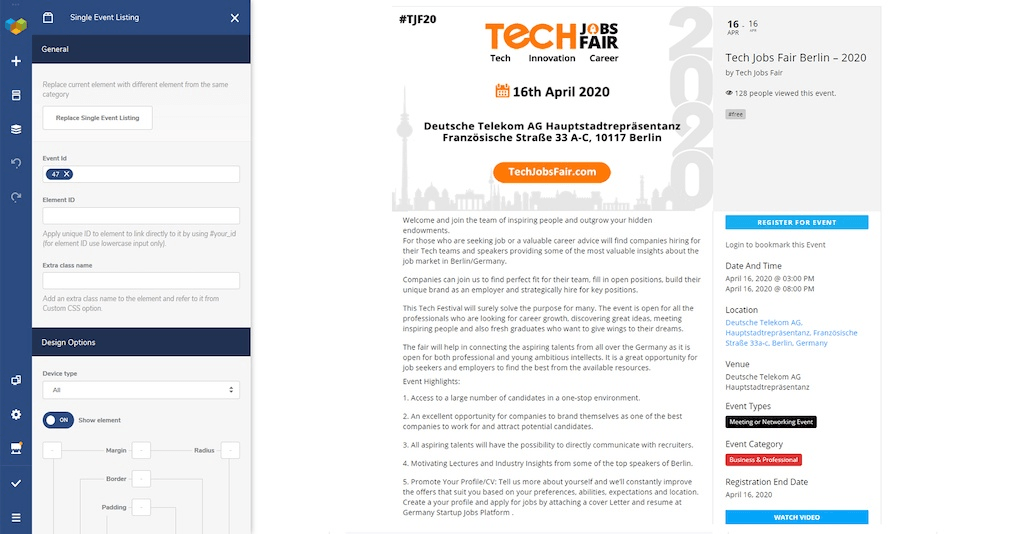 Summary
Creating a WordPress event management website has never been easier. Visual Composer, in partnership with WP Event Manager, offers a wealth of options on how and where you can host events on your website. All you need is a free version of Visual Composer, a WP Event Manager plugin activated, and a list of upcoming events!