When it comes to cloud hosting, there's no dearth of options available in the market - all of which are quick to swear customizable plans, maximum uptime, user-friendliness, and a score of other features they may or may not deliver. With a field growing as fast as web hosting, it takes a little extra oomph to stand out among the competition.
We checked out Cloudways, now a major player in the industry, to see how it lives up to its name. (Spoiler alert: we're impressed enough to recommend it to all our Visual Composer users, whether you're an agency or business owner, designer or developer, marketer or freelancer).
Let's jump right in.
Cloudways Overview
Here's the basic rundown off the bat: Cloudways offers managed hosting solutions with a spotlight shining bright on ease of use, choice, and performance. Activities like launching a server or application are incredibly simple to execute through 1-click operations, even for those of you who don't have a degree in computer programming. Users get to choose between cloud providers, style of workflows, and extremely customizable hosting plans. And once you get your website running on Cloudways, the risk of your visitors seeing a 404 page all but vanishes.
In other words, the whole idea behind Cloudways is to leave the headache of server management to it, so you free up time to devote to your work instead.
What Cloudways Have Going For Them
Cloudways combines an excellent mix of features to optimize just about any site's performance - agency, business, developer, or marketer. While it misses out on domain registration and email accounts, you're likely to find it makes up for those in other aspects.
Ease of Use
From the get-go, it becomes quite obvious that Cloudways is explicitly designed to be easy to use. Signing up for either a 3-trial or a plan is a fast and simple process, as is creating a dedicated server. An average of ten minutes is all it takes to select the resources you need plus the server location (for best results, choose the one closest to your physical location). Installing an application is a matter of a few clicks on the user panel.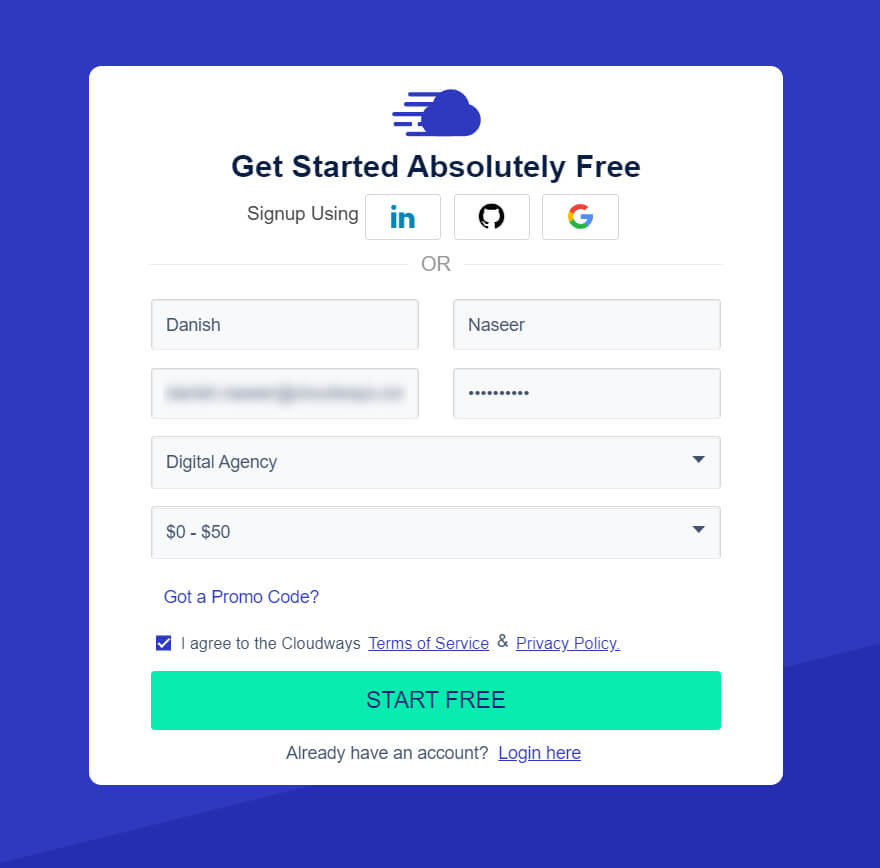 Cloudways' 1-click installation for WordPress websites made in Visual Composer is sure to be a major draw - it eases the whole process even for developers. As for the user panel, it has a sleek design that's easy to navigate, and which lets you monitor your server and applications, manage security settings, scale according to your needs, and more. And then there's also access to SSH and FTP if you need to execute more complicated tasks on the server.

Customer Service and Technical Support
Cloudways offers round-the-clock customer support through its chat option that links you directly with a customer service representative. It took no longer than 5 seconds to reach someone ready to take a question from us. We asked them about the company's hosting plans, its payment structure, and then some slightly more technical questions about the hosting stack and security.
However, speaking to a person is a more involved process - you first have to fill out a form to request a call.
Security
According to Cloudways, it's fully encrypted end-to-end and releases regular updates to the firmware and operating system. They also offer free SSL certificates - a must for all our e-commerce and online store operators - and all accounts come with a host of security features including firewalls, bot protection, two-factor authentication, and more.
Advanced Features
As mentioned above a few times, Cloudways uses its 1-Click operation to great effect. We especially liked how easy it was to scale server resources with just a few clicks. This is bound to be a great help whenever you experience an uptick in traffic and need to adjust your resources. Even if you're only scaling for a week or so, like for Black Friday, their pay-as-you-go system means you'll only be paying for the resources you consume.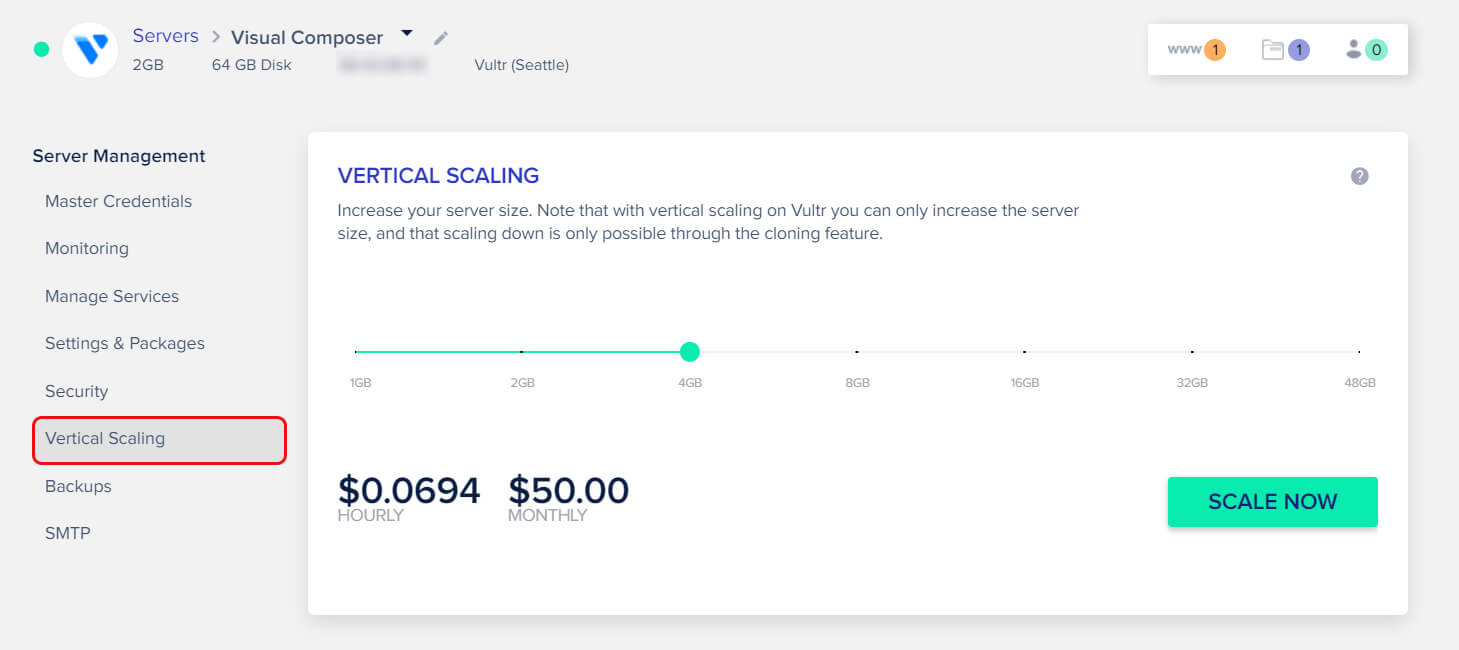 We're also big fans of Cloudways' server monitoring, which makes it simple for even non-tech savvy users to monitor a number of variables like Idle CPU and incoming traffic, all in easy-to-read graph form. You can surveil RAM, CPU, bandwidth, disk storage, database, and caching services using the relevant monitoring section of the server. What's more, Cloudways has server monitoring alerts enabled across all servers and accounts, so you remain aware of non-contact with the server before your site visitors do.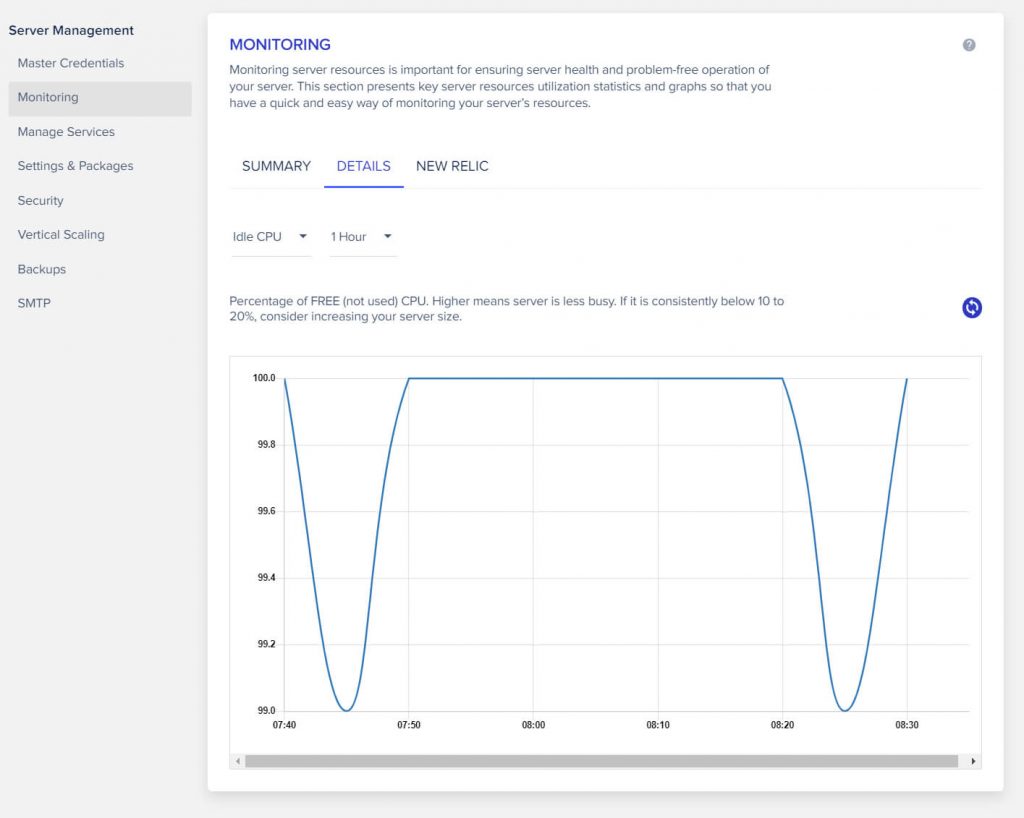 Oh, and you can set up automatic backups as often as you like, or manually back up your server with - you guessed it - one click.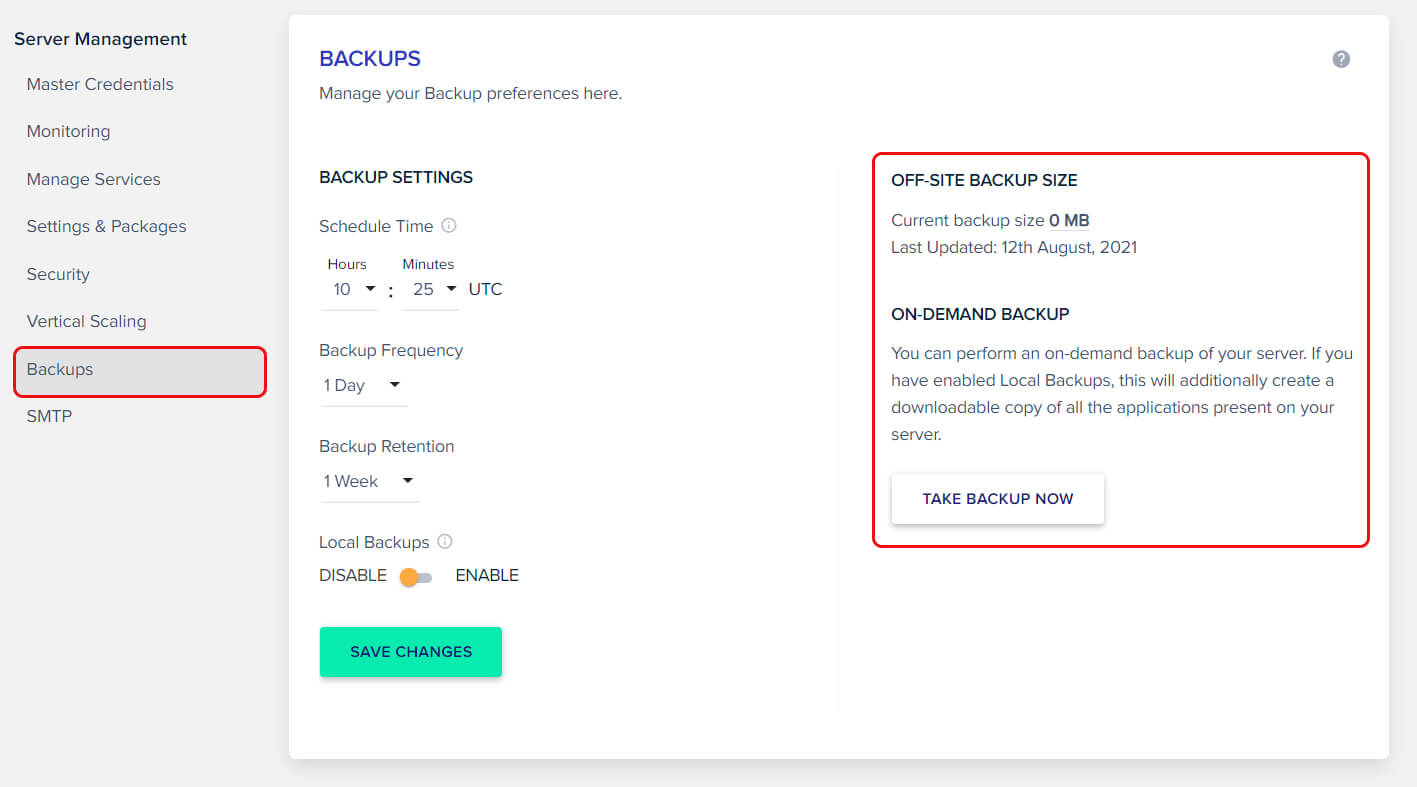 Performance and Speed
Here's where Cloudways really excels.
If you use their services, the WordPress site you make with Visual Composer will be hosted on probably the fastest WordPress hosting stack out there. Cloudways claims their uptime is 99.99%, and their loading speeds average out to 400 to 600 milliseconds. And that's about how it worked for us.
Take a look at Visual Composer running on GTMetrix, Pingdom, and PageSpeed Insight here. We chose a Vultr server and tested a VC website on those tools.
Resources that we used
Cloudways Server Configuration
Name
Specification
Cloudways Server
Vultr – High Frequency
Datacenter location
Seattle
RAM
2GB
SSD Disk
64GB
Bandwidth Transfer
2TB
Processor
1 Core
Operating System
Debian 9
NGINX
1.19
Varnish
6.0.7
Apache
2.4.25
Database
MariaDB 10.1
PHP
7.3
GTMetrix Performance Analysis

Performance: 100%
Structure: 96%
LCP: 569ms
TBT: 0ms
CLS: 0
Pingdom Performance Analysis
Performance Grade: 87
Page Size: 968.4 KB
Load Time: 295 ms
Requests: 33
PageSpeed Insight Performance Analysis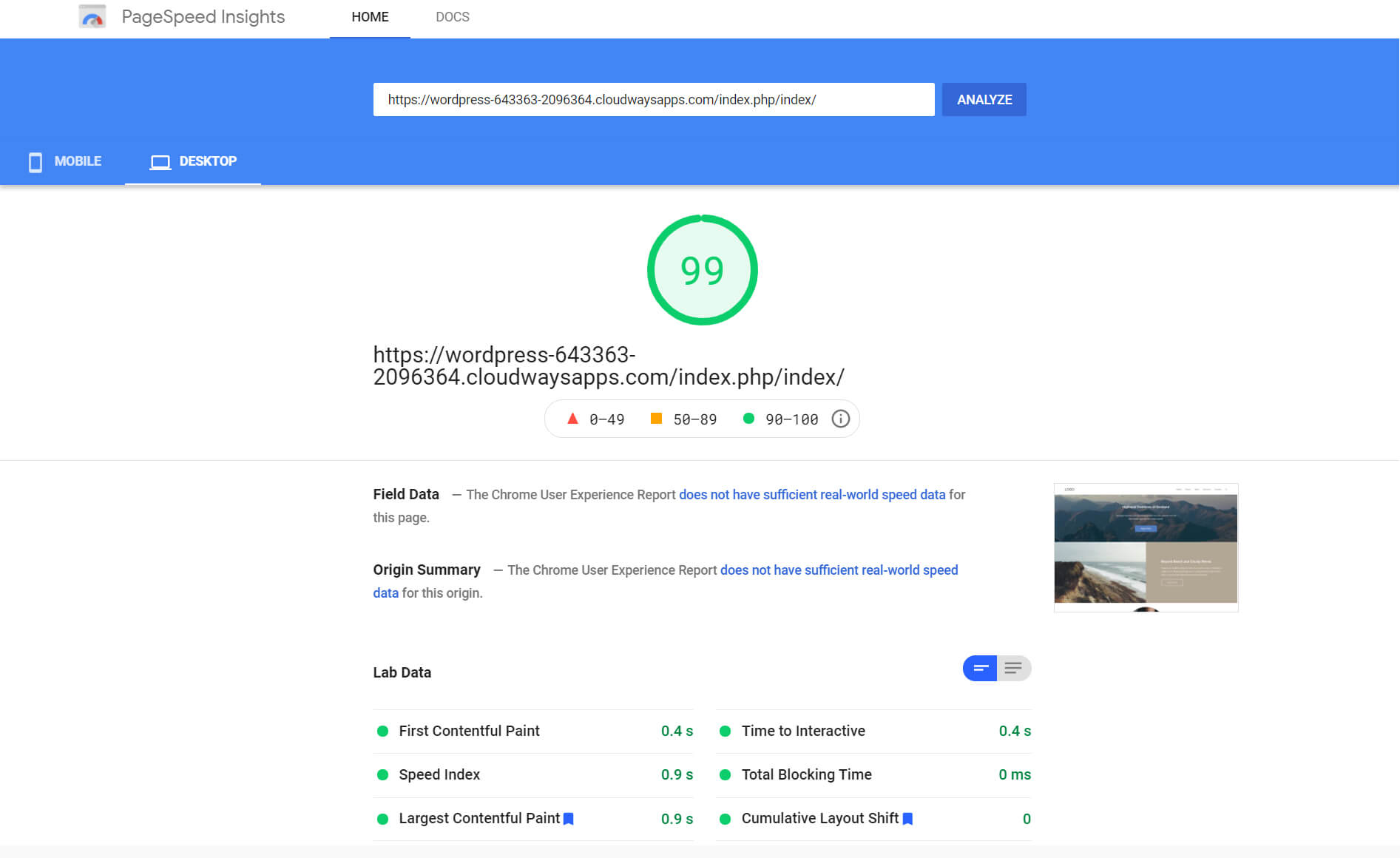 Overall Grade: 99
FCP: 0.4s
Speed Index: 1.9s
LCP: 0.9s
TTI: 0.4s
TBT: 0ms
CLS: 0
Note: We used Cloudways managed WordPress hosting with dedicated servers and built-in cache plugins.
Part of the reason behind their performance is Cloudways' partnership with five of the top cloud providers in the industry: Digital Cloud, Vultr, Linode, Google Cloud, and AWS. Plus, you can scale your server as your website grows and receives more traffic - all you have to do is allocate more RAM with 1-click. Those of you who spring for the Cloudways CDN will see further reduced latency as well. Then there's the optimized stack consisting of Apache, NGINX, MySQL/MariaDB, all of which combine to produce a supersonic hosting environment.
You can read more about how Cloudways drastically improves uptime through one of their clients' success stories here.
Setting Up Your Visual Composer Site On Cloudways
Setting up on Cloudways is quite an intuitive process - launching your website is just a question of a few clicks. After selecting your cloud provider, you get to configure your server. Cloudways helps in this regard by suggesting a server size that would be able to handle your hosting needs based on your anticipated page view numbers. Or you can straight up specify your specifications in terms of bandwidth, RAM, processors, and storage.
We'll show you the process of setting up your Visual Composer site on Cloudways, and we'll also take you through the manual installation if that's what you prefer.
System Requirement for Visual Composer
Server and WordPress Requirements
Recommended PHP 7.2 or higher
MySQL version 5.6 or higher (you can also run WordPress on MariaDB 10.0 or higher)
HTTPS support (this has become mandatory in terms of good SEO)
Browser Requirements
Safari
Edge
Chrome
Firefox
iOS Safari
Devices Requirements
Mobile
Tablet
Laptop
Desktop
Note: Visit the Visual Composer system requirement page for more details.
Launch Visual Composer on Cloudways in 1-Click
Go to the Cloudways partnership page on Visual Composer and click on the Get Started button.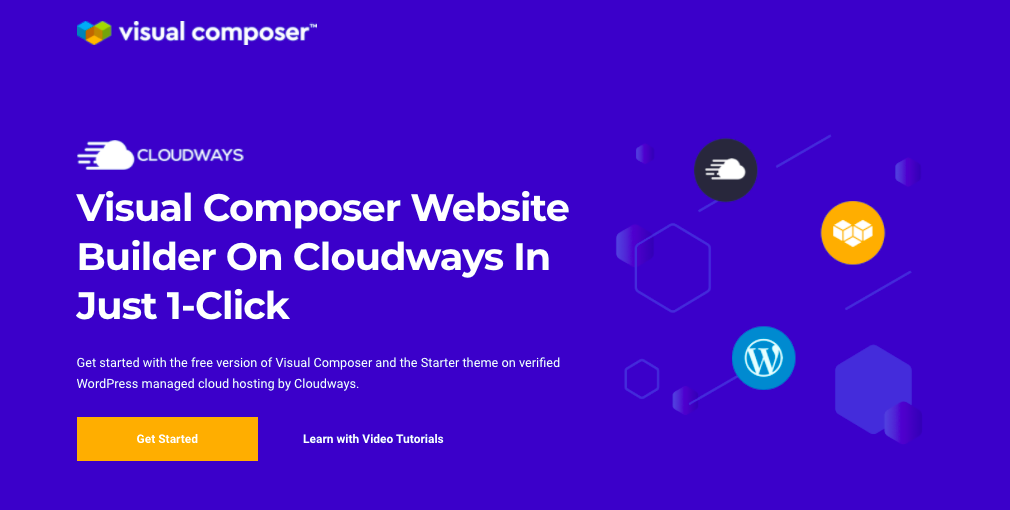 You'll be redirected toward the Cloudways x Visual Composer page.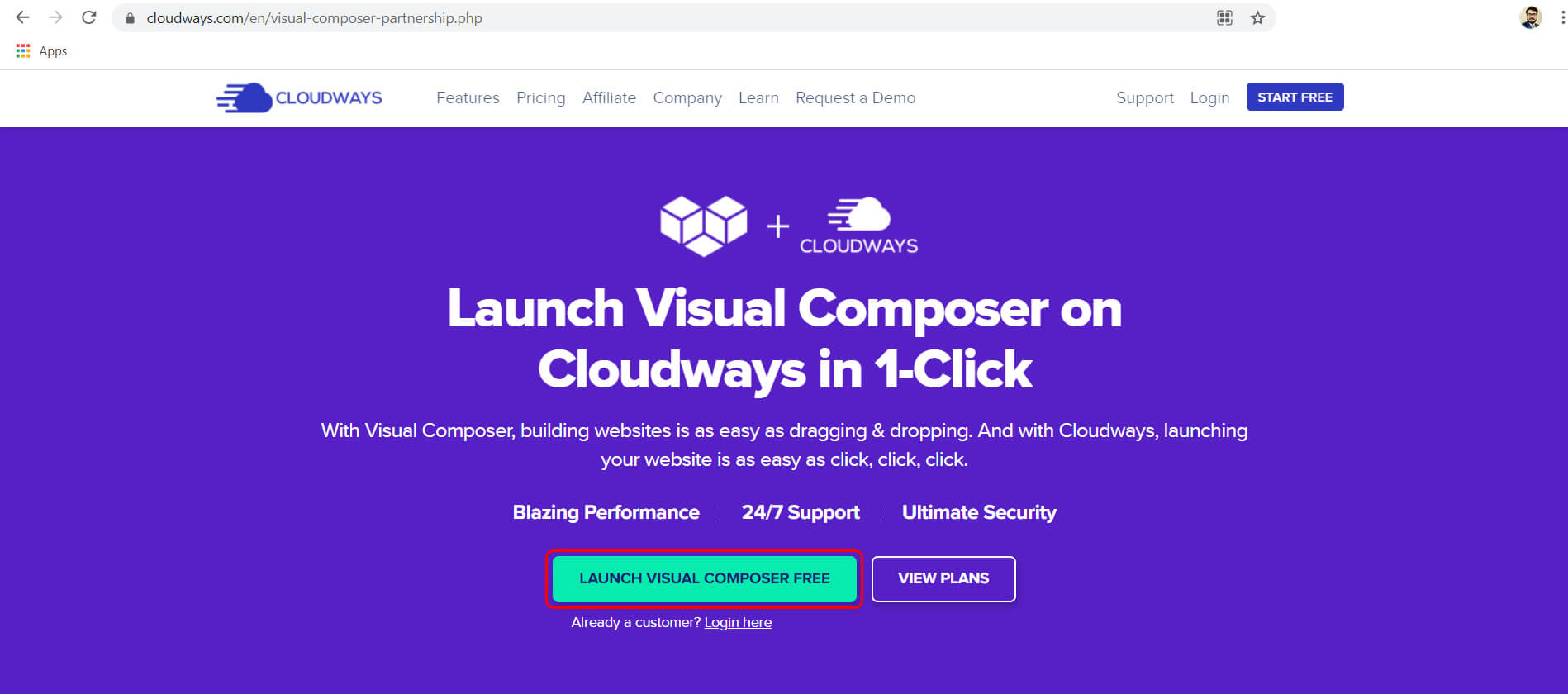 Click Launch Visual Composer Free, fill the signup form and click on the Start Free button.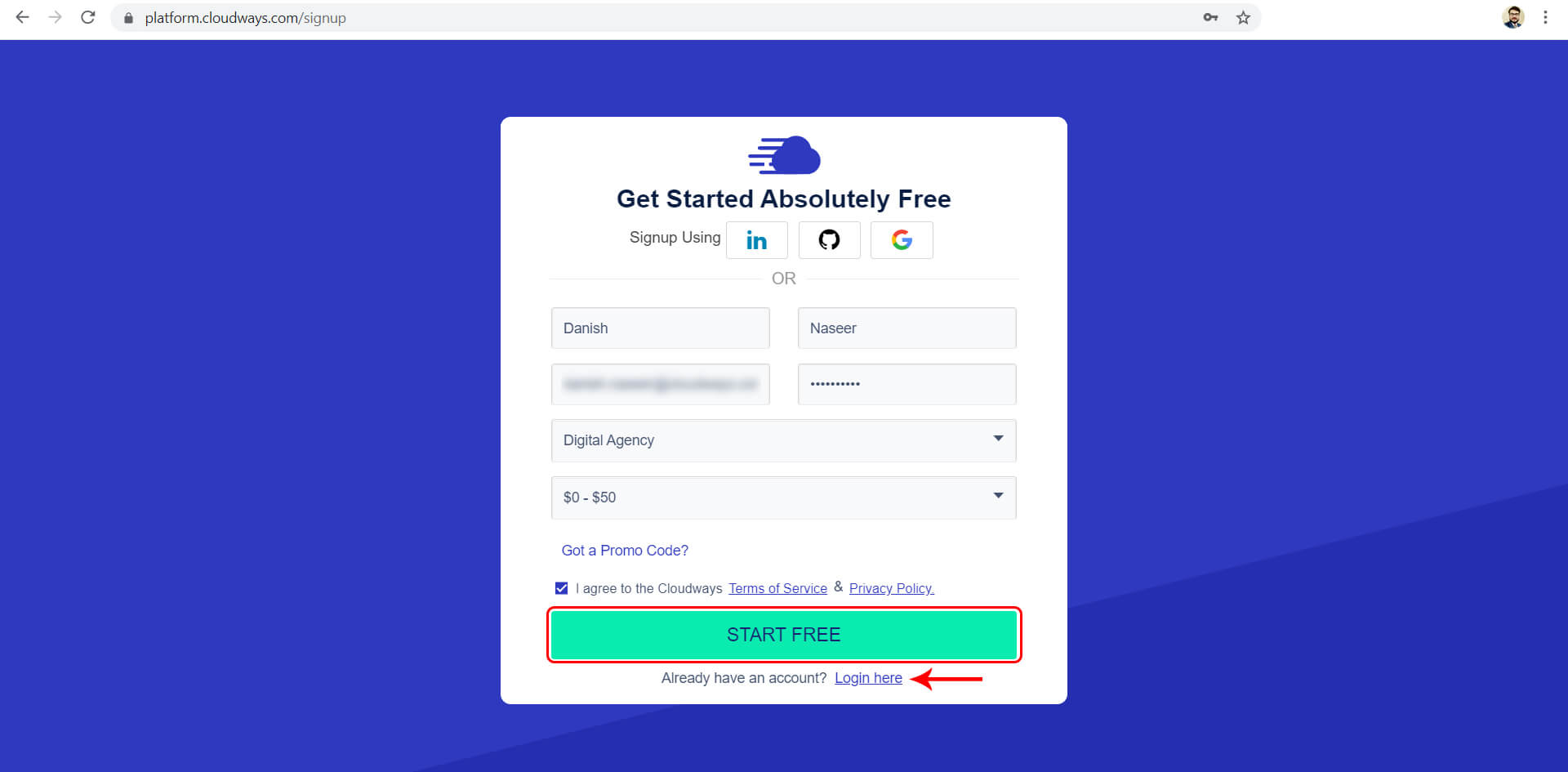 If you already have an account on Cloudways, then you can directly log in.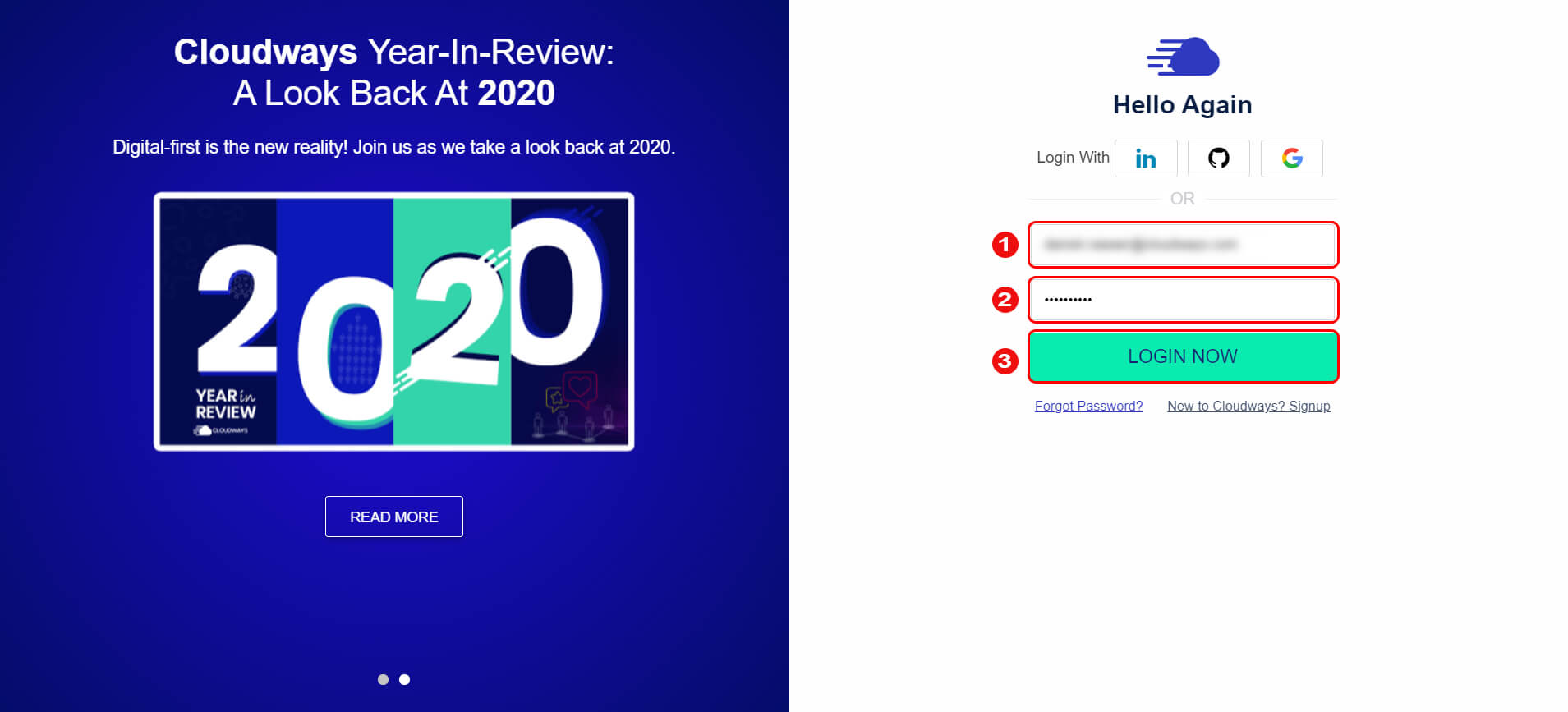 After successfully logging in to the Cloudways platform, click on the Add Server button. In the Application and Server Details section, you'll see an option to select the WordPress application with Visual Composer. Enter the managed app and server names and select the project. This will enable your servers. You can then select the server according to your required size, specification, and location.
You can always scale your server size whenever required. At the bottom, you can see the hourly and monthly rates of the server. Launch the server according to your preferences.
After the server installation, click on the www option to access the application. The application management section will show you all the details related to your application. Go to the admin panel to access your WordPress Visual Composer website with the given URL, username, and password.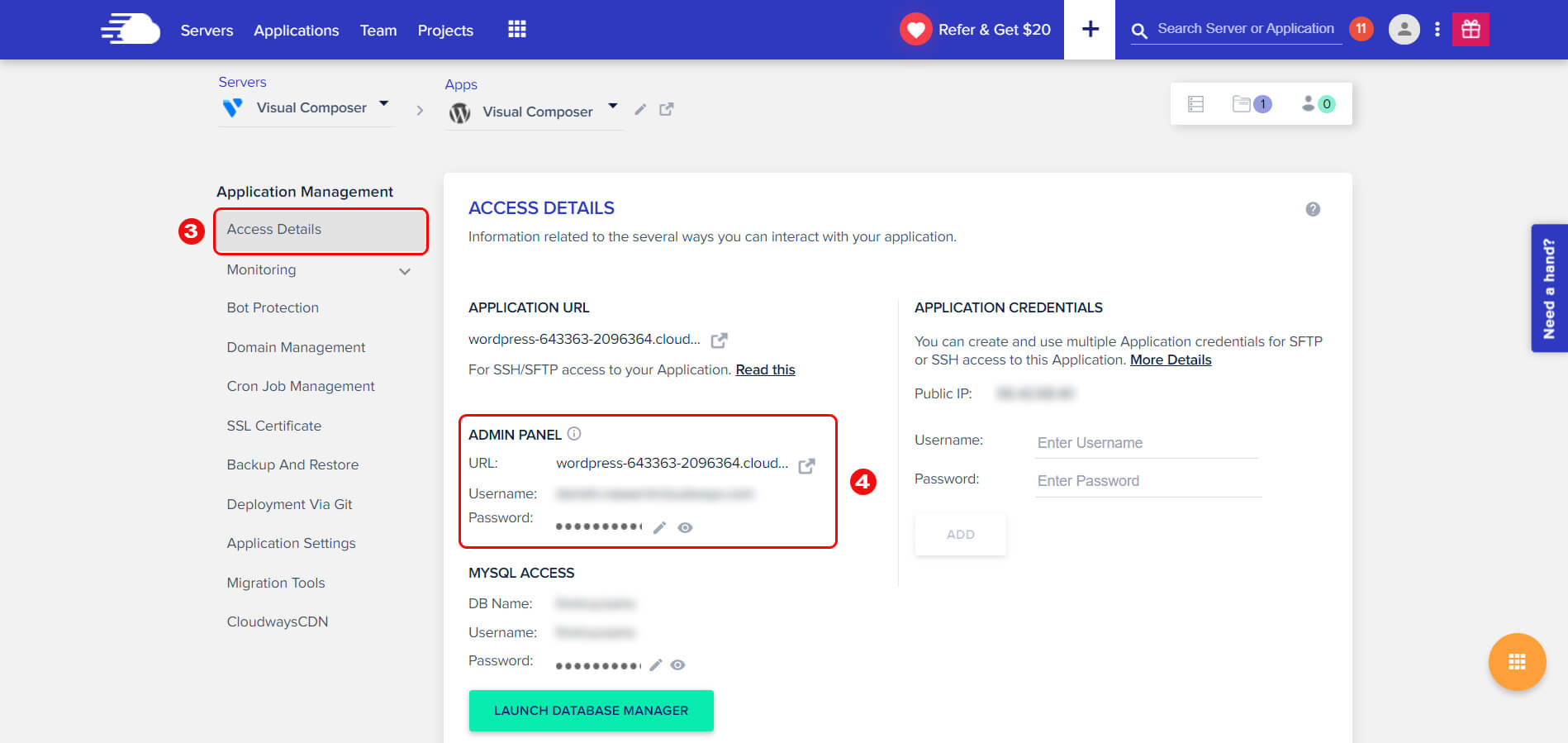 After logging into the WordPress website, you'll see Visual Composer is already installed on your site.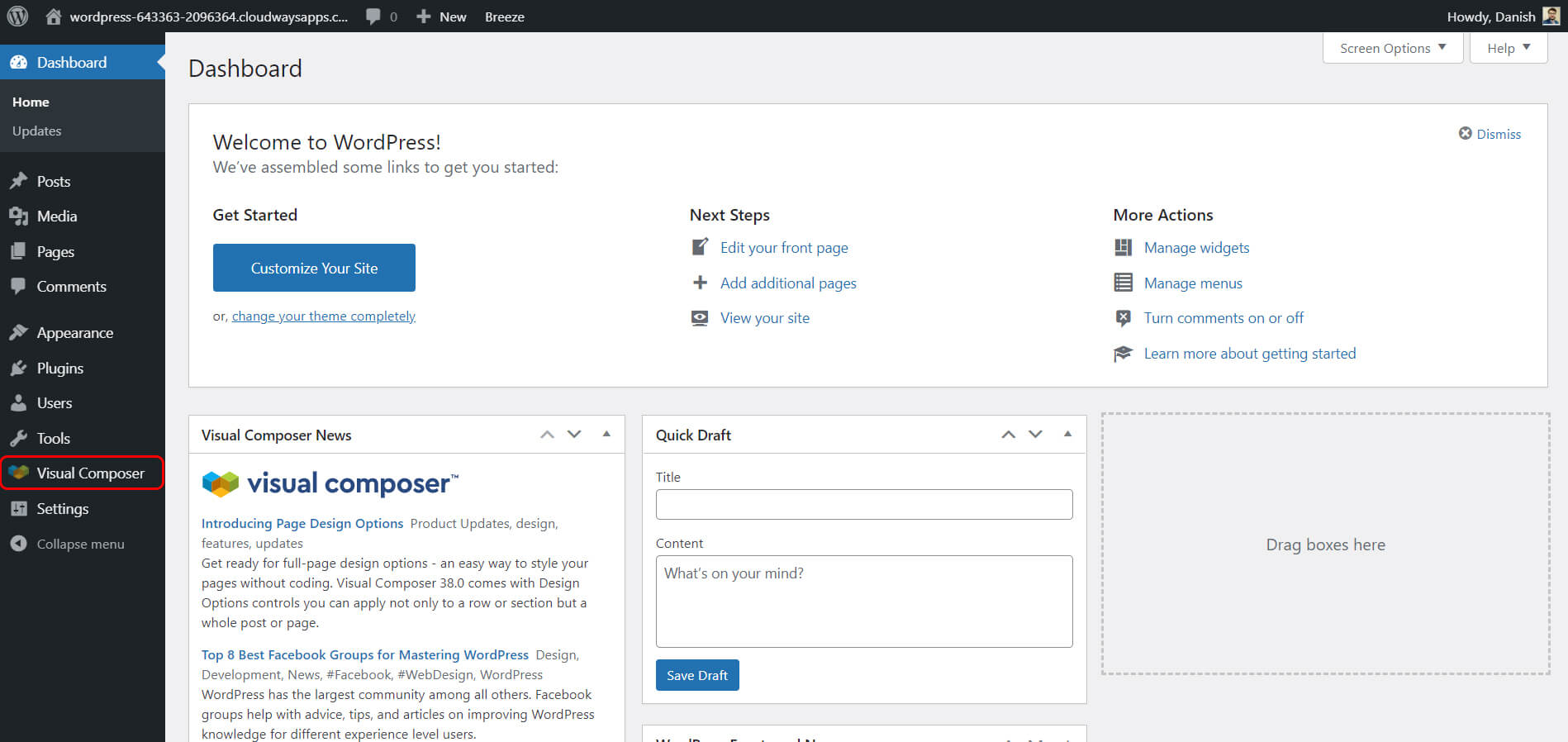 Launch Visual Composer Manually on WordPress
While there's no need to install Visual Composer manually given the 1-click process, the manual installation process isn't too hard either.
Login to your WordPress website and go to WordPress Dashboard
Navigate to the Plugin option
Click on an Add New Plugin button
Search the plugin on the right-side search bar
Install the Visual Composer plugin
Activate it after installation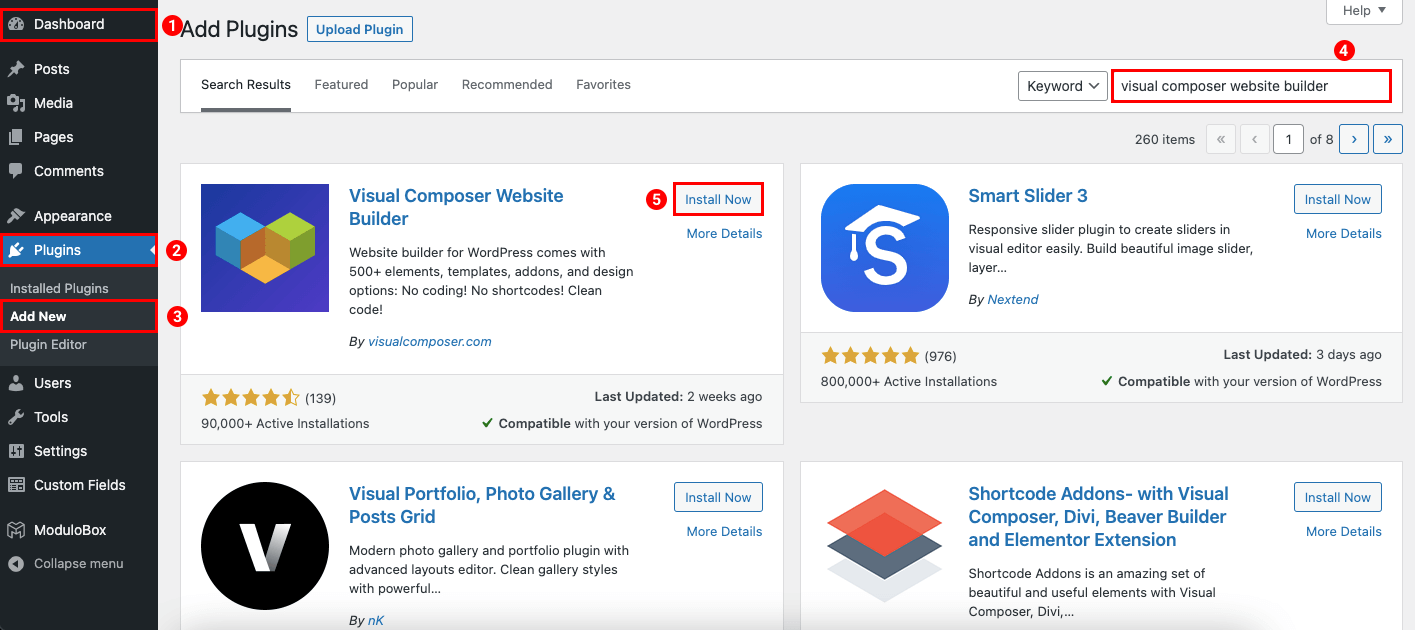 Once you're done with that, you can edit your WordPress site pages with Visual Composer. All WordPress sites are equipped with a pre-installed and pre-configured Breeze cache plugin to boost speed and performance. The server is optimized through Varnish.
Why Doesn't Cloudways Use cPanel?
That Cloudways doesn't use cPanel might come as a disappointment to some users, but to be honest, we found its control panel to be a cut above. Yes, cPanel is a popular tool for both first-time and professional users. But it's a clunky tool - a visual mess that's hard to navigate. Multiple aspects of its functionality are outdated, and the Cloudways control panel easily eclipses those.
For instance, cPanel does not offer in-built server monitoring tools. Instead, cPanel users have to purchase tools like MycPAdmin to secure their servers or download free services such as Munin. Cloudways, on the other hand, offers ready server monitoring. Since this is a fully managed hosting provider service, you don't have to worry about the hassles of server operation at all.
We've also run into our share of speed, functionality, and security issues with cPanel. Its limited usage has often caused hosting lags, particularly if you start to go over their limit. In fact, it's almost too easy to get kicked off the service if your usage is too high. And the end-user is responsible for installing a firewall, configuring SSL, and actively looking out for malware plugins that target cPanel security. All of these are non-issues for Cloudways whose dedicated resources allow for much faster hosting, and have integrated security at all levels of the platform.
Then there are the automatic backup limitations. While cPanel's Dedicated Hosting and VPS plans do allow for automatic backups, the same does not hold true for all versions of the hosting service. And users with Reseller or Shared accounts cannot use their cPanel interface to automatically restore a full backup; they instead have to submit tickets to cPanel's Support department. This is very much in contrast to Cloudways' more modern control panel – with this, you're just a few clicks away from setting up automatic backups.
Plus, cPanel is sadly bereft of WP-CLI, which makes it so much easier for WordPress users to accomplish tasks like taking database backups and upgrades and managing numerous WordPress plugins, making it quite the nifty service. Utilizing WP-CLI on cPanel involves a difficult multi-stage installation process first. And it's entirely possible that WP-CLI does not function with your WordPress install if a theme or plugin is conflicting with the load process. Cloudways, on the other hand, has WP-CLI pre-installed, thus negating the problem of conflicts with themes or other plugins on your site. Cloudways even has additional resources to help you get started, so you can manage WordPress plugins easily using WP-CLI.
For the TL;DR version, Cloudways easily scores above cPanel in terms of visual layout, ease of use, and advanced features.
Customize Your Cloud Hosting Plan
Perhaps what we liked best about Cloudways was the flexibility and choice it offers in terms of cloud hosting servers. They offer you a choice between five of the very best providers: DigitalOcean, Linode, Vultr, Amazon Web Services, or Google Cloud Platform. And it's quite easy to move from one cloud provider to another, so if you realize down the line that Vultr's the one for you, you can move to it from any of the others. That said, performance on each cloud doesn't differ much, thanks to the overlaying Cloudways infrastructure.
Cloudways also offers pay-as-you-go rates, as mentioned earlier. What this means is that there are no restrictions on the number of websites you want to host, or installations, or traffic. You can scale as you like according to your requirements, and you'll only pay for what you've consumed.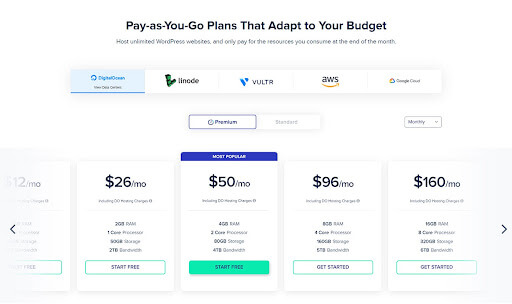 Cloudways vs the Competition
Cloudways faces some pretty stiff competition in the hosting industry. Managed hosting providers like Kinsta, Siteground and WPEngine offer some excellent services as well and have their fair share of loyal fans. Of course, depending on your requirements and preferences, you might find one of those providers better. But we found Cloudways offers more value and better services for your Visual Composer website.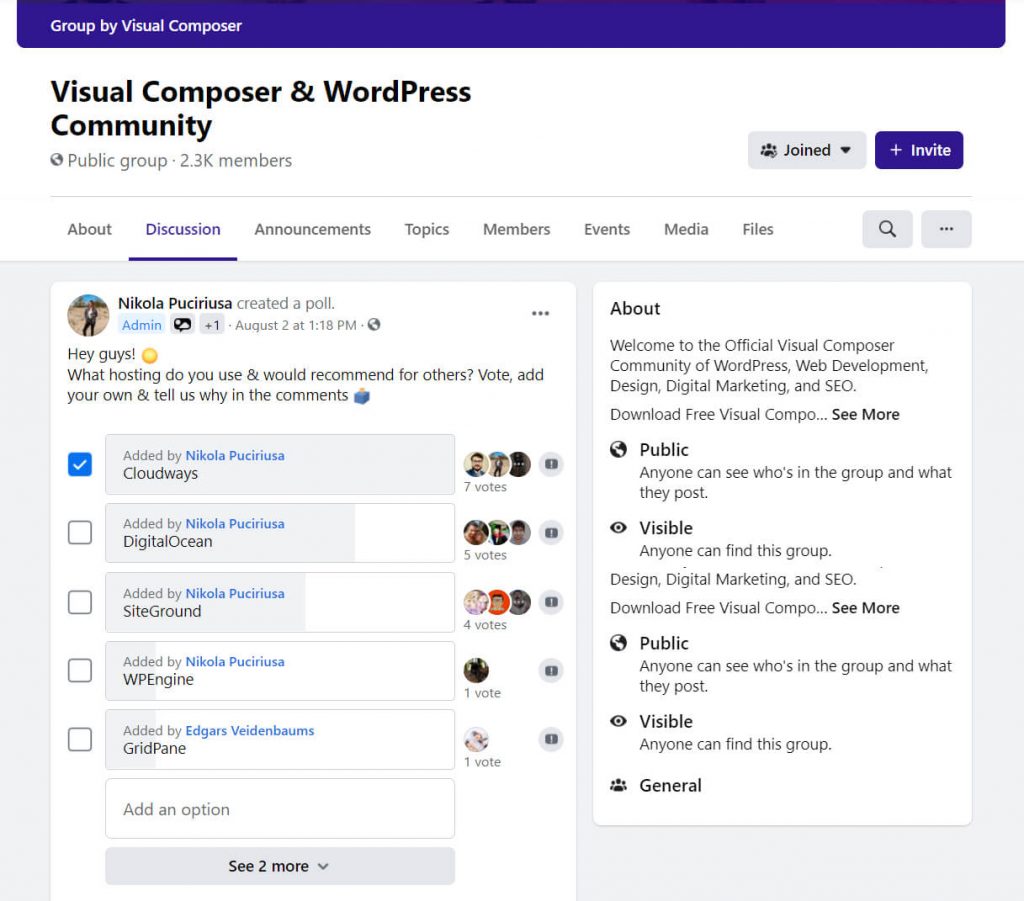 In fact, Cloudways consistently outperforms all three of the providers we mentioned in terms of ease of use, quality of support, and ease of setup, according to G2.com. It offers more choices of hosting providers, much more affordable rates across the board, and better scalability.
We found there are considerable performance gaps between Cloudways and the rest. Kinsta offers less control over your site and servers. Siteground has a reputation for not being able to handle larger websites. On the starter plan, Cloudways offers 1TB of bandwidth, and WPEngine only 50GB. Of course, all these hosting providers have their own competitive edges. But on the whole, we'd recommend Cloudways first to our Visual Composer users.
Verdict
Count us converts. We're won over by the performance of WordPress and Visual Composer sites on Cloudways, and by how it hands easy to control for web creators to save time and work more efficiently. Their customer service is excellent, and their speed and uptime are unrivaled. Their scaling mantra lets you grow your website as you need, and the server management is a breeze, as is the setup process. If you're in the market for a hosting provider, you can't go wrong with this.