It's another year around and we are thrilled to look back at what has happened to Visual Composer in 2021.
This year, we released new features for web creators, built a stronger community, launched partnership programs, and more.

Visual Composer Community
In 2021, we have spent a lot of time talking to our community (you guys) and building relationships. We believe that a strong community is the cornerstone of a successful product that delivers the value customers want.
This year, we have managed to grow our community by more than 100%.
We understand that being a community-focused company is about giving rather than taking and being transparent. This is why we have launched our new help center to improve the way you can request features and access our public roadmap.
Releases and features
This year, we have managed to deliver 9 major releases - all containing essential features for web creators.
Here are a few of the top features and improvements you received during 2021.

UI/UX design
Every release we make, every breath we take, we are listening to you. Thanks to your feedback and feature requests, we have introduced Visual Composer Dashboard, right-click controls, optimized the navigation bar, and more. All this allows you to work faster and more intuitively.
Layout Builder
Our most important feature of 2021 is the Layout Builder. Layout Builder allows you to create completely custom templates for your pages, posts, and archives. With the Visual Composer Layout Builder, you become less dependent on the theme settings and remove unnecessary restrictions.
Font Manager
Another mind-blowing feature of 2021 was the Font Manager. Font Manager gives you the ability to define your site typography (font family, colors, letter spacing, etc.) for headings, paragraphs, and more. You can easily overwrite your theme settings and control the smallest piece of your site typography.
More Visual Composer Insights
Visual Composer Insights has received well-deserved recognition among the community. To improve it, we have introduced more quantitative and qualitative analysis (WCGA 2.0 contrast check) to help you build better sites.
Role Manager
As you create a website for your clients, you may want to restrict parts of your layout or even some Visual Composer features. For that, we have introduced a powerful Role Manager that allows you to adjust the access rights for your site user roles. No more human errors or unwanted design manipulations.
Page Design Options
Always wanted to apply our powerful row design options to the whole page? We have introduced page design options to control the overall look and feel of your WordPress pages.
New pricing for growing business
In 2021, we have paid extra attention to our license types and the feedback we received.
Since we saw a gap in our licenses, we have introduced new license plans to ensure it supports your growth.
Even more, we have increased the number of active sites for one of our most popular license types (from 3 sites to 5 sites) while keeping the same price.
And the cherry on top. For the first time, Visual Composer offers a lifetime license to remove the need for license management when working with your clients.
More partners, better opportunities
We know that you don't rely on a single product when building a site. All experts have their own technical stack when it comes to web development. Our goal was to make sure that we support your workflow by introducing strategic partnerships with well-established and promising tools from the WordPress ecosystem.
Hosting is always an essential part of web development. Having reliable hosting makes you feel safe about the uptime, performance, and even SEO. In 2021, we partnered with Cloudways to deliver you a 1-click install bundle. Now you can easily start your next web design project by choosing an award-winning Cloudways WordPress hosting with Visual Composer Website Builder installed by default.
This bundle ensures that you receive the best performance on the market and can easily comply with Google Core Web Vitals.
Our second partnership was made with Bertha.ai. Bertha is the world's first fully-integrated AI writing assistant for WordPress. With Bertha, you can reduce the time you spend on copywriting and focus on your business. More than that, integration between Visual Composer and Bertha allows you to instantly generate content right in the frontend editor.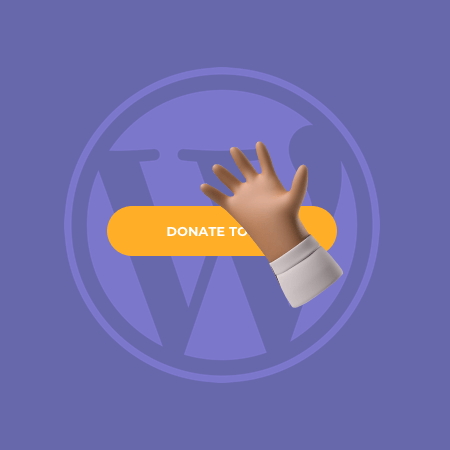 WPGivesAHand
Launched for the first time in 2020, WPGivesAHand is a charity movement across the WordPress community. The goal is simple, make our world a better place by donating a portion of your sales revenue to the charity of your choice.
In 2021, we ran the WPGivesAHand movement for the second time and it was a blast. The majority of existing partners joined together with the new (but well-known) WP companies. All with a clear goal, support global and local charity organizations during these hard times.
The Visual Composer team is happy to be an ambassador of the WPGivesAHand and we can not wait for more companies to join the movement in 2022.
What's next?
Needless to say, we have huge plans for 2022 with a focus on you guys.
Getting closer to our community experts and being transparent about our roadmap is an essential part of our goal. So is the introduction of features to improve the speed and the quality of your work.
In 2022, we have plans to deliver more options for global controls and reusability, boost Visual Composer Insights, and enhance responsive controls.
On the community side, we are looking into introducing a platform for web creators to capitalize on their skills and expertise.
The Visual Composer team wants to thank you for your dedication and trust. We wish you a happy holiday season and look forward to supporting you through 2022.