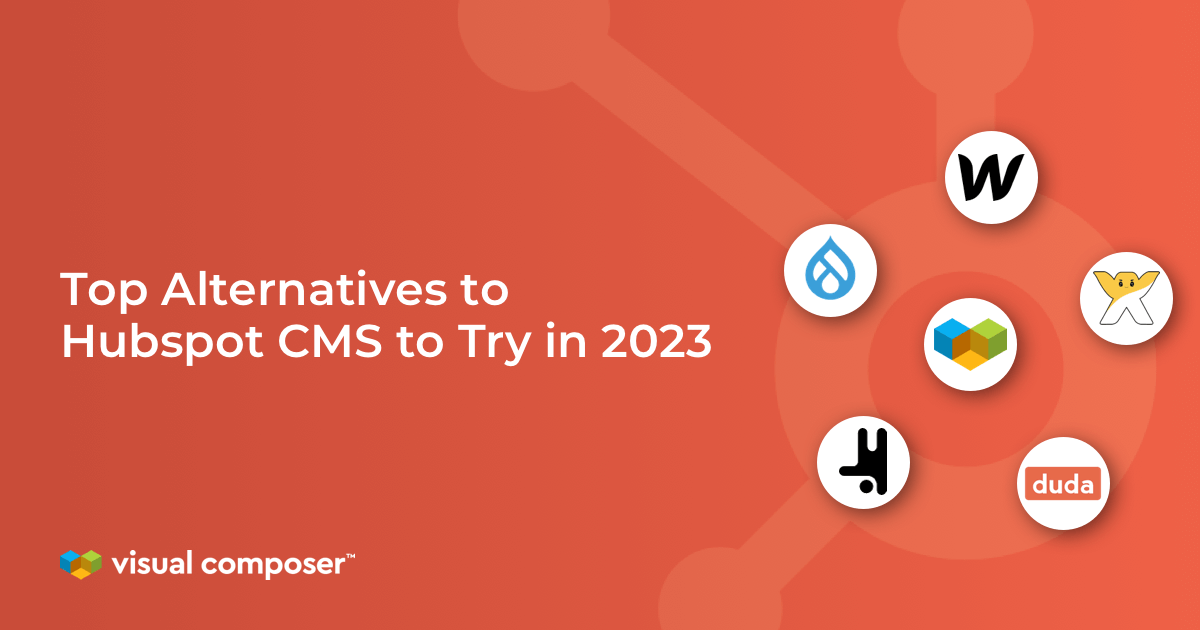 Looking for alternatives to Hubspot CMS?
There are many reasons why you might need them.
Luckily, there are CMS systems out there that allow you to build your site and manage your website content without any coding knowledge.
Depending on your needs, here are some of the most popular HubSpot CMS alternatives.
But first, let's see why you might want to look at HubSpot CMS alternatives.
Why Consider Hubspot CMS Alternatives?
HubSpot is a popular marketing software solution that combines different aspects of marketing including CRM, inbound marketing, and sales automation.
It offers a website builder and content management system that allows you to build websites.
HubSpot CMS is used by many businesses, but it has its fair share of disadvantages. One of the biggest disadvantages of Hubspot is its cost. HubSpot is a paid platform, which means you need to budget for it as part of your overall marketing costs. For instance, the starter plan is priced at $23 per month, the Professional plan at $360 a month, and the Enterprise plan at $1200 per month.
While there is a free forever plan, it comes with HubSpot branding and offers basic SEO recommendations apart from allowing you to connect one custom domain.
Most other advanced features are hidden behind a paywall including:
A/B testing
Custom web applications
Partitioning
Advanced SEO recommendations
Dynamic content
Phone, email, and live chat support
In addition, HubSpot can be difficult to learn and use, especially if you're not familiar with other CMS platforms. And finally, HubSpot's support can be hit or miss, leaving you on your own if you run into problems.
The message is clear. To unlock tangible value from your marketing investment, you need to explore different Hubspot CMS alternatives.
Top Alternatives to HubSpot CMS in 2023
1. Visual Composer
If you are looking for an affordable and intuitive HubSpot CMS alternative, you can't go wrong with Visual Composer.
The drag-and-drop WordPress website builder is ideal for web developers and web designers of all experience levels, who wish to decrease the coding needed in the web development process close to zero.
While it is not entirely free too, there is a free version that's free forever. The free version offers more than enough features to build a simple website, while the premium version allows you to create any kind of website imaginable, from portfolio to eCommerce sites. The premium plans are priced at affordable rates ranging from $49/year for one website to $349/year for 100 websites, making it one of the best alternatives to HubSpot CMS. Plus, all premium plans also include all premium features.
Pros
Visual Composer offers over 500 content elements and pre-designed templates to design a fully functional WordPress website
Supports the most popular plugins
Compatible with any WordPress theme that complies with the coding standards set by WordPress Codex.
Optimal SEO to help you rank higher
Faster-loading pages
Easy to use
Offers powerful integrations with a range of marketing and design tools including Mailchimp, Yoast, Unsplash, Google, YouTube, WP Forms, WooCommerce, Giphy, Weglot, etc.
Cons
While Visual Composer offers a wide range of features in addition to an intuitive user interface, it can involve a learning curve for those new to the WordPress CMS platform or website design.
2. Wix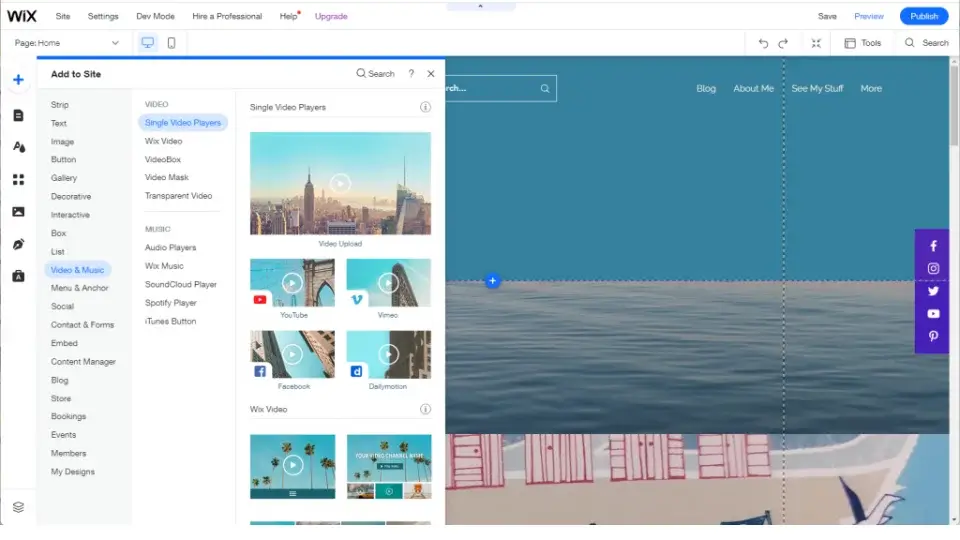 Wix is a website-building platform that offers a wide range of features for designers and non-designers alike. The Wix CMS allows users to do everything from adding text and images to creating pages, menus, slideshows, galleries, and more.
Wix offers a limited free plan and paid plans that you can use to create more complex sites. Paid plans differentiate by the features each provides and vary from $5.50/month to $44/month depending on the storage space, which comes down to around $66 to $528 a year.
Pros
As one of the good HubSpot CMS alternatives, Wix provides a drag-and-drop interface for designing websites. It has features such as SEO, integrations with Google Drive and Dropbox, and more.
Cons
There are limitations in website structuring and creative design
Lack of flexibility when it comes to adding widgets or code
Not as customizable as other HubSpot CMS alternatives
Not the SEO-friendliest alternative to HubSpot CMS
Content-heavy Wix sites take a long time to load
Read more about the best Wix alternatives: 5 website builders you need to try in 2022.
3. Webflow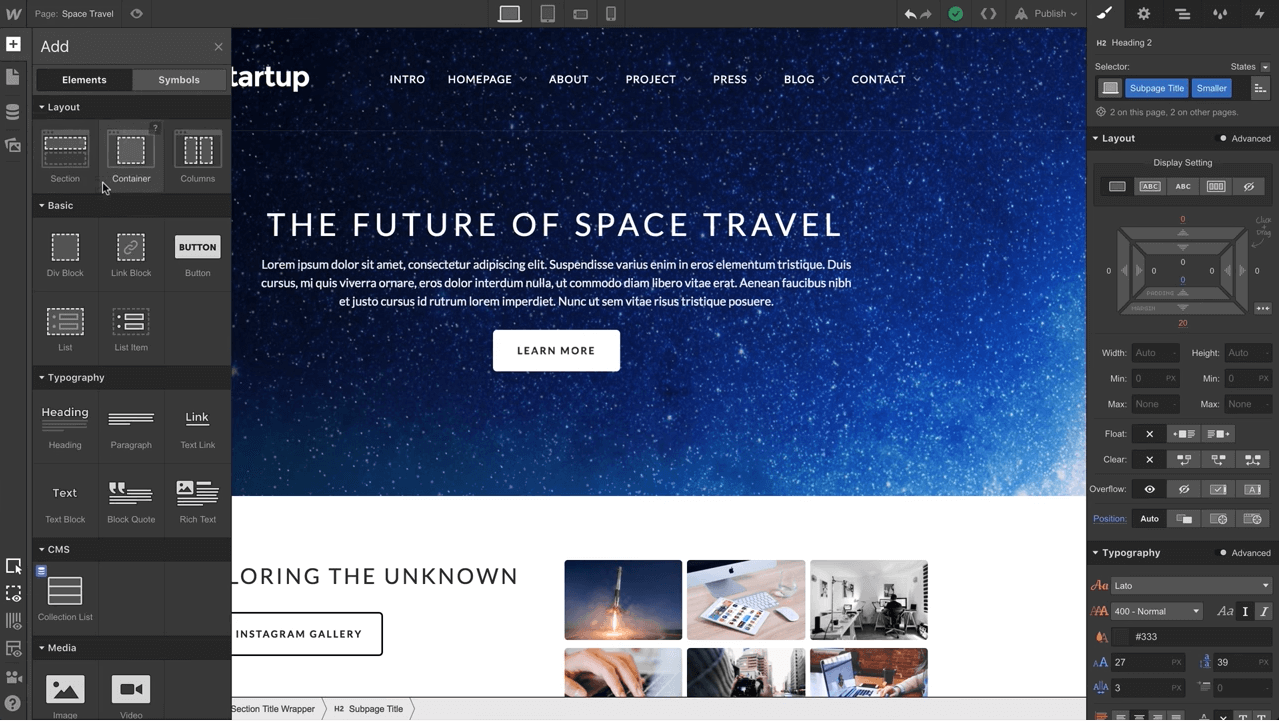 Webflow is a cloud-based platform that enables users to create responsive websites without having to write code. It is used by web designers and developers to create custom-designed websites. The platform combines content management, web design, e-commerce, and marketing tools to make it easy to build a website from scratch.
Webflow allows you to sign-up for free, but like most website building platforms, requires a hosting provider to get your site up and running. Webflow offers both general and eCommerce paid plans. Paid plans range from $18/month to $235 /month (up to 22% cheaper when choosing the option to get billed annually) and vary in features each of them offers.
Pros
Webflow uses a drag-and-drop interface, which makes it easy to create and edit website designs.
Webflow also has pre-built templates and themes that users can choose from to get started with their website design.
Cons
One of the biggest disadvantages of Webflow is that it can be more difficult to use than other website builders. The user interface is not optimal.
Additionally, Webflow does not offer as many features as some other website builders, so you may need to use other tools to supplement your website.
Another downside of Webflow is that it can be more expensive than other website builders. If you're on a tight budget, you may want to consider another platform that offers a more affordable option.
Discover the 5 best Wefblow alternatives you should be using in 2022
4. Drupal
Drupal is a content management system (CMS) that enables you to create a website or blog from scratch or improve an existing website. It is used as the backend system for many popular websites, including The Economist, Examiner.com, and Daily Kos.
On average website projects built on Drupal CMS are way more expensive than website projects built on WordPress CMS (including the use of website builders). The cost varies strongly on the type of website and features you wish to be added to a website (anywhere from $500 to $40 000+ per website project).
Pros
Drupal is free and open-source software, released under the GNU General Public License. This means that anyone can download, install, and use Drupal without having to pay for it. It also means that Drupal's code is available for anyone to study, modify, and redistribute.
In comparison with other alternatives to HubSpot CMS, websites built on Drupal have good SEO (search engine optimization) properties.
Cons
While it is a flexible CMS platform, there are certain cons that you need to be aware of:
Drupal is slow. For your site to work fast, you may need to set up a caching solution
There are limited options in terms of fewer plugins or modules as compared to WordPress or Joomla.
Most plugins on offer are paid ones.
Lacks a good user interface
Not an ideal HubSpot CMS alternative for a non-tech person
It can be time-consuming to build a website
5. Duda
Duda is a website builder with client management and team collaboration tools that helps you craft efficient websites optimized for tablet, desktop, and mobile devices.
Duda offers four paid pricing plans, which vary in features. The basic plan costs $19/month, while the highest plan costs $99/month and offers an additional 14-day free trial. Duda pricing plans also cost 25% cheaper when choosing the option to get billed annually.
Pros
100+ templates and a drag-and-drop editor
Traffic analysis
Useful e-commerce features
Cons
Duda limits your creative control
Expensive plans
SEO features are basic
Can be a bit clunky for those new to website building
Another big limitation of Duda is that it locks you into using the platform for running your website, unlike Visual Composer.
6. Breakdance
Breakdance website builder is a relatively new platform from Soflyy, Oxygen's parent company, that comes with expected features such as templates and drag-and-drop builder.
Breakdance currently offers only one paid plan option, which costs $149/year currently for unlimited sites. The pricing page suggests, that the price will rise to $349/year, but it's unclear when the price will rise. The plan also includes a 30-day free trial and a 60-day money-back guarantee.
Pros
Full site editing
100 + elements
SEO friendly
Gutenberg and WooCommerce integration
Cons
Steep learning curve
Lacks the themes, knowledge base, features, and support available with other HubSpot alternatives such as Visual Composer
Being a new platform, Breakdance may not be the most reliable platform in the market.
In Conclusion
As you can see, there is no shortage of options when it comes to building a website with CMS. These tools have made it possible for marketers to streamline their workflow and create websites without any technical knowledge. Choose the right one based on your budget, coding knowledge, and flexibility needs.