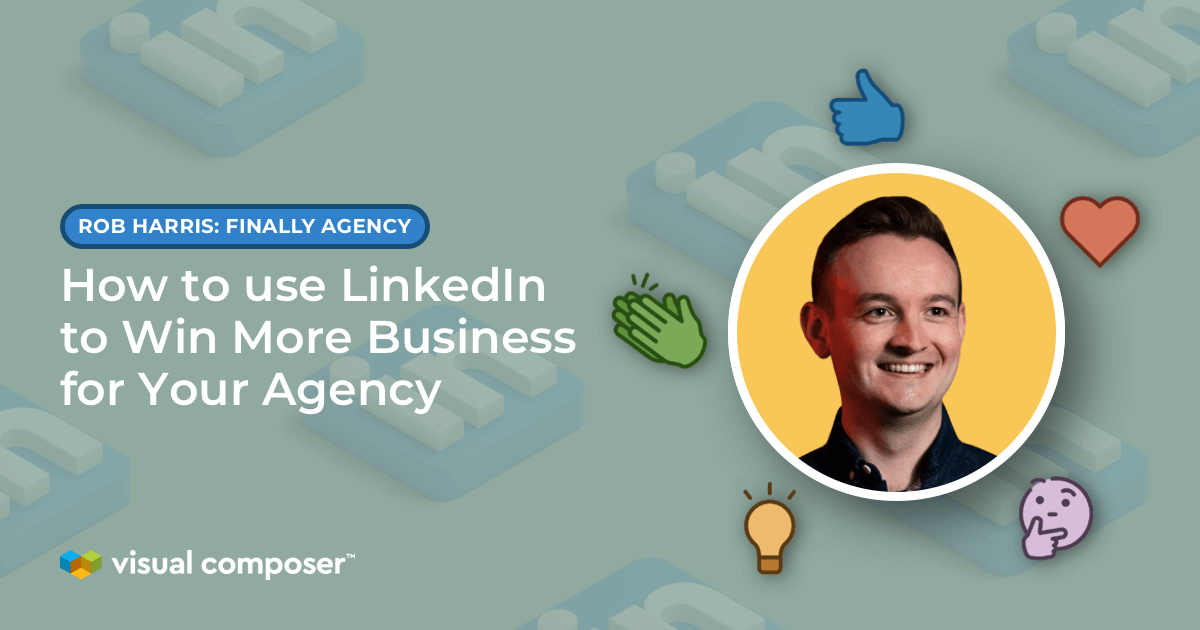 LinkedIn is the most powerful business networking platform for B2B companies. If you're not using it to win more business for your agency, you're missing out on a golden opportunity.
In this article, I'll show how using LinkedIn can help you start filling your pipeline with high-quality leads and increase your own authority in your industry.
First, let me introduce myself, I'm a Web Developer at a digital marketing agency in the UK called FINALLY Agency. As a B2B agency, we are big fans of LinkedIn, and for me personally, it has helped me build a personal brand that has generated leads and new business.
My LinkedIn content is all about websites and how to turn them into lead-generating machines. Feel free to connect with me on LinkedIn and check out my content.
Why You Should Use LinkedIn to Grow Your Business
LinkedIn is no longer a corporate, job- searching, CV- sharing platform. It is a business social network where you can talk about anything and have genuine thought-provoking conversations.
The best thing right now is the organic reach that LinkedIn gives you compared to other social media platforms such as Facebook, Twitter, and Instagram. Reports suggest that less than 1% of the total LinkedIn users are posting content on the platform. This means there's a greater opportunity to get your content seen compared to other social platforms as there's less saturation which makes it easier to grow a following.

Many businesses have a presence on every social media platform. This is a big mistake, particularly for small and medium-sized enterprises (SMEs).
"Nobody wants to be a jack of all trades and a master of none."
Refine your efforts to just one platform, and concentrate your efforts on building an engaged audience.
It's important to choose the right platform where the majority of your target audience is hanging out. For B2B companies, LinkedIn is the platform of choice. If you're B2C, perhaps Instagram would be a better fit. Once a small following has been made and you have been consistently posting each day, you should have made some valuable connections, generated a few leads, and maybe even won some new business. From personal experience, it took me roughly four months to win any new business from my LinkedIn, but I've seen some new creators win work within just one month!
Why a Personal Brand Is Better than a Company Profile
There are two types of profiles you can have on LinkedIn. These are your own personal profile or a company page profile. You can post from either of these profiles, but one will give you far greater results than the other.
A LinkedIn personal profile will give you a better organic reach in the algorithm compared to a company profile. Therefore, it is important to utilise your own personal profile and to create a personal brand instead of heavily relying just on your company brand.
Personal brands are powerful because people buy from people.
"When you think Tesla, you think Elon Musk. When you think Microsoft, you think Bill Gates."
Having that figure to represent your business makes all the difference. Some other examples of great personal brands are Gary Vaynerchuk, Marcus Sheridan, Steven Bartlett, who all own/have owned marketing agencies.
How to Use LinkedIn to Grow Your Business
The first steps for a LinkedIn newbie would be to turn on LinkedIn Creator Mode, as this will give you more features and transform your Connect button into a Follow button instead. Once this is active, you need to optimise your profile with your target audience in mind.
Here are some steps to get you started optimising your LinkedIn creator profile:
Upload a profile picture - make it stand out and clearly show your face.
Upload a profile banner - this is some great real estate to advertise your services, so use it wisely.
Create a Headline that tells people what you do, who for and how you can help.
Use your About Section as your online pitch - hook in potential leads and pitch them your solutions and tell them your story
Add your website link that will appear at the top of your profile or a link to anything you want to drive traffic towards.
Add relevant Topics (hashtags) around your niche as these will show potential followers what you post about most
Update your careers section - make sure this is up to date and add some links to external documents, photos, sites, videos, and presentations to show off your work.
Display calls to action (CTAs), offers, case studies, and the most popular posts in your Featured section.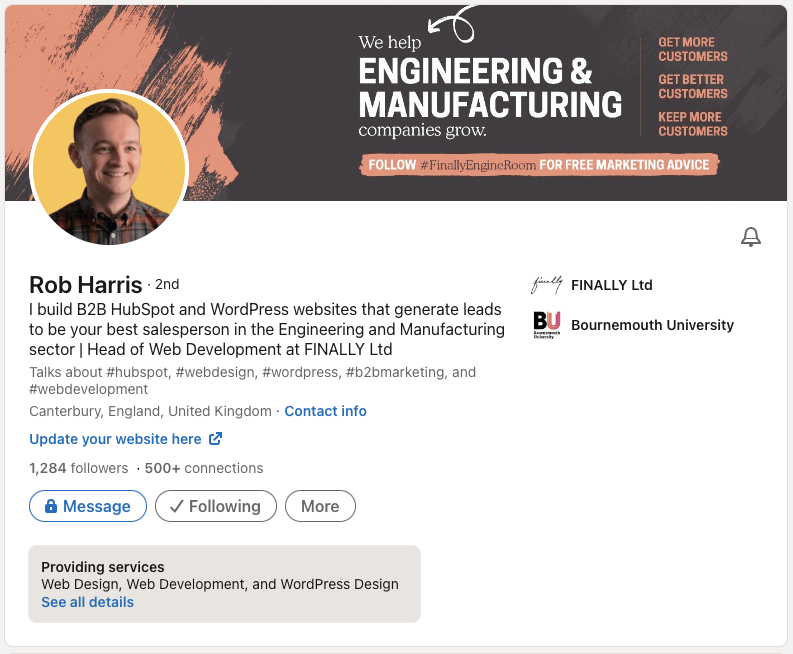 Once your profile is up and running and fully optimised as a true creator profile, it is now time to start posting content.
LinkedIn Content Creation Tips
When you're just starting out on your LinkedIn journey, it's difficult to know what to post about. Some find it easy, but when I first started, I found it hard to know how technical to get being a developer and if developer content was relevant on LinkedIn at all. It turned out that people were hungry for website-related content.
For the first few months, it's all about testing what works for your audience and what doesn't. I quickly found that making my content as user-friendly as possible made it accessible to a wider audience.
There are some days where I post more technical content, but a good mix works best I find to hit different audiences, whether that be business founders, agencies or developers. As long as you can clearly show you know what you're talking about, people will quickly gain trust and value your expertise more and potentially get in contact with you.
You can post as much as you like on LinkedIn. Some post every day, others every weekday and some even post twice per day. It's entirely up to you and how much free time you have, but my personal preference is every weekday.
When I first started out, I posted twice a week, then it soon became three times, and then I just ramped it up to every weekday.
"Everyone's preference is different, but what I can say is you get out as much as you put in, so don't expect lots of new leads if you're still only posting twice a week. "
It's important to stay on top of people's minds, so posting daily helps with that and enables your profile to grow much faster.
It's very important to stick to your niche as much as possible to give a reason for people to follow you. If you post about anything and everything, you won't have a strong enough hook for people to follow and they will soon get confused as to what you're about. You need to show you're human too; often real-life event posts attract the most engagement, so showing your personality and daily life struggles is natural and a good thing to post about. I personally avoid posting about politics or religion as those subjects can quickly alienate your audience and maybe even cause controversy, which I'm definitely not here for.
Why It's Important Your Whole Business Is Active on LinkedIn
Want your engagement to increase even quicker? Then encourage your whole team to post.
If your business and its employees are active on LinkedIn, that's more eyes on your content and your company. Plus, your staff will each have their own connections too - widening your reach more than ever before.
FINALLY Agency used this exact method to get our own brand recognition up within the industries we were targeting, and the results were that it made an impact as people were complementing our LinkedIn content and influence. To this day, we have a few regular posters covering different niches within marketing, and the majority of the team is actively engaging with each other's content - encouraging others to engage and helping it get seen by more people.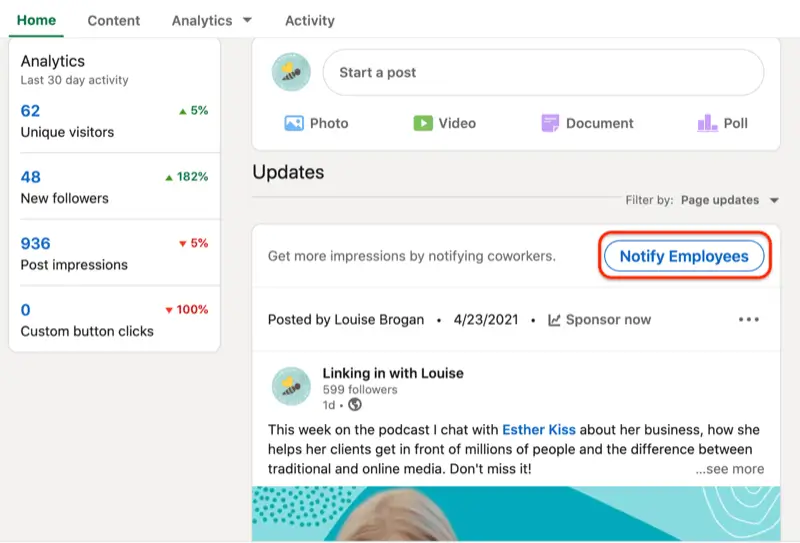 How to Stay Consistent and Post Each Day
One of the biggest challenges with building a personal brand is keeping things consistent and turning up each day to post and actively engage with the community. Everyone has busy lives, but there are ways to manage your time effectively so you don't get overwhelmed and end up missing days from posting or giving up entirely.
My first tip to stay consistent each day would be to batch-write your content for the week upfront. Block out an hour in your schedule each week to give you time to write at least five posts for the following week.
It's far easier to write multiple posts in one go, instead of creating them every single day as life gets in the way sometimes. Once you have your batch of content written for the week, it's time to schedule them so they get posted automatically each day which means one less thing to think about.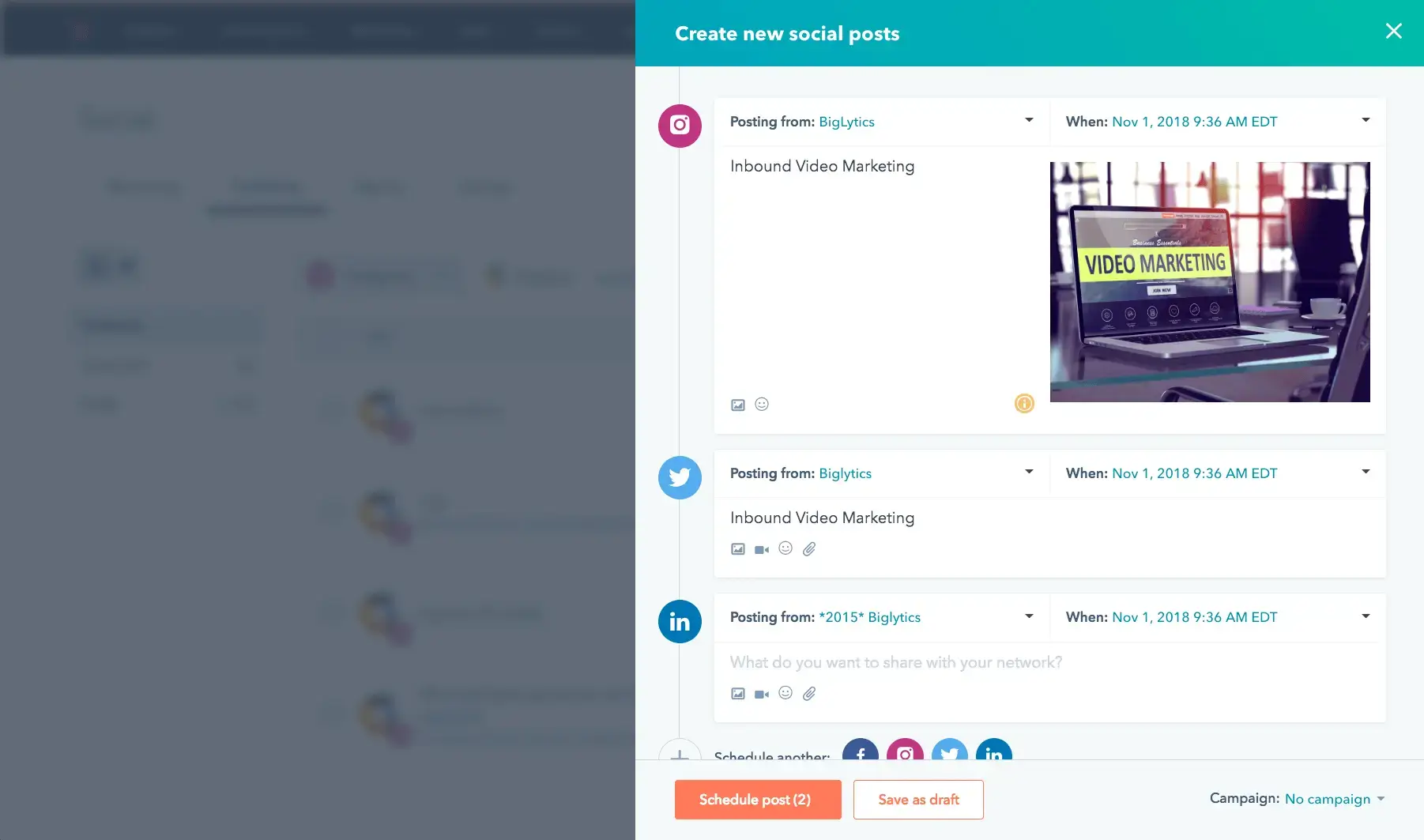 It's important to reply to comments, but sometimes it can get overwhelming and distractions can occur, losing focus on your actual job.
"Therefore blocking out half an hour each day in your schedule to just focus on replying to comments and engaging on other people's posts will help boost your own post and grow your personal brand further. "
If your time is too precious for LinkedIn and you're really time-poor then you can always outsource your content writing to a LinkedIn ghostwriter or a social marketing agency. Not only will you have expert copywriters, but it will relieve some of the stress if there is other help available.
The Benefits of Building a Personal Brand
There are many benefits to building a personal brand - whether you're a business owner or even an employee. The main benefit is that it can generate you leads which hopefully means winning some new business. Even as an employee at FINALLY Agency, I've won them business off the back of my LinkedIn influence.
Another benefit would be that it can bring you new job opportunities. Who needs a CV when you're posting your knowledge and experiences every single day?
People will quickly start to feel like they know you and learn how good your skillset is, so don't be surprised when you get new job opportunities. It can also generate you other opportunities such as speaking gigs, podcast appearances, guest blog posts, and maybe even sponsorships.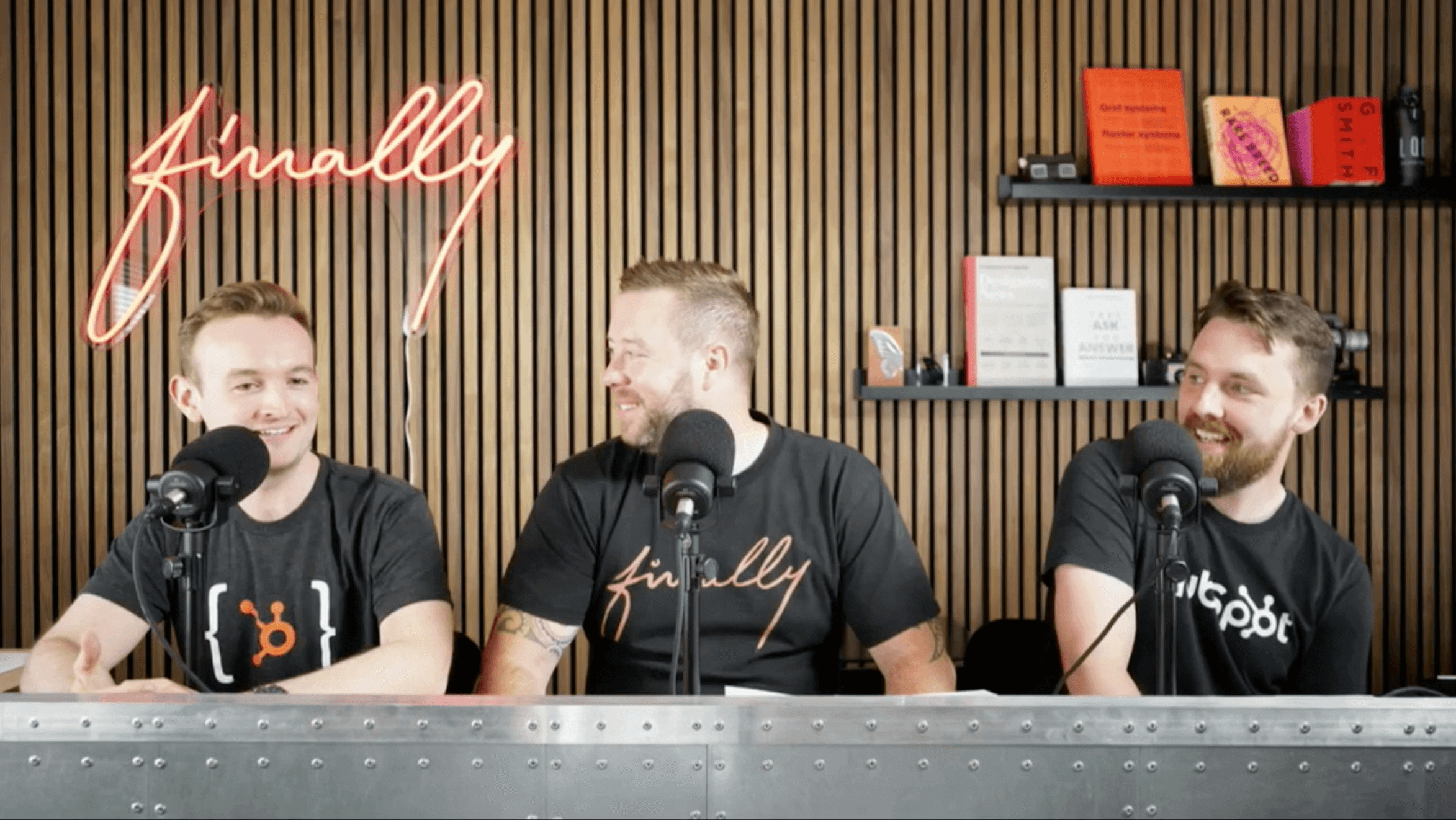 Ultimately though, you create new connections and build a community of like-minded people. Your network is one of the most important things you can build up and LinkedIn is the perfect platform to do it.
In Summary
If you're a B2B business and looking to win more business, then LinkedIn is currently the best social platform to achieve this on.
Having a well-optimised profile, posting consistently every day, and embedding yourself within the LinkedIn community will help you reach your goals.
Focussing on your own personal brand is key (remember, people buy from people) so treat those new connections like you would new friends!
If you enjoyed this post and have any further questions then please connect with me on LinkedIn, and I'll be happy to help.
Related articles: