WordPress is one of the world's most-used content management systems. Plus, it is much more than a simple blogging platform. It runs 35% of the entire Internet - from lifestyle blogs to well-known eCommerce stores.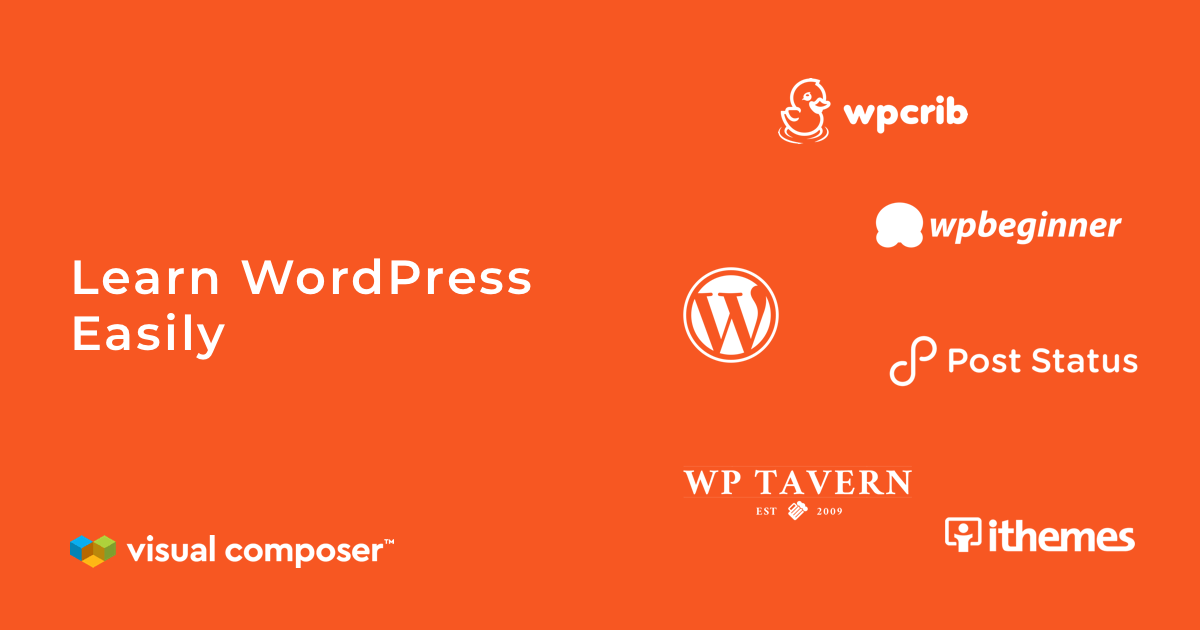 WordPress is secure, easy to use and offers an expanding library of features and plugins. It is a great platform to create a virtual home for your page. That's why people google "WordPress" around 2.8 million times every month.
With 500+ new sites being built daily, it seems that starting your website with WordPress is a piece of cake. Or, maybe, you need some "magic trick" to perform it? Nothing could be further from the truth!
High-quality WordPress tutorials are being published all the time. So, it's easy to get lost in the information flow. Below you will find a bunch of useful tutorials for every preference and level of proficiency. Also, I have covered the very best places to stay up to date with WordPress news!
Check these best online places to learn WordPress:
WordPress Codex
WPBeginner
Cloudways Resource Center
Kinsta Resource Center
Hostinger WordPress Tutorials
ThemeIsle Blog
MakeAWebsiteHub
Shivarweb
Bluehost WordPress Hosting guide
iThemes Wordpress Tutorials & Resources
IsItWP
JavaTpoint Tutorials Lists
ShoutMeLoud WordPress Guide
WPBeginner YouTube channel
WPLearningLab
Tyler Moore's YouTube channel
WP101 WordPress Tutorials
Udemy WordPress Courses
WPApprentice
WordPress Blog
WordPress Tavern
WordPress Weekly podcast
WPNewsify
PostStatus.com WordPress News and the Post Status Draft podcast
WPKube
DesignBombs
MeridianThemes
WPSetup
WP Unboxed
WordPress Tutorials and Blogs

WordPress Official Site
WordPress's official site offers extensive support for both beginners and developers - from the very first steps (downloading and installing) to advanced techniques.
Community-based Support Forums, WordPress Codex (repository of documentation), and Support Handbook contain all you need to know about WordPress. In addition, you can find lessons on blogging, theme, or plugin development.

WPBeginner
WPBeginner is a great source of different WordPress tutorials that are easy to understand. It is completely free and very helpful for those who are just about to begin the WordPress journey.
WPBeginner has a step-by-step blog with lots of helpful information, a dictionary to familiarize with the WordPress vocabulary, and many more.

Cloudways
Cloudways is a managed hosting provider that emphasizes performance and simplicity. Alongside being a great cloud hosting provider, Cloudways has a fantastic resource center to help you achieve measurable results and excellence for your business.
Just click on the "Learn" section on their homepage, and start exploring resources from the knowledge base with step-by-step guides, in-depth ebooks, case studies, webinars, and more.
The Cloudways Blog specifically focuses on emerging trends in Cloud Computing, including Public Cloud, Open Source Apps, and other WordPress-related topics - with free tutorials, tips, and guides.

Kinsta
Kinsta is one of the veteran hosting platforms in the world. Besides, it has a large Resource Center - a collection of profound WordPress guides and tutorials to build your site.
Tips for any level of proficiency in WordPress as well as many in-depth WordPress guides can be found in the Kinsta support hub, blog or in the "Learn WordPress" section.
You can find the list of Kinsta's best articles and search for more answers in all resources available on the site. Also, Kinsta offers a weekly newsletter, that comes together with a free e-book and valuable WordPress tips & strategies.

Hostinger
Hostinger provides not only a web hosting solution but also hundreds of tutorials and how-to guides. In the Hostinger WordPress tutorial, you will find descriptions and screenshots of all important how-to-start-your-website steps.
Newest WordPress tutorials come all the time, which allows you to stay up to date and constantly continue learning about WordPress.

ThemeIsle
ThemeIsle Blog presents itself as a trove of WordPress tutorials and tips. If you are a beginner or already an expert, ThemeIsle has a huge amount of posts, resources, and guides dedicated to the usage of WordPress.
Beneficially, it is quite simple to find the question you are looking for. ThemeIsle has a list of well-structured blog topics, so you can easily discover a variety of information, such as WordPress tutorials, the latest WordPress community news, and blogging tips.

Make A Website Hub
An extensive amount of different helpful resources and guides of all levels can be found on MakeAWebsiteHub.com. It is a platform of very simple-to-follow tutorials which sometimes even goes with the time you need to perform a task.
Make A Website Hub offers multiple resources which are already sorted by topic. Moreover, you can find reviews and lots of comparisons related to web hosting, domain choice, and so on.

ShivarWeb
If you are a DIYer, freelancer, manager of a small business, or just about to begin your website, ShivarWeb provides you with comprehensive and useful guides.
ShivarWeb Guides have the start to finish tutorials. It covers everything from building a WordPress website from scratch to choosing a web hosting platform. Some guides even come with a video or an email course, which speeds the learning process.

Bluehost
Another web hosting platform that also offers a full WordPress handbook is Bluehost. It is a great source for beginners due to simple step-by-step instructions and video tutorials providing you with all the information to build a WordPress site.
What WordPress is? How does it work? Where to begin? Which hosting plan to select? On the Bluehost site, you can find all the answers.
Also, you are able to learn WordPress by walkthrough series, get access to additional resources and observe some of the frequently asked questions (FAQ).

iThemes
iThemes has an entire library of 35+ WordPress eBooks as well as free WordPress tutorials. Both cover the ultimate topics and are completely free.
iThemes tutorials are very concise and effective for beginners. If you are more advanced, you will find something for yourself in a broad library of chargeless eBooks. The library is often being updated with new WordPress ebooks.

IsItWP
IsItWP is a free online resource consisting of WordPress tutorials, tools, and other sources to help you through your WordPress website-building process. You can even find out which websites are built with WordPress (e.g. The New York Times, BBCAmerica). Isn't it fascinating?
Articles and how-to guides available on the IsItWP will satisfy all needs. If you are a beginner or already a WordPress expert, IsItWO covers almost all the answers. From the step-by-step guide on how to start your blog or make a website to the hosting and different plugin reviews.
Also, there is a free eBook "The Ultimate WordPress Launch Checklist" available, which can help you during the launching process.

JavaTpoint
JavaTpoint is one of the best portals to learn technologies. It provides basic and advanced concepts of WordPress designed for beginners and professionals.
WordPress Tutorials on the JavaTopoint are very detailed and include different topics of WordPress. Learn the installation process, dashboard explanation, creating and editing posts or pages, and so on. As well as more advanced subjects such as WordPress backup or improvement of your site's security.

Shout Me Loud
SML is a community of bloggers, providing practical tips to create a blog and basic or advanced WordPress tutorials.
SML platform is about passionate WordPress bloggers from the entire internet. They cover a wide range of topics such as buying a domain name, installing and configuration of WordPress, plugin options, and many more.
For beginners, SML has a WordPress guide, which is being regularly updated. Also, you can always browse the WordPress catalog to find more articles. For existing WordPress bloggers and professionals, SML has some pro tips to make your WordPress blog grow faster.

WPKube
WPKube is a free WordPress resource created by Devesh Sharma. The site focuses on in-depth guides and tutorials for beginners & professionals. They also have a good collection of deals on various products including Visual Composer. Visit WPKube to learn more about WordPress.
DesignBombs
If you are a designer, web professional, or WordPress beginner, DesignBombs provides you with detailed guides on how to start a WordPress blog from scratch. They have detailed guides and cover various topics on building sites, choosing the right hosting, and more. They have been featured on many high authority sites including HuffPo, Forbes, Inc, etc.

MeridianThemes
MeridianThemes is a boutique theme shop where you can find well-designed and well-coded themes for various niches. They also happen to have a WordPress blog where they post detailed guides, tutorials, plugin roundups, and theme comparisons.

WPSetup
WPSetup is a resource that covers the whole journey of using WordPress - from getting started, choosing the right hosting provider, to finding the page builder that best suits you. You'll be able to find comprehensive and helpful guides about everything WordPress-related.
WordPress Video Tutorials
What first comes to your mind when looking for some video tutorials? Of course, Youtube.
Hundreds and thousands of professional or amateur videos can be found there related to any topic, including WordPress.

WPBeginner YouTube Channel
WPBeginner WordPress Tutorials is one of the largest free WordPress resources to understand and master your WordPress skills. Brief and high-quality videos will help you to make a website without learning how to code.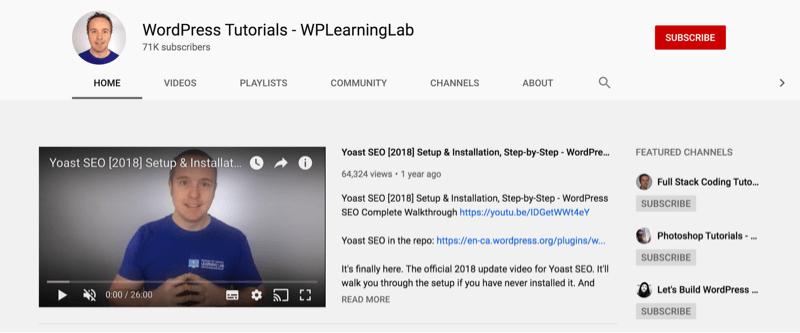 WPLearningLab
WPLearningLab creates WordPress courses to learn the website creating skills from the very fundamental ones to the more advanced ones. If you want to get new clients, study new WordPress features, and are short in time (most videos are short), you should visit this YouTube channel.

Tyler Moore
Tyler Moore is the author of a video channel and a website dedicated to teaching others to create a professional website. An awesome resource for beginners, because no coding experience needed. Just follow easy step-by-step tutorials and build your site!

WP101
Besides Youtube, one of the most popular and huge video tutorial libraries of WordPress is a WP101. This site is a perfect solution for beginners to quickly learn how to use WordPress. Also, you can continue to master your skills with more advanced courses.
WordPress 101 video tutorials have lots of advantages. Each of them is less than 5 minutes in length and you can learn all the WordPress basics in two hours. Videos are thoroughly scripted, produced by professionals, and are considered to be a gold standard for WordPress tutorial videos.

Udemy
Udemy is the world's largest online learning and teaching platform. It also has a lot of free and paid courses in web design, including WordPress tutorials from simple to in-depth ones.
Free WordPress lessons are bite-sized and for beginners only. If you want to learn more advanced topics, Udemy has full courses in different price categories. It offers you a lot of features, such as app and lifetime access. Not sure about the course? You always have a 30-day money-back guarantee.

WPApprentice
WPApprentice is a source of easy and always current step-by-step WordPress video tutorials and lessons. WPApprentice is for all: someone wants to get and master new skills, others are hobbyists in building a website.
Courses are also adapted to non-techie business users, who want to learn WordPress. Learn the basics of WordPress in an hour with a free WordPress quick start course!
Also, WP Apprentice has an affordable comprehensive video training courses to master your site, build a professional-looking one, and even dedicated to search engine optimization. Just pick the one you want the most!
WordPress News
The WordPress site has an official blog page, where you can get familiar with all news and announcements related to the word of WordPress. Upcoming releases, latest events, and much more can be found in the archives of different categories.
WordPress Planet
The other page, the WordPress Planet, gathers blogs from around the world talking about WordPress. Subscribe to WordPress emails and stay updated with the news!

WordPress Tavern
WordPress Tavern is a community of people, who are into the software. It is focused on all the things related to WordPress. Discover the collection of diverse topics, read the comments of users or leave one by yourself and subscribe to the blog via email.

WordPress Weekly
WordPress Tavern offers you the latest episodes of the WordPress Weekly podcast. Subscribe, read the description of each and follow the next shows!

WP Newsify
WP Newsify is a platform for weekly general WordPress news. It is also a great source of WordPress tutorials and plugin guides. WP Newsify is dedicated to informing either professionals or enthusiasts about the wide world of WordPress.

Post Status
Post Status is a platform with WordPress news and insights for those who are already a professional in the WordPress landscape.
Post Status provides data analysis, an excellent community chat for WordPress professionals, a job board, exclusive deals, and many more. All news can be delivered in a free weekly newsletter.
The Post Status Club is a community of WordPress professionals and experts. Also, you can listen and browse to the Post Status Draft podcast with interviews, news, and analysis.
Raidboxes is a managed hosting provider that's designed specifically for WordPress. The german-speaking experts have created multiple plans to suit even the most specific of needs.

Raidboxes
Raidboxes is a managed hosting provider that's designed specifically for WordPress. The german-speaking experts have created multiple plans to suit even the most specific of needs.
Raidboxes has a wonderful online magazine named WP Unboxed and it is a great source to get insights on the latest news and learn everything related to web development (and we do mean everything).
Covering topics from WordPress, web design and development, to online marketing and IT law. Surely, you will find an article of your interest here. Plus, you learn while being entertained at the same time!