A new update is here again! The update 16.0 that stands out with the Unsplash integration, also offers new breaths in Visual Composer Design Options, as well as a faster and more convenient page launch allowing you to specify a page title in the Blank Page wizard. Let's start with the first one – Box Shadow.
Shadow Box Option
With the inclusion of the new Box Shadow feature into Design Options, you now have a simple yet powerful ability to make your site design more unique. All Visual Composer advanced elements - columns, rows, and sections can now be outlined with shades of different amplitude and colors.
To create a website that really stands out among the crowd, Visual Composer gives you an option to add shadows to your content elements. Shadows can highlight important content on your posts, pages and widget areas.
How to Add the Box Shadow
In the Design Options, you will find an additional section called Shadow. Enable it by simply activating the toggle next to the Shadow option. Once done, you can personalize the box with a horizontal or vertical shadow. Choose the shadow spread, shadow color, and the position.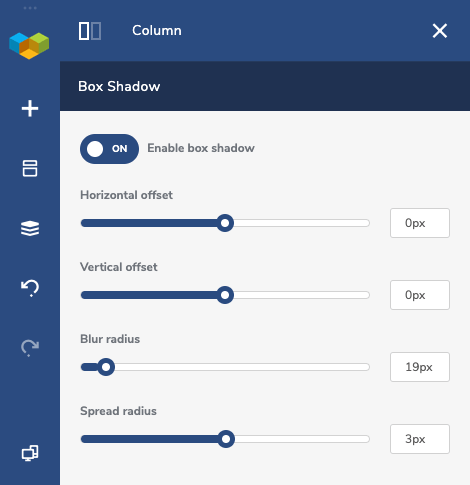 Blank Page Title
The next new feature allows you to specify your page title straight from the Visual Composer editor. Another great improvement that will help to create your website faster. As soon as you open a blank page in Visual Composer, you now are able to type the title of your page.
For example, if you are creating an about page, simply write About Us as the title of your page. If it is a page for your online store category, type, for example, Men's Shirts as the title of your page.
Be aware that the page title is displayed by the search engines in their preview of your site. It is important for both SEO and social sharing. So, give it a second thought before choosing your page title, try to keep it short and engaging. It will also help for easy navigation on your site.
What's next? There are still things, like a slug (permalink) that you will need to update via the WordPress Admin dashboard. Please take that into account when creating your page. Yet, the good news is that it won't last long. Soon enough we plan to offer you an option to control your page slug right from the Visual Composer Website Builder. Stay tuned!
Ok, it's about time to update your Visual Composer Website Builder and start using Box Shadow option for free!