The summer is almost here so it is about time to give you another huge feature to create your websites faster. Less time managing your time – more time to spend with your families and doing fun things.
Not so long ago we gave you an option to copy/paste elements across your layout. Great option with a small exception – it was limited to content elements and not available for containers (rows, columns, and sections) that hold them together.
Things are about to change! ????
Copy/Paste Rows and Columns Anywhere
Design consistency is one of the key features of a successful website. We want our website to have the same style from page to page. This means that we will most likely use some of the elements or layouts over and over again, for example, hero sections or feature lists.
To be honest it can get really annoying to style every row with the exact Design Options again and again. On our own site, we do have a margin added to the rows to create a space on both sides of the sections. Now imagine going through these rows to change the margin one by one.
Creating a template is one of the solutions, but it's not always the best. Sometimes you just want to get the job done really quickly. And this is the exact place where copy/paste of rows and columns come into play.
From now on, you can copy/paste any row, column, and a section of your page layout or even copy layouts from page to page. Yes, simply select copy, navigate to another page of your site and select paste.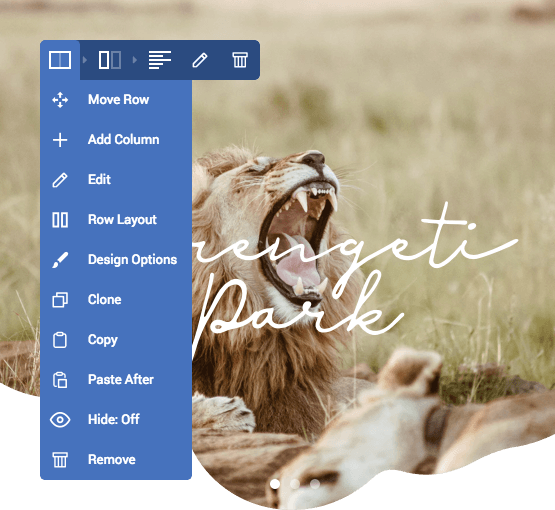 Do you still need to save row as a template?
We had a lot of feature requests about having an option to save row as a template. We know that this was your workaround to copy a row from page to page.
Now, you have a way better solution as you don't have to overload your template repository with the bunch of templates just to "copy" them. You can copy any row to any page any time – sounds good, right?
Can I copy row into a Blank page?
Some pages are meant to be similar in their structure or you may want to start with a copied section on your blank page.
A handy helper to join Visual Composer bottom helper list allows you to paste content in the bottom of the page with one click.
Can I copy a row in the middle of my content?
Sure! Once you copy a row you will have an option "Copy After" for all the rows in your layout. This option will do exactly what it tells – it will place the copy of the row right after it and you are good to continue building your page.
Can I copy elements and columns into a Blank page?
Visual Composer is made to reduce any hassle you have with WordPress editing. We know exactly what you want to do.
So, if you decide to paste an element or column into a blank page, we will automatically wrap it into a row or row/column containers.
What else do you have for me?
Copy/Paste is an easy-to-use option, still wanted to keep it powerful enough to give you the freedom you deserve.
With the new Copy/Paste, you can easily copy columns from one row to another and they will automatically find their spot.
And in case it all sounds too complicated – don't worry. The Copy/Paste options will appear enabled or disabled depending on the content type you have copied so you don't have to wander around. You can also visit our Help Center tutorial section on how to use copy/paste.
Ok, that's about it. Now it is your turn to give your feedback and share your experience with our new feature. Just one last thing to spice up your day – this breakthrough feature is available for Premium and Free version.
Enjoy!