Something very special is added to the Visual Composer Hub that will give you a better reusability experience in a process of creating a website of yours. Once and for all, escape the tedious process of the back and forth!
Global Templates add-on lets you place pre-built templates (e.g. contact information, hero section, header, footer etc.) as independent elements on your pages. When modifying your templates, they will be updated automatically across all pages where they were used, making you forget about back and forth page updating!
How Do The Global Templates Work?
Global Templates is an extension that gives you full control over a specific template (piece of content), that is displayed on your website in multiple places. It saves your precious time and effort of managing through the many pages on your site and updating the content manually.
Let's say you want to place your business contact information across multiple pages on your site's footer area. Until now you had to enter each page you want to show your contact information on and create it manually. It gets even more time-consuming when you relocate your business and you need to change the address on your contact information.
But with this one, there is no more hassle for you! With the Global Template add-on you won't need to edit pages individually, but just one! This means that making a change to the contact area of your site, you only have to update the global template once, instead of having to open every page the piece of the template is located.
Add & Create Global Templates
To add the Global Templates add-on to your site, simply navigate to 'Addons' section of Visual Composer Hub, select the Global Templates and click to download.
When creating a global template, you have to follow the usual process of building any other layout with Visual Composer website builder. Follow these simple steps and start creating your global template right away:
Go to Visual Composer Settings in your WordPress admin dashboard;
Select Global Templates;
Click Add New;
Name your template and create a layout with Visual Composer.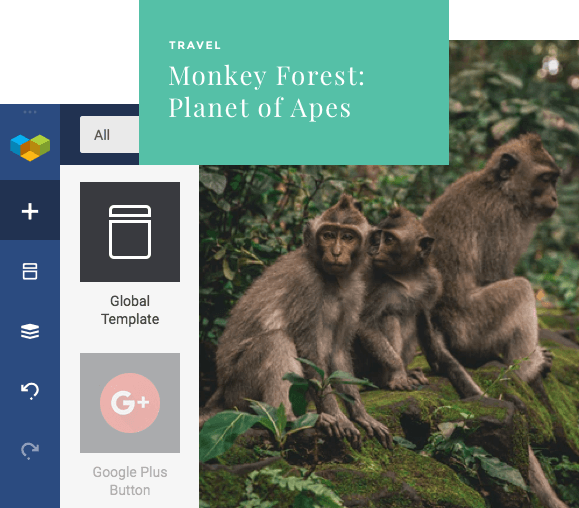 Two Types of Templates
Do you have pre-design templates you have created before? Don't worry, Visual Composer Premium will automatically convert your actual templates into global ones and add them to the Global Template directory.
Global Template element will display all the templates you have ever made, including Header, Footer, and Sidebar which means that you can also insert any or all of them as a global template into your pages.
Note: With the Visual Composer Header and Footer Controls you can also set a specific header and footer for your whole site or any post type, overwriting the theme default.
This means, that now you have two choices of how you can create templates - the new Global Templates option and the well known 'Add Template' window that lets you create templates that act like regular ones.
Do More!
It's easy now to imagine how using this new feature can save you loads of time, letting you manage a crucial piece of your website content and set it mirrored across all of the pages you want it to show on.
The time is saved, let's do more! 🙂
Have anything to say? Comment and share your feedback below!