We have an exciting announcement to make: Visual Composer is the first WordPress website builder offering integration with Giphy.
The world's largest library of free GIFs is now available with a Premium subscription straight from the Visual Composer editor.
Giphy And Visual Composer Integration: How It Works
Giphy is an online library of thousands of GIF images filtered by category and hashtags.
The database of as many as 700 million users accessing more than 10 billion GIFs daily, Giphy makes it easy to discover trends and search for GIFs using keywords.
Visual Composer Premium grants you access to the broad Giphy library: download the desired file to your WordPress Media Library and easily add it anywhere on your site.
You can also upload your own GIF animation or use the one from another GIF library.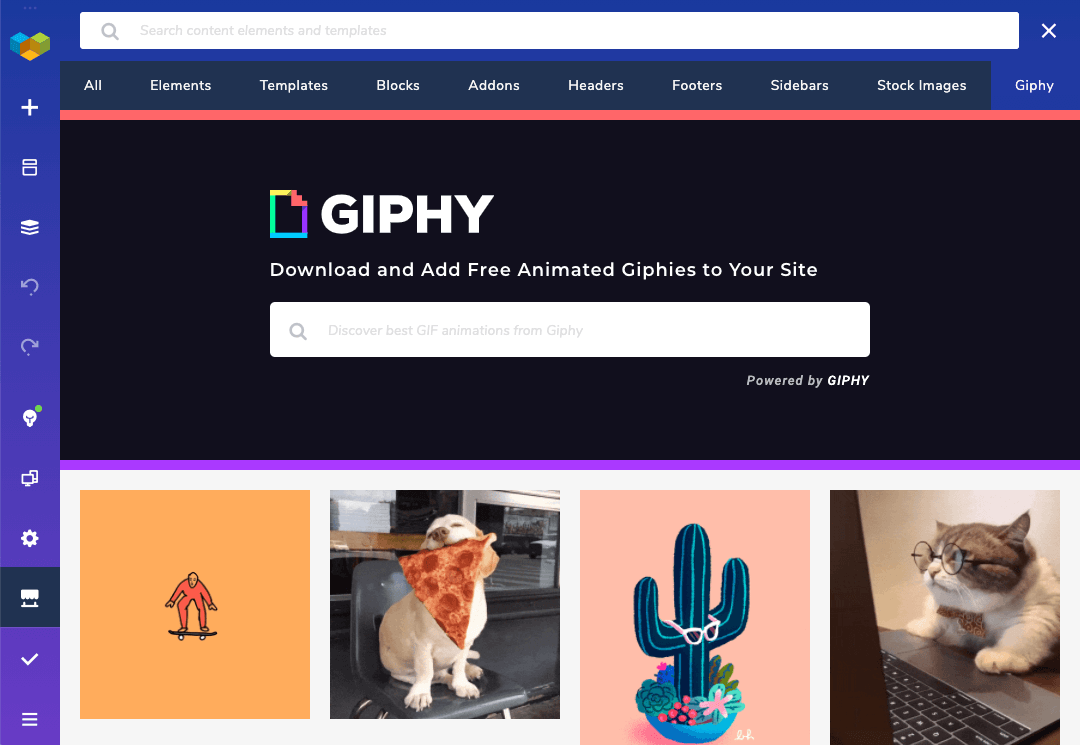 Benefits of Using GIFs in WordPress
Typically used as funny Internet memes, GIF (Graphics Interchange Format) has recently become a widespread web design trend. And there are quite a few reasons why using GIFs on your WordPress site can benefit your business.
Short, sweet, animated GIFs can liven up your static website, add a sense of interactivity, and increase engagement up to 80% for whatever content you create. But, unlike other visual components, GIFs can do more than just instantly grabbing the attention of visitors.
GIFs Are Mobile-Friendly (More Than Videos)
The performance of the website is a gamechanger - too many videos or unoptimized images can slow load time and create a bad user experience.
But GIFs load quicker than videos because of the smaller file size to ensure responsiveness. To reduce the risk of your visitors facing a slow loading page, grab them instantly with a fast looping animated gif.
GIFs Enhance Learning (And Are Easily Processed)
Because images are more universal and the brain processes them 60,000 times faster than the text, GIFs are a great way to educate, explain, and captivate users.
In addition, GIFs are short, and very few people don't spend seconds watching them. This lowers a chance that your message will be missed!
GIFs Improve Bounce Rate And Conversions
Surprisingly, GIFs have a great impact on the most important marketing and sales metrics. For example, NASA experienced an increase in open rate, conversion rate, and total revenue when using GIFs in marketing.
Also, well-optimized and relevant high-quality GIFs can help your site to rank higher.
Search engines like Google most likely prefer to crawl, index, and understand websites with different types of content, for example, images and gifs blended together with the text.
GIFs Connect (And Are Fun)
Because gifs are more appealing than the text or a static image, it can help you to create a strong emotional connection with your audience.
By adding a personal touch, like including a little fun to your website, you build stronger relationships and a positive brand correlation - a powerful yet underestimated psychological component of the user experience.
Download GIFs from Giphy Library
You can access the Giphy library to search and download GIF animations following these simple steps:
Open Visual Composer Hub and navigate to the Giphy tab;
Search for the desired GIF animation;
Click on the GIF to download and choose the size;
Selected GIF will be automatically added to your WordPress Media Library.
Add GIFs in WordPress Using Visual Composer
When you want to add gif animation to your page (from the Giphy library or any other), you will need one of two content elements pre-downloaded from the Visual Composer Hub.
First, go to the Visual Composer Hub and download Giphy or Gif Animation content elements.
Second, add an element to your WordPress site - either to the page or post.
Lastly, to insert the gif animation to your site from the Giphy service, select the gif from your computer or add it from the Media Library.
Enjoy! ????

Take Your Website to the Next Level Website
Adding a GIF to your WordPress website is the wow technique that can take your website to the next level. With the Giphy and Visual Composer integration, available within the 30.0 release for the Premium users, you can easily add any animated GIFs in your WordPress site.
What are you still waiting for? Go Premium and spice up your message with some fun & engaging GIFs!