With the help of WordPress and other website platforms, it becomes extremely easy for anyone to create a gorgeous blog with no coding experience. For photographers, this can be both a blessing and a curse.
What to Consider When Starting a Photography Blog
Before all else, you'll need to figure out what your style is, what your photography expresses, and what makes you different from others who work in the same industry.
Putting thought into these details will help you put together the best photography blog possible; one that suits your style and attracts visitors at the same time.
So let's say that you've already decided to create a photography blog and you want to know what aspects to consider while building the website.
Learn below more about this topic in this article created by our team at Visual Composer.
The theme you choose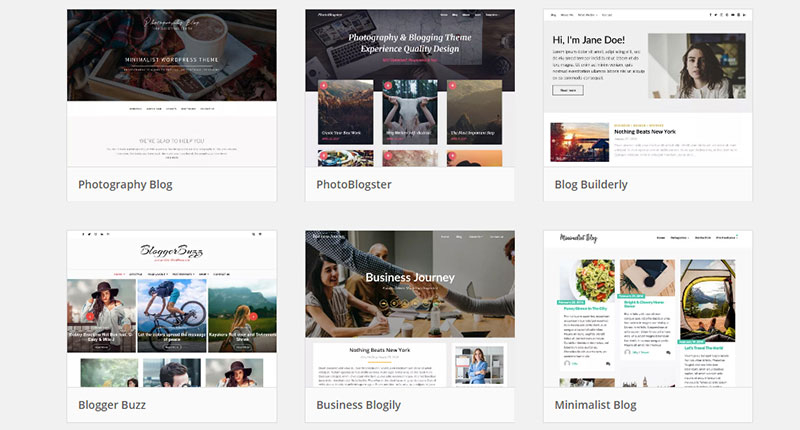 Since your site will ultimately be driven by aesthetics you need to focus on your website's theme first and foremost. Themes are pre-made design templates you can copy and tweak to your liking, and almost every website on the Web is based on a theme.
Well-developed themes not only make it easy to build an image for yourself as a photographer, but they also keep visitors engaged by adhering to best practices in usability. Looks are not everything – you need to think beyond looks and consider speed, responsiveness, and features.
The good news is that the Internet is full of beautiful and highly functional photography themes to choose from, and many of them can be adapted to suit you with only a few minor customizations.
Now, themes are great, but not all themes are created equal, and you might find a theme you absolutely adore, yet you can't for the life of you figure out how to make it 'just right'.
It might have everything you need, except for one or two things, and you simply don't know enough about code to correct them.
That's where Visual Composer steps in...
Visual Composer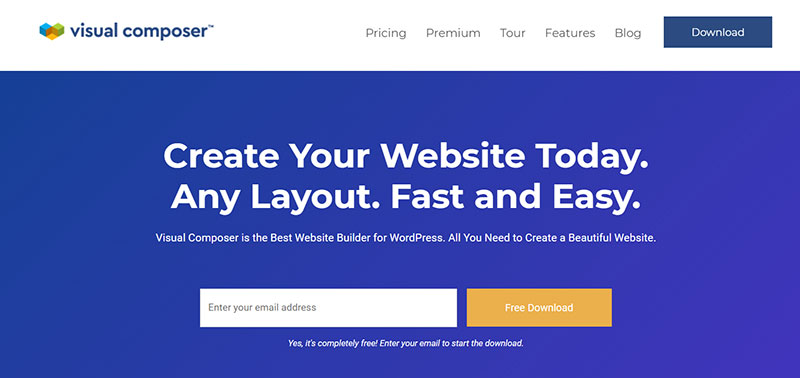 Visual Composer is a website builder plugin compatible with many popular WordPress themes that lets you create an amazing website with no coding knowledge whatsoever.
So, how can Visual Composer help you? First of all, it's really useful for designing photo galleries and blog posts that make your photography work stand out. Those amazing parallax photos that stay fixed on screen while you scroll? Yeah, now you can do that, too – with ease!
Secondly, it is packed with all sorts of features that will help you design the rest of your blog, from the homepage to your contact page, with exactly the layout you have in mind.
Visual Composer is perfect for those who are just getting started with WordPress and don't know much about the classic builder mode of the CMS. Many photography blogs have Visual Composer behind them, so give it a try if you want an appealing, responsive site that looks like it was developed by a professional agency.
Here's the List to Get You Inspired
Below you will find a list of photography blogs that look and feel flawless. They are built by the textbook, respecting the latest trends as well as incorporating their own unique touches. These blogs are also very popular in the industry and see a good deal of traffic by fellow photographers.
500 PX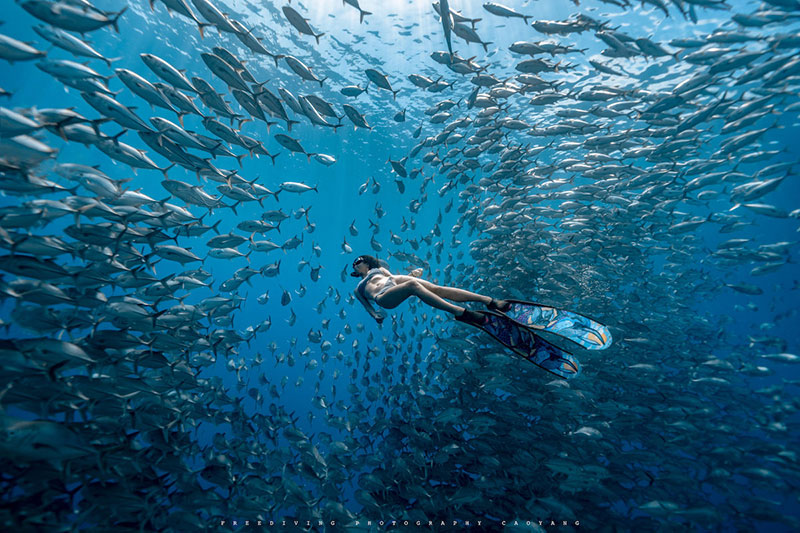 Peta Pixel

Fstoppers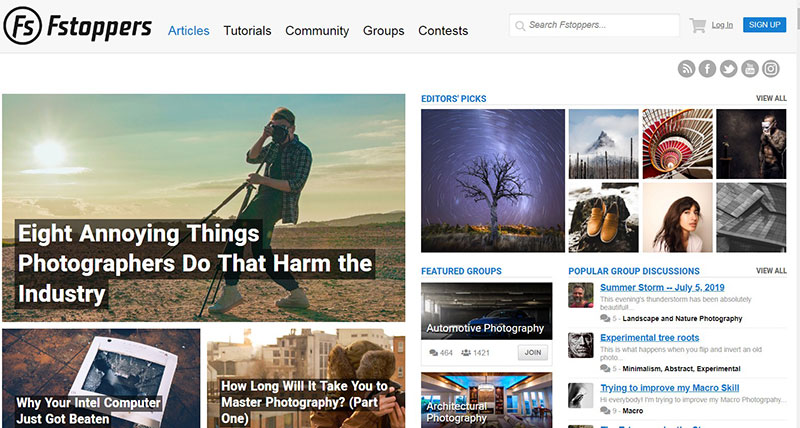 Lightstalking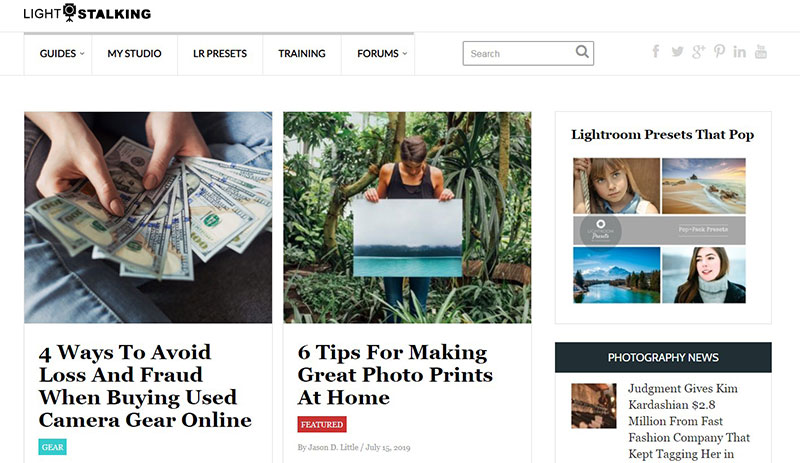 Photo Shelter Blog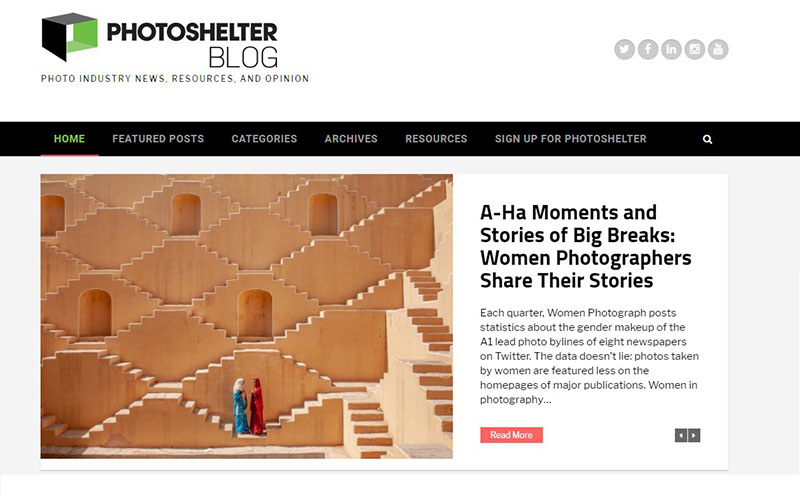 Scott Bourne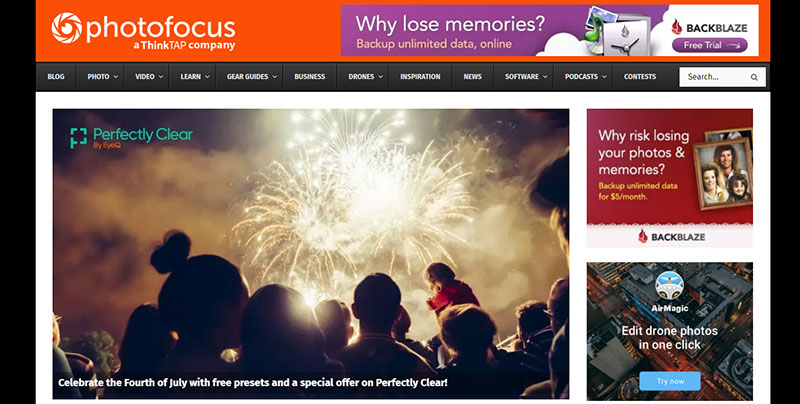 The first great blog on the list is Scott Bourne's. Scott has used this URL since 1998 and his audience numbers are no joke. He managed to get over 100,000 followers on his social media accounts and many more go directly Scott's photography blog to see what's new.
Besides uploading his latest work, Scott uses his photography blog to give users tips and tricks on how to get better at taking shots. His audience seems to dig the "how-to" posts and learning more about the intricacies of photography.
Beyond that, Scott takes his time to interview some of the most famous photographers and posts them on his site. The community is highly active on this photography blog, not least because it features engaging and informative content.
Dave Morrow Photography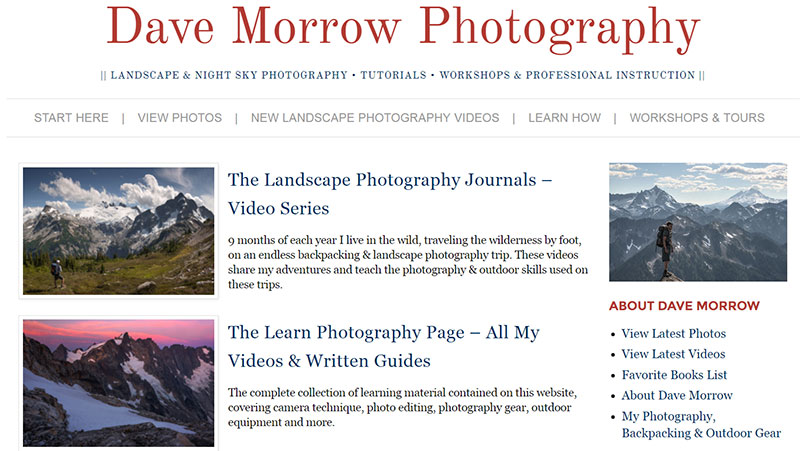 This is hands-down one of the best photography blogs out there. Dave Morrow has spent a good deal of time and effort into making this the photo blog that makes other blogs jealous.
And the interesting part is that his life mirrors the website 1:1. He is one of the few brave photographers who got the courage to quit his amazingly well-paid job in the corporate environment and start this powerhouse photography blog.
His blog mostly consists of how-to videos and blog posts, with numerous examples from Dave's own work in the field.
Feature Shoot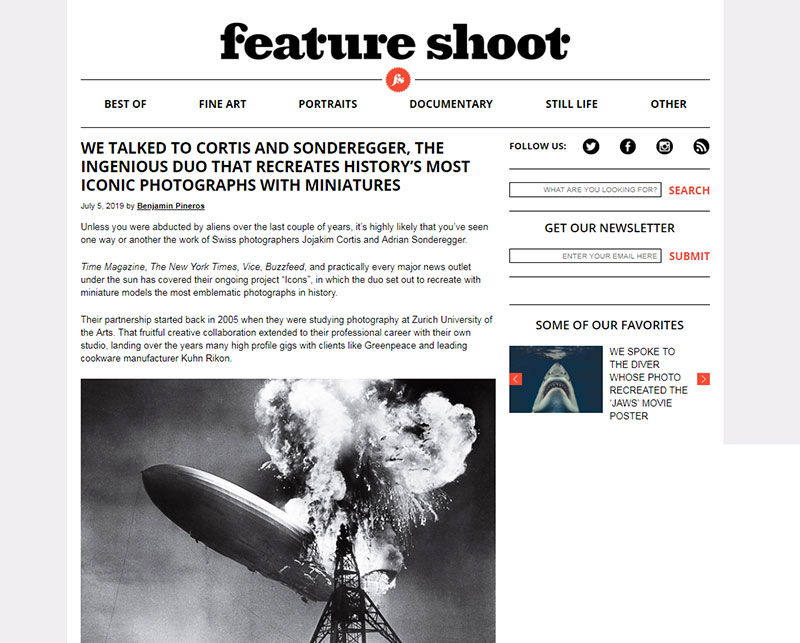 Feature Shoot is one of those photography blogs that don't belong to one single photographer. Instead, it is a website that showcases the work of various photographers in order to promote them to a wider audience.
Visitors can decide what type of photography work they are interested in and the site will list the photographers that fit the criteria.
The founder of the website is Alison Zavos, who has a lot of experience in the field of photography and has collaborated with many big names out there. The website has a huge archive of more than 4,000 posts.
Expert Vagabond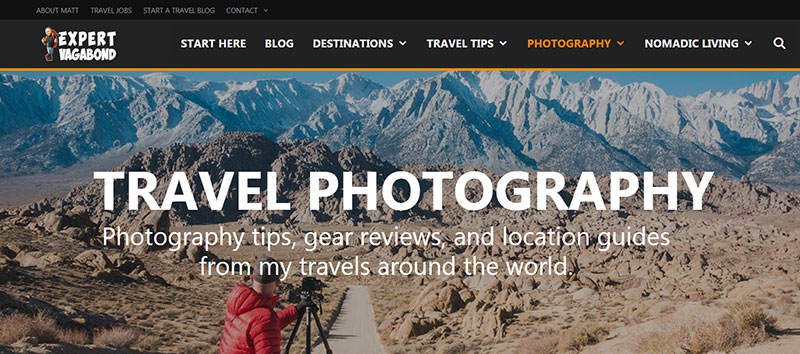 This is not your basic photography blog. It is a blog that combines the wildness of traveling and the beauty of capturing that moment. Expert Vagabond is a travel-photo blog that inspires people all over the world to pursue their dreams.
If you are a globetrotter yourself, the site will be useful because it gives you the latest tips and tricks regarding the traveling process: packing tips, equipment tips, how to choose locations, how to protect yourself against theft, and more.
David Hobby
David started his journey back in 1995 and he has gained huge recognition for his photography blog. He has a readership of around 300,000 per month, all coming from different parts of the world. Time Magazine nominated David's blog one of the best blogs of 2010.
Take a look at David's website and see what types of posts he uses to engage the audience to get inspiration for your own posts. He also publishes new work quite frequently.
Chase Jarvis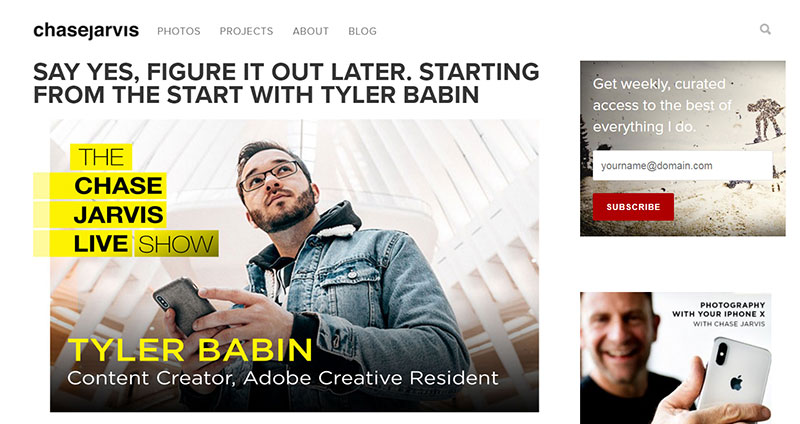 If you want to be truly inspired, you can't skip Chase Jarvis' website. Chase does both still and motion photography. The latter art form is very impressive and can be used to achieve a beautiful aesthetic effect to show off on a website.
His descriptions will inspire you from the very beginning and his work is the perfect source of ideas if you're out of them. Chase also creates articles that offer beginner photographers some direction.
Richard Bernabe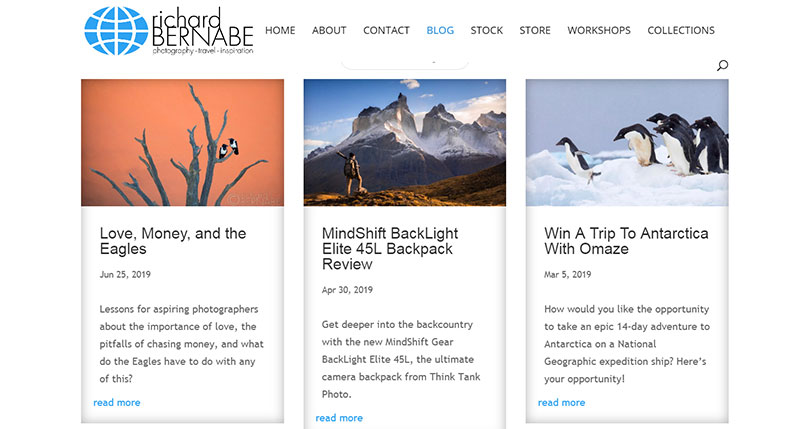 Richard Bernabe's website is yet another combination of photography blogs and traveling. He wanted to expose his work to people from a traveler's perspective while maintaining the artsy look of a photography blog.
He also writes posts about how to take better photographs, what locations to choose for traveling, how to spot an aesthetic scene, and more. His writing is mostly focused on his preferred photography tools and techniques.
Behind the Shutter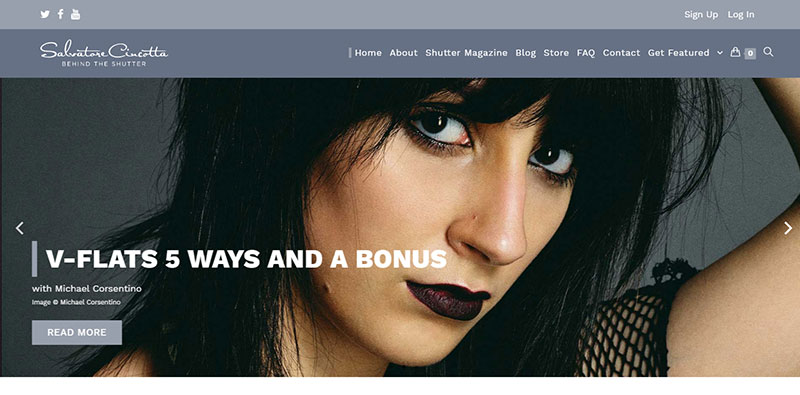 As the name of this website suggests, it is focused on what happens behind the shutter – i.e. the how's and why's of photography. This photography blog is full of tutorials that help both beginners and advanced photographers to improve their work.
The person behind this blog also helps people choose better deals for photographers on a budget. Some people find it hard to purchase the needed equipment for professional photography and Behind the Shutter gives you solid advice from a professional.
Thomas Hawk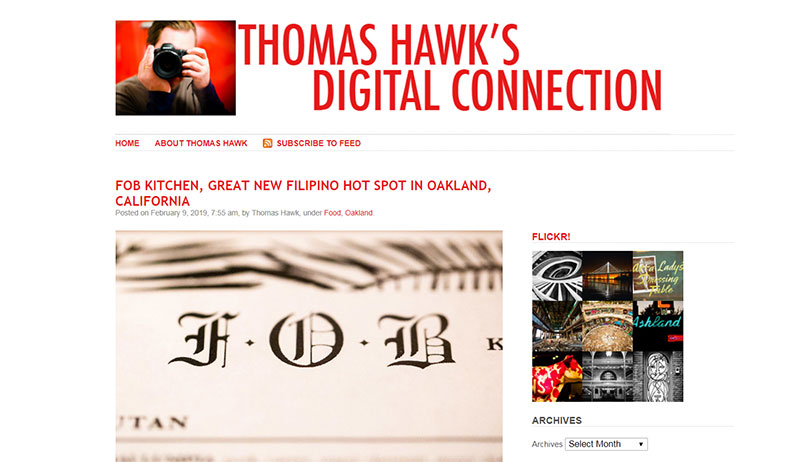 Thomas Hawk is a popular name on the Internet. He puts a lot of effort into his blog and social media profiles. His blog topics are diverse, which goes to show that you don't need to focus strictly on photography to make a photography blog successful.
Ending thoughts on these photography blogs
There are so many photography blogs out there that it would be impossible to check out even 10% of them. The stunning and well-designed blogs listed here are just some examples of how your photo blog could look. It's absolutely essential that you add your own personality into it and make it unique, but don't be afraid to copy ideas here and there from others.
If you enjoyed reading this article about photography blogs, you should read these as well: