We are always seeking for the novelty. This is why Visual Composer 23.0 comes with a lot of new powerful features to create a well-designed website faster than ever.
Have you ever spend tons of time searching for the right Google Font that fits you the most? Or wanted to apply Dynamic Content to more attributes than before?
Once again, welcome the new update of the Visual Composer to solve all this and more!
Let's start exploring! ????
Google Fonts Search in TinyMCE
We are huge fans of typography here at Visual Composer. As one of the upcoming web design trends in 2020, it is better to have more tools at hand to style your text. That is why we present Google Fonts Search in TinyMCE.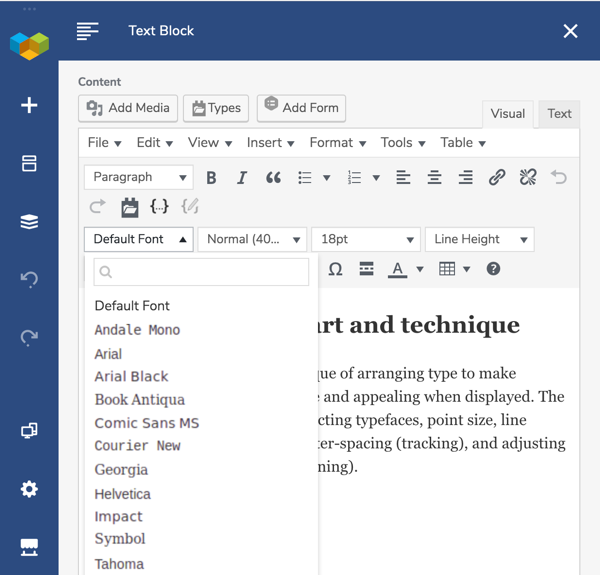 This Visual Composer integration feature allows you to navigate through more than 800 free licensed fonts in the TinyMCE editor. Besides the ability to search for the specific font, you can also browse through the preview to find the right one.
New Premium Activation
With a Premium subscription, you have full access to all features including those I am covering here. Go Premium to unlock unlimited downloads of content elements in the Visual Composer Hub. Trust me, it is worth it!
After the purchasing of the Premium license, you need to activate the Premium version. To make the activation process faster, we introduce a new Premium activation flow with license input.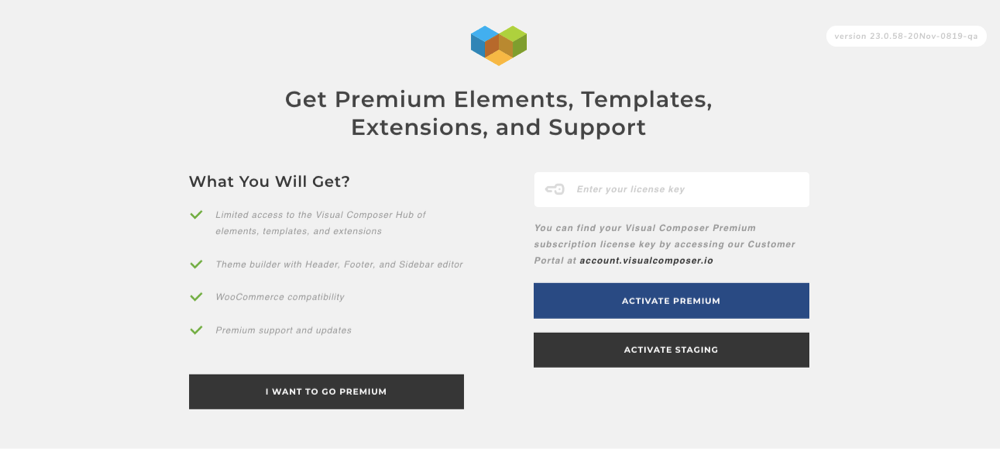 Select Go Premium in your WordPress dashboard. Then log in with your Visual Composer account credentials. There you can find the Visual Composer Premium subscription license key. Choose the one you want to activate, and copy&paste it into the field where the license key is required.
Your Visual Composer Premium has been activated!
In case you didn't know, you can activate Visual Composer Premium license on your staging environment as well. Press the Activate Staging button to activate one license on both – live and staging environments.
Dynamic Content in Image Link Selector
With Dynamic Content, you can replace your static content with WordPress dynamic content or custom fields. Dynamic Content allows you to get full control of the placement and style of WordPress default and custom fields. Style and locate the fields without any coding or location restrictions.
Apply the Dynamic Content feature to any element of Visual Composer that displays static content. Plus, it is available for many attributes.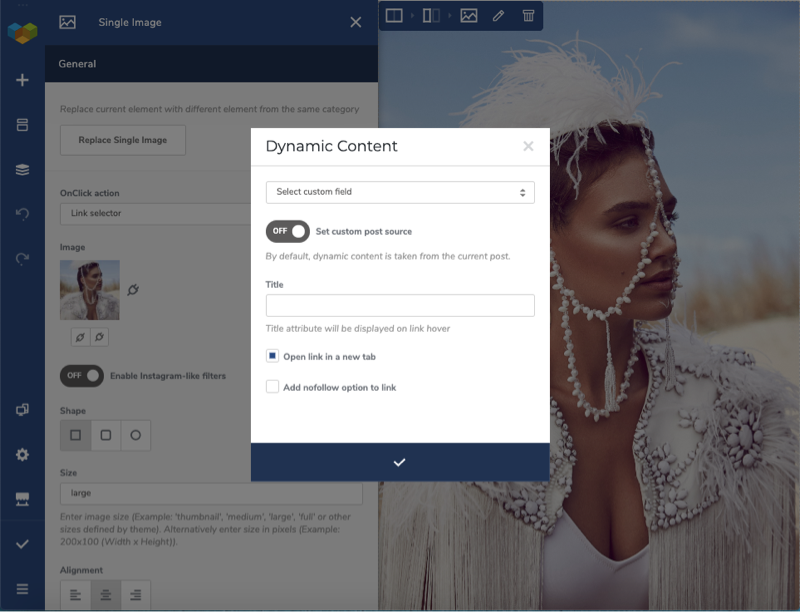 Starting from the Visual Composer 23.0 update, Dynamic Content is available in a single image link selector. It is a premium feature to replace the link with dynamic content (ex. Post/Page URLs).
Note: By default current post is set by default. Select the different sources in the dropdown if you want to change that.
Take it All!
We hope that you will enjoy the new features that can make your website more visually appealing and save you lots of time while creating one! But as Mark Twain said, "The secret of getting ahead is getting started."
So, start to build your site right now - with numerous regularly updated features of Visual Composer.
We always appreciate your experience, comments, and recommendations. Don't hesitate to share it with us below! ????