When you first start the journey of creating a website, there are 3 main components you have to take care of: domain name, hosting and website building itself. While all three are important, hosting is the basis that will determine the performance of your site. So choosing the right one is crucial.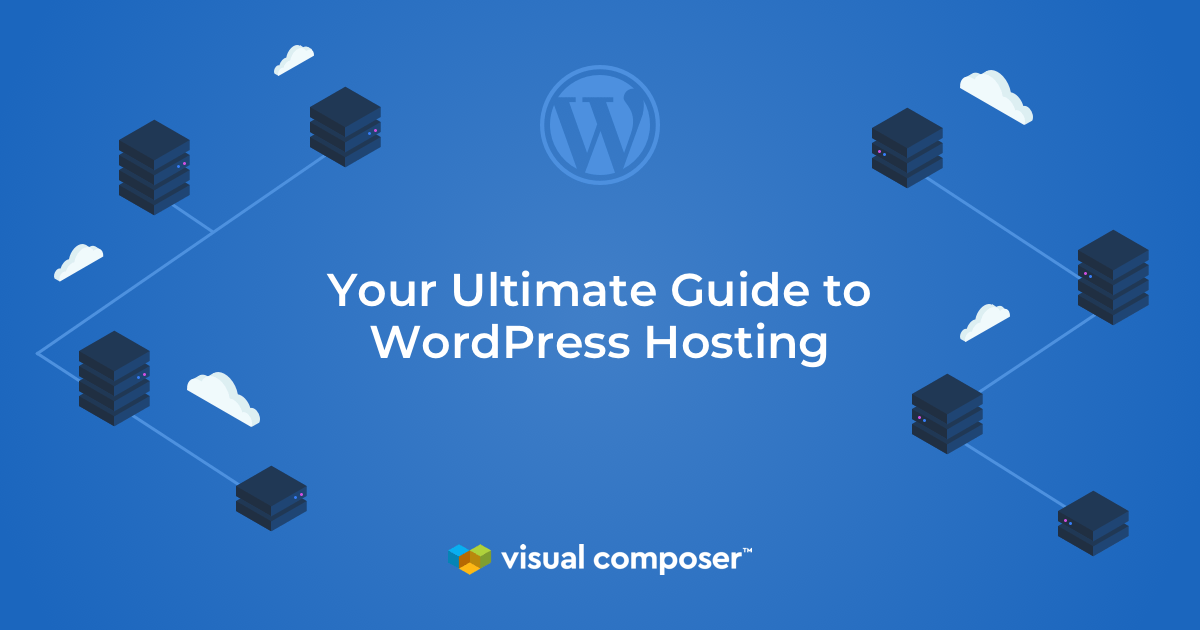 If you write "WordPress hosting" in Google, the number of options can make your head spin, so to make this decision much easier, let's dig deeper into the world of best web hosting services. By the end of this guide, you should be able to recognize reliable WordPress hosting in a heartbeat.
Here's what you'll see in this guide:
What is WordPress hosting and why you need it;
The importance of having a good hosting service;
How to choose WordPress hosting;
Feature comparison of the most popular hosting providers;
Our recommended hostings.
What is WordPress hosting and why you need it
First, let's look at hosting in general terms. Hosting is the physical attribute of the website. It's where all the data from your site is stored.
There are many types of hosting services out there and not all of them will assure the best performance for a WordPress website. While most of them claim that they support WordPress based sites, it's a better idea to choose a hosting company that specializes in WordPress. (There's a detailed comparison of the best and most popular choices further in the post.)
The importance of good hosting
At first, choosing a hosting service might not seem that important, but it has a huge impact on how your website will run. There are also so many types of hosting services, all seemingly offering the same solution but you'll see that that's not the case at all.
So with that in mind, let's look into what exactly can hosting influence and what are the types of hostings out there.
What can hosting influence
As I mentioned before, hosting is like the foundation of the website that holds everything else in place and in order. Hosting can affect the most important elements of your website. At the end of the day, it doesn't matter how beautiful, original and well written your website is if it takes forever to load. Research states that 40% of people will abandon a site if it takes more than 3 seconds to load.
Security - There are many things that can make your WordPress website vulnerable, and good hosting service can help eliminate that to a minimum. And most importantly, take the security measures out of your hands.
For example, Sucuri Hacked Website Report shows that 36.7% of hacked WordPress sites had an outdated version of WordPress installed. Some hosting providers offer automatic WordPress updates, so it will ensure that your installation is always up to date.
Performance - While many things can worsen the performance of your site, hosting is what really "sets the tone". The top performance issues are closely related to your hosting service and how it handles it.
For example, your site's performance can suffer because of server performance and location; large traffic; outdated plugins in WordPress and many more reasons. Luckily, most of these issues can be skipped with a hosting plan that fits your website. There are hosting providers that allow choosing a server location, as well as the aforementioned automatic updates and scaling options if you deal with big traffic.
Types of hostings
Depending on the needs of your website, you might look into multiple types of hostings. And most providers offer more than one solution, so I'll briefly describe the most common.
Free WordPress hosting
There are free hosting providers out there, but usually, the cons greatly outweigh the pros. Free hosting plans tend to have a low security, it's possible that they'll show ads on your site, limited support, small disc space, and other issues.
While free is tempting, this is not recommended for an online business as it's just not reliable. You can use it as a learning platform, but be careful.
VPS
VPS (Virtual Private Server) means that you get your own virtual server environment. Technically, you get a portion of servers resources. While you share the server with other users, it's not as much as in shared hosting. VPS is usually used if your website is growing quickly.
Shared WordPress hosting
Shared hosting means that you'll be sharing a server with a lot of websites. Shared hosting is the cheapest and most popular solution. This is a good solution for small websites that need a lot of resources to work smoothly.
Managed WordPress hosting
Managed hosting means that all technical parts will be taken care of by the hosting provider. Speed, backups, updates, security, uptime - all are things that managed WordPress takes off your hands.
Dedicated WordPress hosting
With dedicated hosting, you get physical hardware (the server) and the location where it's at. Apart from the managed hosting we looked at before, this takes care of very little of the technical stuff that goes into hosting a website.
If you have a site with huge traffic and are experienced with servers, this might be a good choice as you can manage everything yourself.

How to choose a WordPress hosting
Now that we've looked into the types, it's time to figure out which one is the best fit. There are some important parameters to keep in mind, so you wouldn't fall for any marketing tricks, especially if you don't know that much about the technical stuff. The first step is to evaluate your website and then choose a hosting type.
Evaluate your site and what it'll need
Before even looking at the hosting parameters, it is important to figure out what are the exact things your site will need. Depending on the size of your website, the number of visitors, the type of website you have, etc., you can determine what are the hosting features your website will need the most.
I'll list some specific factors you can think about:
Q: Are you a beginner at WordPress?
A: If you are, you might want to look into a hosting provider that offers the best support options. If not, you can look into more advanced hosting services that give you more customization freedom.
Q: What kind of website do you have - a big e-commerce site; a simple blog, business site?
A: A simple blog requires fewer resources than a big e-commerce site, so depending on that, you can choose the right type of hosting.
Q: What is the expected site traffic?
A: Not all hosting types can handle heavy traffic and they are not meant to. Hosting providers will usually point out how much traffic each hosting plan can handle. Also, if you're expecting rapid growth in traffic, you have to make sure that there are easy and scalability options available.
Q: Will you take care of backups yourself or you want the hosting provider to take that off your hands?
A: Most hosting providers offer backups, but some offer more options than others - some store the backups for a longer period, and the backup frequency differs as well. If you want to use a 3rd party backup service, backups won't be the make or break feature that helps you choose a hosting provider.
Q: What is the budget, how much can you spend on hosting?
A: On the one hand, there are a lot of budget-friendly options available that cover all the basic needs of a website. On the other hand, the pricier options do offer more advanced features that can be useful depending on what your site needs.
Answering these questions will help you understand which hosting service will offer the best solution for your website. And you'll be able to look for the right features and not get lost in the large number of things each hosting provider offers.
Important parameters
These are the general parameters to look at when considering any hosting service. While there are some features that might be more important than others depending on your site, you have to know what the hosting provider you choose is capable of and why these features are crucial.
I touched on some of these already, but let's have a closer look.
Speed
Page speed is considered the time in which the content of the page is downloaded and displayed to the visitor. There is too much data that backs up the importance of load time being as small as possible, as almost half of people visiting a website will abandon it if it takes more than 3 seconds to load.
There are online tools to check the speed of a page, like this tool from Uptrends for example.
Backups
Backup is basically a copy of your website that you can use to restore your website in case of data loss or damage.
Generally, it's a good idea to keep backups automated and luckily hosting providers usually offer exactly that. Although there are great 3rd party options available, like BlogVault for example.
Security
Security is a very broad term, but in terms of hosting, it's important to look at features like daily backups; malware scanning and removal; automatic updates and many more. The more your hosting provider takes care of the security, the less you have to worry about it.
SSL
SSL stands for Secure Sockets Layer. It is a security measure that ensures that connection to the website you're visiting is secure and any data (ex. passwords and credit card info) you entered is encrypted. You can recognize sites that have an SSL certificate by looking at the URL. The URL will start with https:// not http://. The extra "s" (and a locked padlock symbol) indicates a secure connection. If you're looking for hosting that offers a free SSL certificate by Let's Enscript alongside other great features - Cloudways is the one to choose.
Caching
Caching is the process of temporarily storing data of a website, so when you visit it again, the website doesn't have to download the data that is stored in cache already. It is used to improve the performance of a site.
Support
This is a more obvious parameter, but not less important. If anything goes wrong, you have some questions, you need help - it's crucial that there are professionals who can help. Most providers will offer 24/7 support, but there are some who are known for fast and reliable support. So if you're a beginner, fast and approachable support is critical.
UpTime
Uptime is a way to measure the time when the hosting system is working uninterrupted. This is a very important factor to look at because obviously, you want your website to run smoothly all the time. Uptime is measured in percentages and is contrasted with downtime. To, is you see "99.9%" uptime, it means correlates to 8 hours 45 minutes 36 seconds yearly.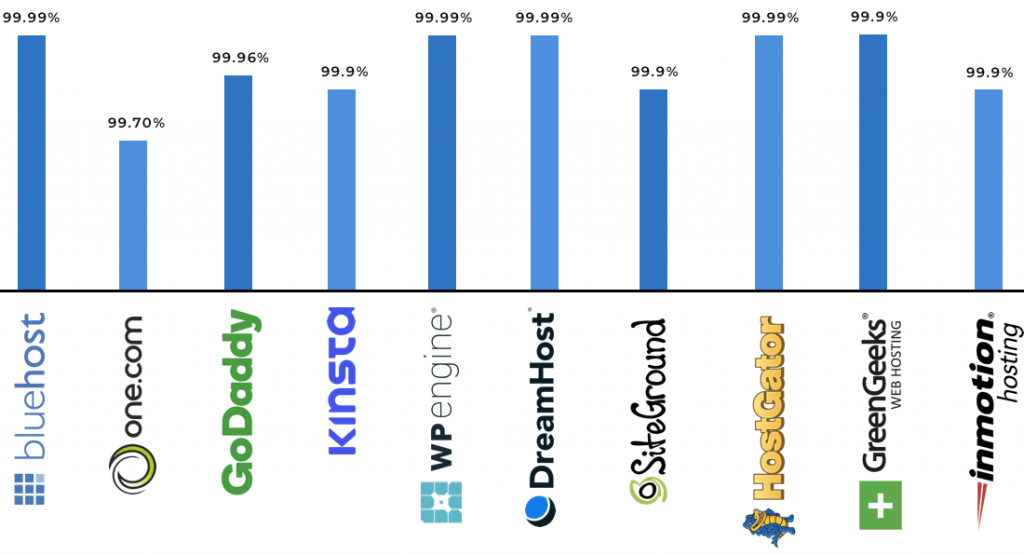 Note: You can use this tool to calculate the downtime.
Average Site traffic
Site traffic is the number of visitors your website gets. This is something that hosting providers will usually note - how much traffic each plan can take.
Automatic WordPress and plugin updates
Most hosting providers will allow the option to enable automatic WordPress and plugin updates. This can be a useful feature security-wise because keeping WordPress up to date is extremely important. WordPress and plugin updates ensure bug fixes, security patches, new functionality and more.
This can be helpful, but keep in mind that sometimes you have to wait a little to update, especially with plugin updates. Some updates can cause conflicts with other plugins you are using. It's possible that only a certain version of the plugin is supported.
Hosting feature comparison table
Now that we know what to look for in a hosting service and what features are important, let's see what the most popular companies have to offer. This table will give you a brief look into the features that hosting providers have and how they compare with each other.
| | | | | | | | | | | |
| --- | --- | --- | --- | --- | --- | --- | --- | --- | --- | --- |
| Features | BlueHost | One.com | GoDaddy | Kinsta | WPEngine | DreamHost | SiteGround | HostGator | GreenGeeks | InMotion |
| Price | Starting at €3.52/month | Starting at 3.06 € /month | Starting at £2.99/month | Starting at $30 /month | Starting at $35 /month | Starting at $2.59/month | Starting at 3.95 €/month | Starting at $5.95/month | Starting at $2.95/month | Starting at $7.26/month |
| Automatic Backups | | | | | | | | | | |
| Free Domain | | | | | | | | | | |
| 1 Click WP Install | | | | | | | | | | |
| Caching | Caching plugins supported | Performance cache | Caching plugins supported | Multiple caching options | Regular website caching | Built-in server caching | Unique Caching Options | Caching plugins supported | PowerCacher Technology | Caching plugins supported |
| Free SSL | | | | | | | | | | |
| Migration | | | Free | | Free if paid annually | | | Free | Free | Free |
| Automatic WP Updates | | | | | | | | | | |
| Plugin Updates | | | | | | | | | | |
| Scalability | | | | | | | | | | |
| Security Monitoring | Multiple security-related features | Virus and spam filter | Malware scan and prevention | 24/7 security monitoring | Threat detection and blocking | Multiple security features | Custom Firewall Rules | Automatic Malware Removal and more | Custom security rules & zero-day vulnerability fixes | Hack and malware protection |
| 24/7 Support | | | | | | | | | | |
| Free Emails | Unlimited | Unlimited | 1 | | | Depends on the plan | Unlimited | Depends on the plan | Unlimited | Unlimited |
| Default PHP Version | 7.0 | 7.2 | 7.0 | 7.0 | 7.0 | 7.0 | 7.3 | 7.2 | 7.2 | 7.2 |
| Staging | | | | | | | | | | |
Some of these companies are not WordPress exclusive, so I'll include information about their WordPress hosting features.
Recommended WordPress hostings list
With the long list of hosting providers, there are some that I want to highlight. Why these hosting providers? The features speak for themselves. They just have the best solutions to offer.
WPMU DEV offers a premium, fully managed, virtually dedicated, and WooCommerce-ready white label hosting service backed by a team of hosting and WordPress/WooCommerce experts focused on speed, security, and value for money.
WPMU DEV's hosting service includes time-saving features like templates and configs that let you quickly set up sites pre-installed with WooCommerce and Astra.
Expert 24/7 live chat and forums guarantee fast support on anything hosting, WordPress, or Woo-Commerce-related.
Here are a few more key features:
Every site gets its own VPS, unique IP address, and virtually dedicated resources, plus Static Site cache, Object Cache, Web Application Firewall, and CDN, so the hosting resources are all yours and not shared with anyone else.
Free Let's Encrypt SSL.
10 data center locations and 45 point CDN guarantees to serve content worldwide to users fast.
Automated daily backups and one-click staging for every website with live syncing lets you perform tests, fixes, and updates to WooCommerce sites and move the site quickly from staging to production in seconds.
Support up to PHP 8.1 and HTTP/2.
Loads of extras in addition to standard hosting features, including DNS management, domain reselling, 10 free email accounts, and 7 premium plugins covering security, performance, SEO, and more, fully developed and maintained by WPMU DEV.
Although hosting plans start from just US$12 per month (Bronze), WPMU DEV recommends the Silver plan as a minimum for WooCommerce sites. Select your plan here.

Cloudways offers managed hosting solutions with a spotlight shining bright on ease of use, choice, and performance. Activities like launching a server or application are incredibly simple to execute through 1-click operations. Users get to choose between cloud providers, style of workflows, and extremely customizable hosting plans.
Some other noteworthy features:
Security and backups;
Excellent uptime;
Visual Composer Website Builder pre-installed.
Once you get your website running on Cloudways, the risk of your visitors seeing a 404 page all but vanishes.
The whole idea behind Cloudways is to leave the headache of server management to it, so you free up time to devote to your work instead.
Get started with the free version of Visual Composer and the Starter theme on verified WordPress managed cloud hosting by Cloudways in just 1-click.

Kinsta is one of the most advanced hosting providers on the market at the moment. They concentrate on speed, security, and high-class support.
Some other noteworthy features:
Kinsta is powered by Google Cloud Platform and that allows you to choose your data center out of 19 global server locations;
Kinsta offers automatic scaling, so there's always the option to scale your site.
Kinsta is on the pricier side, but it ensures the most advanced solutions for your website.
One of the biggest advantages Kinsta has is their outstanding 24/7 support, so whenever you need help, WordPress professionals are there in a matter of minutes.
Kinsta is actually the hosting provider for the Visual Composer website. You can also check out our case study on Kinsta here.

WPEngine is one of the most popular choices for managed WordPress hosting. It takes the technical stuff out of your hands so you can concentrate on the website itself.
WPEngine ensures security through features like automated WordPress updates, threat detection, SSL certificates (free) and more.
In their website, WPEngine states that by switching to WPEngine, customers enjoy an average of 27% faster load times. We covered the importance of speed already, so that's some impressive data that can really bring your site to a new level.
Some other noteworthy features:
WPEngine hosting is a scalable solution
WordPress themes available

BlueHost powers more than 2 million websites worldwide, so we can certainly say that it's a popular choice. And it's not only a popular choice between users, but it's also one of the WordPress recommended hostings. So you can be sure that this hosting provider can host a WordPress site and can do it well.
Some other noteworthy features:
All WordPress hosting plans include a free domain name;
BlueHost offers phone support (most companies tend to not do that).
BlueHost offers the cheapest solution for a basic plan from the ones I've listed, so it's a very budget-friendly option.
With BlueHost, you can get your site up and running really quickly because you get access to free WordPress themes, and it has Visual Composer Website Builder pre-installed.

With more than 1,500,000 active customers, one.com is a reliable choice for a small price. One.com is great for WordPress beginners, as it comes with themes and website builder. That means you won't have to find any other solutions yourself and you can start building your site in minutes.
Some other noteworthy features:
Unlimited emails;
WordPress themes available;
Visual Composer Website Builder pre-installed.
Summary
Choosing one hosting service doesn't mean you have to stick with it forever. Technologies change, websites change, the demands change, so you can certainly change WordPress hosting if it's needed.
You now have the knowledge to make a fact-based decision and make your website as best as it can be.
And, if you want a WordPress hosting that has Visual Composer Website Builder pre-installed, it is worth checking out our hosting section.
P.S. Some of the references may contain an affiliate link. Still, it does not affect our review or pricing in any way.