Are you a beginner or already a WordPress pro? In any case you can't disagree that WordPress and especially its Plugin Repository is a huge and complex environment. From marketing tools to backup plugins - there are endless offering options to choose from.
Visual Composer has a great solution to simplify yet enrich your journey of building a website. Go Premium and discover the most popular WordPress plugins and multiple 3rd party services. They are fully compatible with the Visual Composer Website Builder!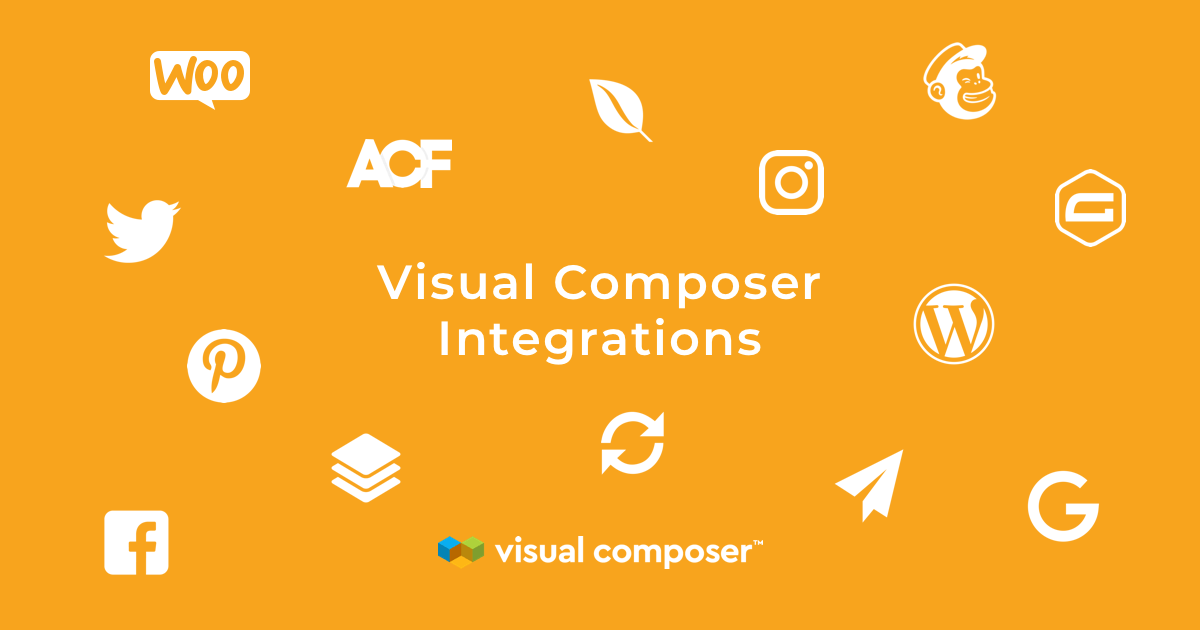 Visual Composer offers a regularly updated list of compatibility elements and integrations. It means that you can use your beloved WordPress plugins straight from the Frontend editor.
Add your desired options and shortcodes of the plugins, smoothly integrate them to your site and instantly see the changes in the WYSIWYG live editor.
Yes, it is so simple and time-saving. 😉
Here are some more pros of compatibility elements:
Seeing actual results without leaving the editor
Adjusting parameters straight in the Frontend editor
Getting the one element in the control of multiple options
Integrations and compatibility provide the best user experience and endless opportunities for agencies, web designers, freelancers, e-commerce business runners, or anyone who is going to create a site.
That's why Visual Composer has an entire set of integrations and compatible content elements for all needs and businesses.
How to Download Compatibility Elements?
To unlock the power of rich compatibility elements and search for the ones you need to include on your site, we have a comprehensive library to help you out - Visual Composer Hub.
It is a cloud marketplace (for Premium subscription owners)of content elements, add-ons, and more. The true power of the Visual Composer Hub is the regular updates and ability to download as much as you want. There are no limits.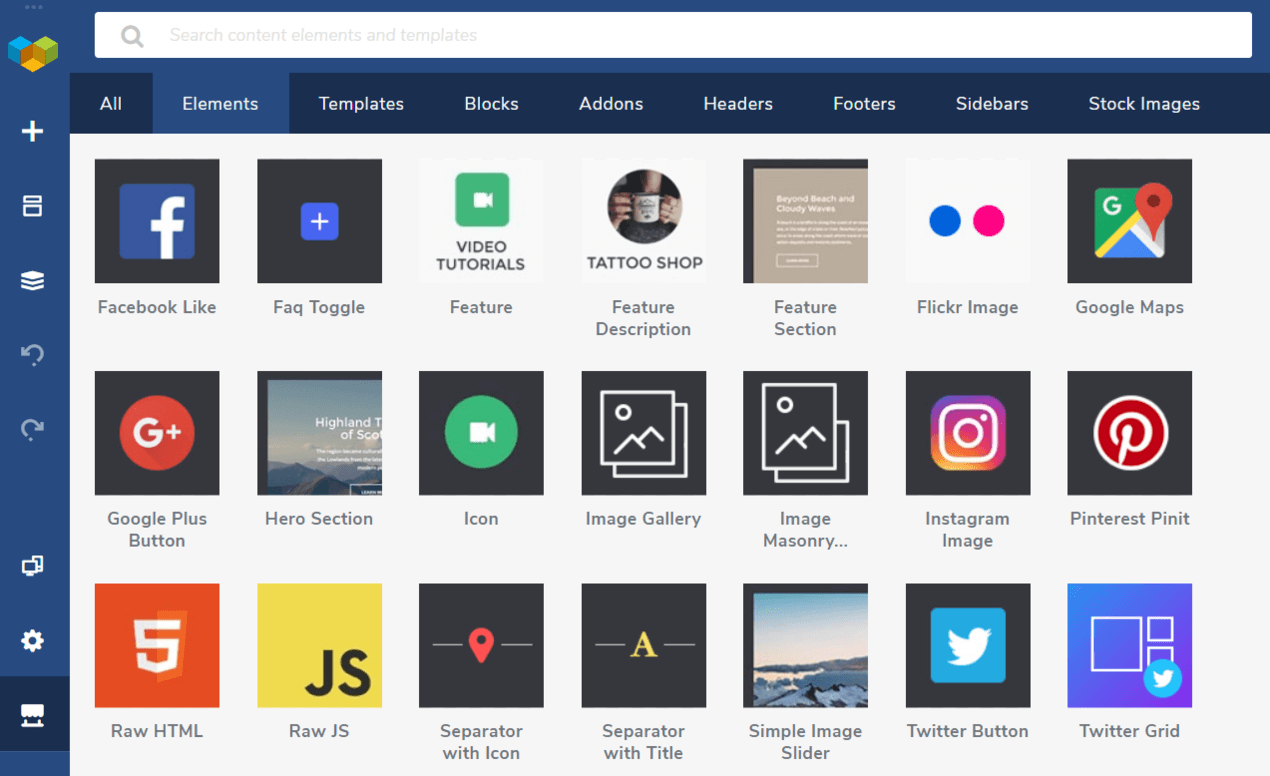 Visual Composer Hub icon can be found directly in the Visual Composer Website Builder Frontend editor navigation bar.
Here are just a few steps to get any compatibility element:
Input the name of the element (via search line or browse through a particular section)
Click download and it will instantly appear in your collection
Add the element directly from the Hub by clicking on the plus icon (which appears on the element). The second option is to use the Add Element menu (via the navigation bar)
Note: In order for the compatibility plugin to work you will need to have the 3rd party plugin installed and activated on your website as well.
You don't need to buy plugins separately or mess with shortcodes anymore. Just install the required plugin and go straight to the Hub. Visual Composer Hub is the place where you can download elements, including compatibility elements, within a single click.
With a premium version, you can discover all potential of this powerful feature and receive absolute freedom to start your business. In case you are a Free user, you can still access Visual Composer Hub.
Compatibility Elements and Integrations
With Visual Composer, you can gain access and browse through a broad library of compatibility elements and integrations. From the WordPress contact form plugins to social networks and stock image repository.
Contact Form Plugins
There are multiple Contact Form Plugins available on the WordPress Plugin Repository. But to make it more simple you can find compatibility elements for all most popular contact form plugins in the Visual Composer Hub.
Data Management Tools
It's easy to get lost in the huge amount of information, isn't it? That's why data management solutions make processing, analyzing, storing, and other actions more time-efficient. Visual Composer is compatible with the plugins for tables, charts, events, and even newsletter-service management (MailChimp) to work with any kind of information.
Media
There is no doubt that visual media such as images, videos, or animations are fundamental to your site. Because humans are visual learners, you definitely need to have some useful tools on hand.
From the broad library of stock photos to the gallery management system and animation platforms, we have prepared a great set of media compatibility elements that will make your website a visually appealing masterpiece!
Social Networking Services
Everyone now has an account on social media. We have multiple compatibility elements almost for every well-known social networking platform (Facebook, Twitter, Instagram, Flickr, etc.).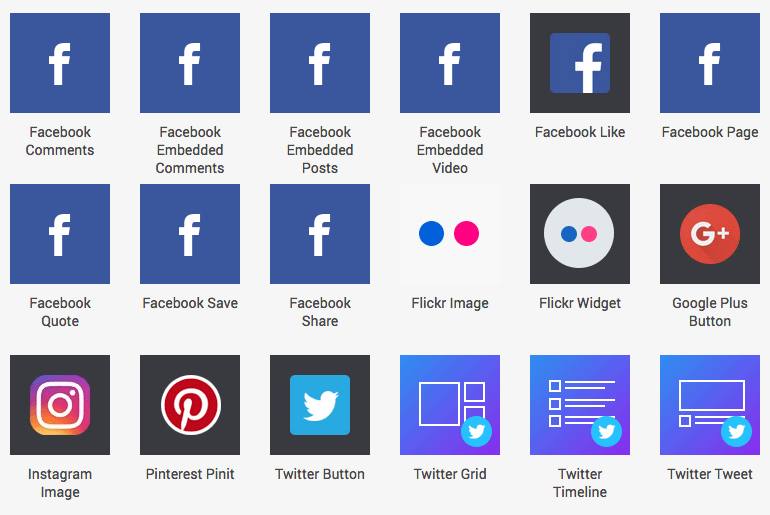 You can embed and repost images, gallery grids, comments, buttons to share the content, and more.
WordPress Plugins
As we have already mentioned, Visual Composer has a collaboration with the best and most popular WordPress plugins. Manage your online store with the multiple WooCommerce elements, create custom fields and add it to replace the static content with Dynamic Content.
Also, Visual Composer is now fully compatible with Gutenberg Editor. Premium users can find the Gutenberg element in the Hub and have access to all Gutenberg modules inside the Visual Composer editor.
Icon and Fonts Library
Visual Composer has integrated 15 icon sets - libraries of various different icons for any purpose available for the Premium subscribers.
Plus, you have the option to add more than 800 Google fonts and customize design properties.
In the Visual Composer Hub, you can find the Google Fonts Heading element and let the typography affect your users' experience in the best possible way.
Develop Your Own Compatibility Elements
In Visual Composer, you can not only search for the desired element but also create a new integration on your own. Because Visual Composer is a WYSIWYG module-based editor, we have a comprehensive and detailed public API for developers to manage custom elements and extensions for the website builder.
Developing your own element allows you to take full control of its design and functionality, however, the process still should fit the WordPress coding standards and requirements.
That's why the team behind Visual Composer is always to assist you with recommendations that can help you to develop the new integration or compatibility element.
Besides, we have complete tutorials on how to create and submit custom elements to the Visual Composer Hub.
Browse our API documentation and join our Facebook community channel to start developing your first element!
Conclusion
With the compatibility elements and multiple Integrations, Visual Composer is a great all-in-one solution to create your beautiful and successful website. You can develop your own elements or discover a regularly updated list of compatibilities in the Visual Composer Hub.
Within a few clicks, combine the power of your favorite plugins with the drag & drop builder and start building your website right now!