So you want to streamline your web development business but have no clue where to start? Or maybe you've tried DIY website builders in the past and had a terrible experience? Don't worry. We know that building a website requires much time and headaches, but good website builders can make a big difference and reduce your efforts greatly. We've got you covered.
In this blog post, we'll explain everything you need to know about drag-and-drop website builders for WordPress. We'll discuss what they are, how they work, and why they're popular. Plus, we'll give you some tips on how to choose the right builder for your needs. Let's get started!
What Is a Website Builder and How Does It Work?
A drag-and-drop website builder is a software platform that makes it easy for users to create a website with the help of a drag-and-drop editor and pre-built elements. Generally, website builders allow you to create websites without relying on any coding, but some offer coding options for additional customization and functionalities if needed.
The main difference between website builders is in how they handle the hosting of your website. There are stand-alone builders, such as Squarespace, and content management systems (CMS) such as WordPress. The difference is that one comes with included hosting solutions, while for the other, you can choose a hosting provider, that suits your specific needs. You can also host a website locally on your personal computer.
WordPress is ideal if you want more power and control over the customization of your websites, and is the most popular website building platform. It is used on over 43% of the websites on the web, while Squarespace is used only on 2%. The reason this open-source software platform is so popular is that it offers complete freedom and control of your website and content, with unlimited third-party plugins, such as WordPress website builders.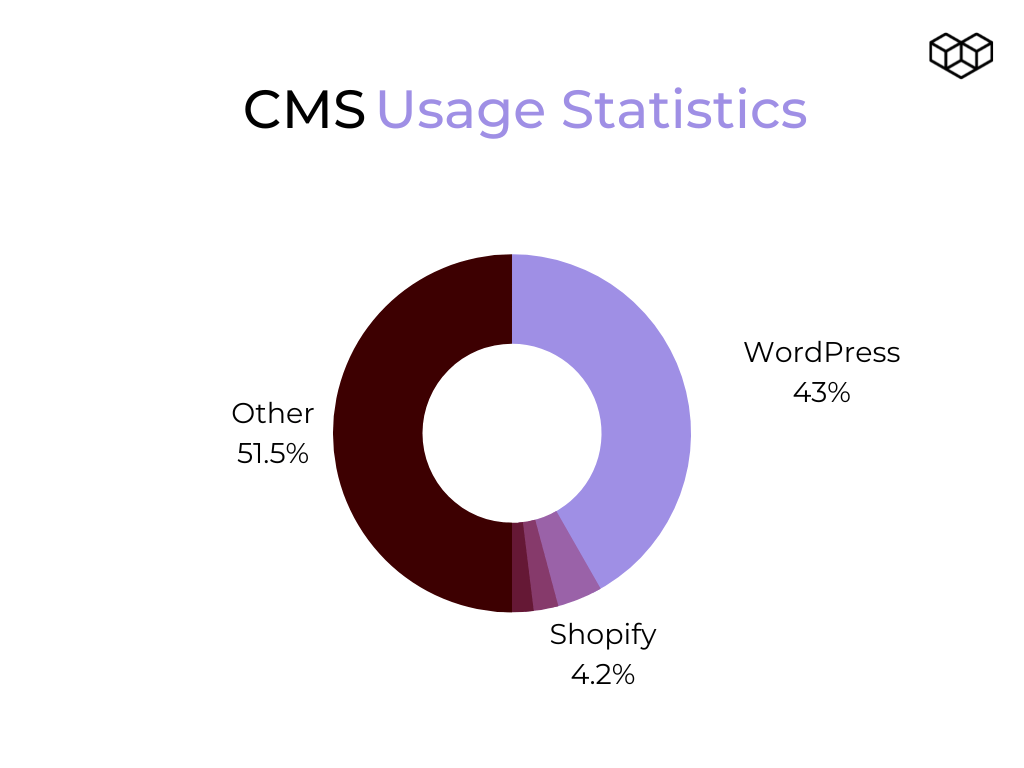 The magic of website builders is that one doesn't have to build a website from scratch, but rather do it time-efficiently while providing the same great quality and performance.
Choosing a website builder over manual code editing is a no-brainer for web developers in today's competitive market and for business owners who wish to maintain and update websites on their own.
What is the difference between website builders and page builders? Page builders allow you to create separate pages but not the whole website, while website builders allow you to create the entire website.
What Features Should a Website Builder Have?
Website builders are the most clever and fastest way to set up a professional website and create stunning designs, even without technical experience or talent.
Typical website builders offer ready-to-use design elements, drag-and-drop functionality, and a user-friendly interface, which makes creating and customizing website pages easy. The key website builder components that are essential for web creators are:
Purpose
Feature

Being able to quickly change the layout & move elements on the page

Drag-and-drop interface

Knowing that what you create in the editor is true to what you see on the finished screen

WYSIWYG editor

(What You See Is What You Get)

Not requiring a coding experience and/ or reducing time spent on coding to build a website

Zero coding & custom coding options

(HTML, CSS, JavaScript)

Being able to choose from various, customizable pre-designed content elements & website templates

Content elements & templates

Being able to integrate third-party plugins & themes, for additional functionalities

Compatibility & integrations

Optimized design that automatically adjusts depending on the device a visitor is browsing the website

Automatic & custom responsiveness

Ensuring that each page of your website is optimized for search engines, performance & navigable for people with disabilities

Built-in content analysis & improvement tool

Option to create unique custom elements & theme integrations for developers

API

Receiving a fast & individual approach to solving product-related issues

Customer support

An accessible overview of upcoming features & the option to submit feature requests

Roadmap & feature requests
What is the clearest sign of a good website builder? An accessible overview of the roadmap with upcoming features and the option to submit feature requests is the tell-tale sign that a builder is continuously making improvements and takes customer feedback into account.
Choosing a builder that comes with built-in integrations can make your website easier to manage and work on. By limiting the number of plugins you use to only those that are essential you also won't risk having negative effects on your website's performance.
Is It Worth Using a Website Builder? Pros and Cons
What are website builders for? Some website builders are used to create a website from scratch, while others are used to help with the design and development of websites. These platforms are great for small business owners and entrepreneurs who want to establish a strong online presence quickly and easily.
They are used by both non-tech-savvy people, who want to take control into their own hands, and web agencies and professional web creators, who wish to streamline their web development business to success. While there are certainly more benefits than drawbacks to using a drag-and-drop website builder, you should be aware of both before making your decision.
Discover the Powerful Drag & Drop Website Builder for Web Creators
Pros
Ease of use in combination with limitless design options for website builders is surely the biggest advantage, to create a beautiful and functional website time-efficiently
Website builders provide a perfect mix of no-code and low-code solutions, making it easy for anyone to build and launch a website without any programming experience, yet allowing to also add custom code
Drag-and-drop builders use modern technologies that generate clean code and are built keeping the best web development practices in mind, for the best performance results
Web builders have a simplified website maintenance process for web creators and their clients to be able to easily maintain and update websites post-launch
There are many readily available and reusable design elements, which allow flexibility in creating any kind of business, portfolio, or blog website
With most builders there are plenty of website templates available, so you can find one that suits your needs
Many website builders come with eCommerce features, which are perfect for small businesses or anyone who wants to sell products online
The return on investment (ROI) for using a website builder is very high, since there are free options available and low-cost premium options, given that the time you spend building a website is reduced immensely
Many web creators use website builders to create mockups of website designs, which saves them time in the prototyping phase and gets them into production as quickly as possible
Website builders keep up with the ever-changing web standards for technologies like CSS and JavaScript, so you have even less to worry about
Which website builder should you choose: free or paid? If you want to devote yourself to web development, you should choose a premium builder. WPRacoon provides a helpful comparison table of WordPress plugins, with information about pricing and licensing types, as well as refund options. This can help you find the best value for your money when selecting a WordPress website builder.
Cons
With earning to use a web builder, just like with any tool, there can be a learning curve. That's why you should look for a builder with a user-friendly and intuitive interface
You might have less control over your website design than if you were to code it, but the time and effort you save in return should be taken into consideration
Using a website builder can get expensive, especially if you need additional features for eCommerce, SEO, contact forms, etc., so you should choose a builder that's multifunctional
The stigma surrounding website builders for professional web designers may seem legitimate, but that idea is outdated as the tools available today are based on the latest technologies and conform to coding standards. Therefore, it is unlikely that this can lead to a bloated website.
How to Choose the Right Website Builder?
With the variety of different options available at your fingertips, how should make your decision? Size, features, and price are all important factors in your decision-making process, but what's most important is your needs.
When choosing a website builder, you should think about what kind of look, feel and style you desire, which features are most important to you, and the control over the content and design you wish to have for your websites.
To choose a website builder, keep in mind that some are better suited for more non-technical professionals than others, but all are developer-friendly and help streamline website development in all cases. Here are the factors upon which you should decide on choosing the right website builder and whether it's worth considering with the price point for you:
How to choose between multiple website builders? Ultimately what it comes down to is your long-term goals, and how the tool can help you scale web development or design business to success. The best judge, in this case, is how reliable it is for other users. So, look out for user success stories, case studies, and reviews.
How to Get Started with a Website Builder?
The best way to get started is to explore the different features each website builder offers. Once you have an idea of what you need, you can narrow down your choices and pick the one that's right for you. Let's look at the overview process of getting started and using a WordPress web builder:
Download and install WordPress
Choose a website builder
Secure a hosting provider
Get a domain name
Choose a lightweight theme
Create a site structure/ map
Create & customize
Add content
Adjust responsiveness settings
Preview & publish
How to choose a good hosting provider? Go for fast, secure, and performance-optimized web hosting, that offers a free SSL certificate, and is easy to set up with a website builder.
Final Verdict: Is a Website Builder Worth It?
Short answer - YES!
Today's website builders are no longer just for amateurs. They are being used by professionals and agencies that create websites for a living who want to make their sites look good and function properly on any device or browser without much hassle.
As long as the websites you create are fast-loading and match the design your clients pictured in their minds, they will be happy. Clients don't care if you use an automated tool or hand code it yourself, so it also shouldn't matter to you. Given the saturation of web creators who are able to deliver high-quality websites quickly in today's competitive market, using the right tools can help you beat the competition.
The biggest benefit is the amount of time and headaches saved by using a good builder, instead of manually coding a website from scratch. Best of all, seeing the design come to life instantly is fun and motivates you to get the job done faster, and helps you land high-paying clients for the long term.