What a year! Although it did not allow us to have offline events, we missed out on face-to-face projects and finally moved to work from home, it was productive and plentiful for us.
Let's look back at what has been done and who knows, you may notice something that you have missed. We have delivered plenty of improvements, new features, elements, templates, and integrations. Let's highlight those!
Launched Visual Composer Insights
In the middle of the year, working 100% remote and seeing the situation in the world, we decided to supplement the Visual Composer editor with a free tool that would be useful for all users. What could be more useful as a transparent SEO assistant?!
Visual Composer Insights is a free analysis tool that ensures you create quality content. It analyzes all basic content types right in the editor and gives you suggestions on how to achieve higher performance and better SEO ranking of your page.
Integrated With GIPHY
Since September, when you open the Visual Composer Hub, there is a GIPHY integration, right next to the Unsplash. With the GIPHY you can choose from 10+ billion GIFs and add them to your site straight from the editor.
We can safely say that from now on including GIFs on your WordPress site is super easy. Once you are a Premium user, you will have access to the GIPHY finder. Simply search for a GIF directly in the Visual Composer editor, save it in the Media Library, and have GIFs to entertain and engage your audience.
Developed Visual Composer Popup Builder
Sometimes popups can be awkward, but their overall performance has proven to be with a plus sign. Until mid-summer, we spent large sums subscribing to a special popup making tool. And it is believed that our users did the same. This prompted us to develop our own Popup Builder and pass it on to our Premium users.
Visual Composer Popup Builder for WordPress allows you to create an unlimited number of popups using all the features, elements, and design options available within the Visual Composer Hub. Once ready, you can control popups' appearance and set their behavior.
Released Visual Composer Demo
Visual Composer Demo features a fronted editor and lets you try the website builder in action. The demo allows you to make a page while drag and drop elements, edit content, and images thus getting an idea of the interface. You can launch the interactive demo with no sign-up or credit card required.
Launched My Visual Composer
At the beginning of the year, we moved to a more secure, transparent, and user-friendly license management system. The main purpose of the My Visual Composer account is to ease our users' license and subscription management process at all times.
You not only have a more intuitive interface that makes your subscription management faster but also an option to change your data, upgrade licenses, renew expired licenses even after some time has passed, and review other things.
Significantly Improved Visual Composer UX
By constantly developing and providing you with new features, elements, and templates, we also worked on UX improvements and UI updates throughout the year. We launched a Visual Composer dashboard inside the WordPress admin and made our User Interface more attractive.
Visual Composer UX improvements are huge for beginners. It offers a tutorial template, an initial help guide, and helper icons. It is much easier to start with such a help package in your pocket.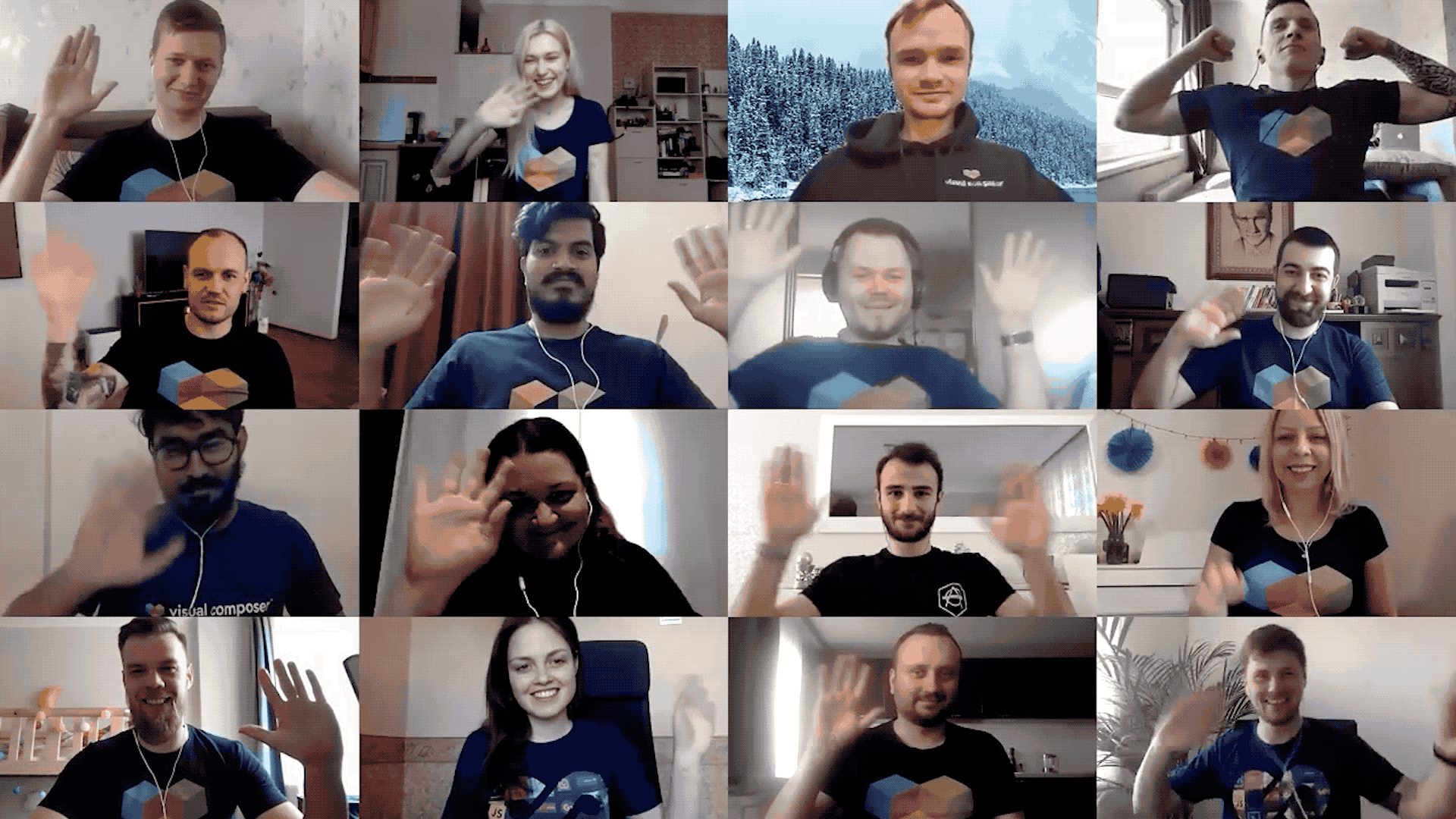 Fun Things We Did Together
In the summer of 2020, we had a little respite from the pandemic, there was a feeling that everything was getting back on track. This allowed us as a team to meet and even organize entertaining events. 😍
One of our coolest traditions are sports games, they are fun, tough, and boosting. This summer we will remember with 130 km of cycling 🚴, enjoying the sun, nature, great BBQ and good company, of course. As a team, we got used to spending more time together, so this meeting was like water to a thirsty soul.
Other Things We Did In 2020
New elements were added to the Visual Composer Hub (ex. Mono Social Icons, GIF Animation);
Added new Template sets of pre-made pages, blocks, headers, and footers to the Visual Composer Hub;
Element lock and Element presets were added to give you more control over your content;
Archive Page Editor was added to the Theme Builder.
Our Year In Numbers
Everything happens just a little differently this year. From hard work and successful results to fun moments and pleasant events. This is what we managed to achieve:
Released 9 major updates;
In total, more than 500 elements and templates are added to the Visual Composer Hub;
Spent 250,000 hours online creating, developing, chatting, playing games, celebrating birthdays, eating home-made food, and having online coffee meetings;
Became owners to 3 new pets. In total, the Visual Composer team members own 15 pets: cats, dogs, and ants;
Continuing the tradition of bananas and coffee consumption: 🍌 140 kg & ☕ 40 kg;
Snapped 100+ food photos of what Visual Composer employees eat at lunch;
Helped a number of people by donating to charity through the #wpgivesahand movement!
#wpgivesahand
Thinking of those who need help the most, we, along with other WordPress representatives, started a new movement: WordPress Gives a Hand or #wpgivesahand.
The first campaign of this movement took place last Christmas, where we donated 10% of every product sold from December 21 to 27. Together we have helped organizations such as SOS Children's Villages, UNICEF, Budi Human, and others. They were us, our partners, and you who purchased one of the plugins involved in this campaign.
Thank you all! ❤️️
Hopefully, it is a fresh start for those in need and all of us really.
We are grateful for our thriving community and look forward to more and better in 2021.